Tips and tricks that help us in our lives, are nice, aren't they? It is not surprising, then, that articles about "life hacks" are commonly shared online. People are usually interested to learn about better or more convenient ways to accomplish various tasks. Referencing the widespread popularity of hacks, Patti Maguire Armstrong presents us with Holy Hacks: Everyday ways to live your faith and get to Heaven (Ave Maria Press 2018). In this book, she presents a variety of baby steps we can all take to grow in holiness and pursue God.
"Holy hacks are about stretching and enlarging our lives. They're about turning to prayer rather than a cell phone, doing a good work before posting a picture on Facebook or Instagram," she writes.
Corresponding to many categories like gossip, evangelizing, and humility, these "holy hacks" range from "wear a crucifix" to, when evangelizing, "show respect for the other person's opinions." Armstrong presents her own ideas, as well as suggestions from priests and various Catholic laypersons who she has met over the years or who work in the media. She provides personal stories that help illustrate the struggle of striving for different virtues. I particularly liked the section about humility, which Armstrong, referencing what a priest once taught her, describes as "holy forgetfulness." While any of the practices described in this book would be fantastic to bring into one's Lenten observances, there is even a section specifically of "Holy hacks for Lent." Not only that, but there is also a section in this book that includes hacks for Christmas, Easter, and other holidays. An additional section of prayers -- including the Prayer of St. Ignatius of Loyola -- ends this book, making it convenient to integrate small, intentional prayers throughout the day. The saints have long endorsed the practice of growing in sanctity through the ordinary aspects of life. From St. Francis de Sales' Introduction to the Devout Life to the "little way" of St. Therese of Lisieux, there are many examples of getting to Heaven by doing small things. Holy Hacks joins this legacy. This little book is easy to read, very approachable, and reminds us that we can all strive for God by making small, beneficial changes in our lives.
---
Copyright 2019 AnneMarie Miller
About the Author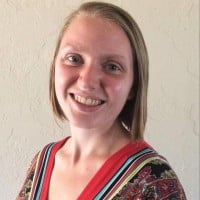 Eagerly seeking new adventures each day, AnneMarie enjoys life in Oklahoma with her husband and little boy. She has a passion for the Faith and particularly loves learning more about the Liturgy, saints, and various devotions. AnneMarie's musings on Catholicism, literature, and motherhood can be found on her blog, Sacrifice of Love.