He is Risen! Hallelujah! Easter has arrived, Christ has conquered death, and we celebrate the resurrection of the body with — what else? — flesh. If the idea of pears with cheese and bacon strikes you as a little strange, remember there is nothing stranger than the God Incarnate who suffered, died, and rose. Embrace the strangeness of Easter, and give this a shot. Trust me, you'll be glad you did.

Baked Pears with Prosciutto
4-5 pears, whichever variety is freshest and sweetest that day. These are red Anjou.
½ cup white wine
2 tsp. lemon juice
¼ tsp. salt
¼ tsp. pepper
¼ tsp. dry sage
½ tsp. dry basil
¾ –1 cup grated gruyere cheese
~4 strips prosciutto
Preheat oven to 400. Peel and slice the pears and lay them in a single layer in a baking dish. Whisk together wine, lemon juice, and seasonings. Pour the mixture over the pears. Top with grated cheese. Bake at 400 for about 20 minutes. I judge them ready when the cheese turns brown. While they're baking, crisp the prosciutto in a frying pan, about 2 minutes per side. Slice into thin strips and serve over the pears. Enjoy!
---
Copyright 2019 Karen Ullo
About the Author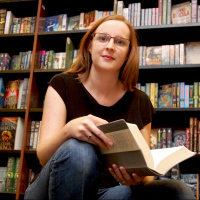 Karen Ullo is the author of two award-winning novels, Jennifer the Damned and Cinder Allia. She is one of the founding editors of Chrism Press, which is dedicated to publishing Catholic and Orthodox fiction, and the former managing editor of the Catholic literary journal Dappled Things. She's also a wife and mother of two. Find out more at KarenUllo.com.