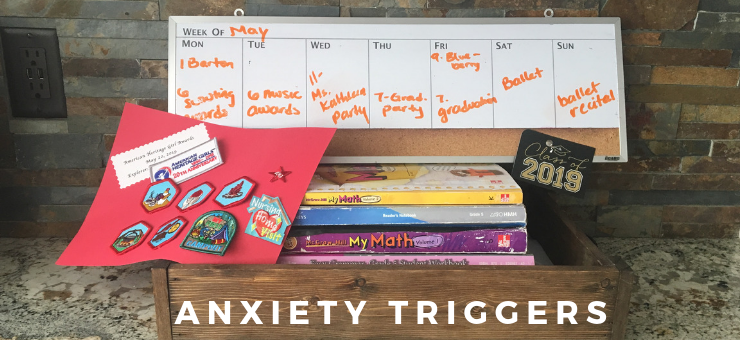 Copyright 2019 Courtney Vallejo. All rights reserved.[/caption] The school year is coming to an end and it's causing my anxiety to flare up. Yes, we homeschool, but no, we don't make our own schedule. No, I can't just be done when I feel like it, because we use a charter school and we adhere to their schedule. We're in the final home stretch but man, it is taking everything in me to push through and finish our curriculum. Not only are we working to finish our books but also between my husband's end-of-the-school-year schedule and our end-of-the-school-year schedule, there is something every night. Every program we're involved in seems to be ending at the same time, and the deadlines are piling up! I put on our children's scouting awards ceremony, which was the night before my husband put on his music program's awards ceremony. I have a speaking event coming up that will happen right as school is ending, and it falls on the same day my husband has a work conference. I feel like we're in meltdown mode. We've overbooked and over-crammed our schedules. I struggle with anxiety, and the last few days I've been feeling that feeling where it seems like my body is itching under my skin. I also started allergy shots recently, so it's hard to know what my body is reacting to and why. This morning, my emotions came to a head and I could feel all kinds of crazy feelings running through my body. I feared that my body was having some sort of allergic reaction. I'm sure all of these thoughts just increased what may have simply been an anxiety attack. I called a friend, who lived close, in case some kind of reaction really was happening. She answered, thanks be to God, and we talked through my emotions. She listened, comforted me, and offered suggestions on how to move forward. She even made me look at causes such as perfectionism or lack of building boundaries that may have stirred up my recent feelings. Thank God for my village. Do you have a village? Do you have even one person you can call in crisis? I have another dear friend who has been walking with me during my anxiety journey. She keeps my phone number on the "allow calls from" section if she puts her phone on Do Not Disturb. She told me this, so that if I needed to reach out in panic moments, I would call and not just text, since she won't see the text on Do Not Disturb. While she can't always answer, I feel so supported simply because she even thought about all of this and offered it to me. I've learned, maybe the hard way, that anxiety is real. I've learned that I have to start saying no to certain events, even ones that I may really want to go to, in order to avoid adding more stress to my body. I'm learning how sensitive our bodies are and how much we have to protect them, both physically and emotionally. If I put on a seat belt while I drive to protect me in case of an accident, what do I put on to protect myself from over-exerting my emotions? Prayer has been huge for me! I've always been a petition-type person, but my prayers over the last few months have been prayers that beg God for mercy and healing. They have been prayers where I hand over all my worries and stress to Him and ask Him to carry it for me.
"Come to me, all you who labor and are burdened, and I will give you rest. Take my yoke upon you and learn from me, for I am meek and humble of heart; and you will find rest for yourselves." (John 11:28-29)
In trying to find other ways to cope with my anxiety, I've found a Catholic counselor who has walked me thought my experiences and given me coping techniques and tools. I have discussed medication with my doctor and have tried something that helps, just in those moments of panic. The hardest part was probably reaching out to my family and community to admit I was struggling. I've learned that I focus on my image and what others will think of me. As I reached out, however, I found that so many other friends have struggled, or are struggling, with anxiety. To know that I am not alone also helps me to overcome the emotions of the struggle. I had an event happen in October of 2018 which really brought on my struggle with anxiety. As I worked through the event and realized the newfound level of anxiety that I was struggling with, I had a big realization. Almost instantly, I experienced peace knowing one thing for sure, that God was using this to heal me. Did I confuse you? God was using anxiety to heal me. He has stripped me down. I am too stubborn to listen and so it took something I can't control, my body's nervous reactions, which caused attacks, to make me stop and contemplate. He will heal me from my perfectionism. He will heal me from my pride. He will heal me from my desire for others to think highly of me. He will heal me from my inability to say no to cramming things into my schedule. He will heal me, but the catch is that I have to let Him! I have to ask Him. He is a gentleman who would never force Himself on me, and so I have to ask Him to heal me. He will heal me. He has already begun to heal me, and honestly I'm not sure I would even recognize the woman who started this journey back in October. Praise God for healing. If you struggle with anxiety, please know you are not alone. Reach out and find your village. Seek help. But first before all of that, sit down with our Lord and ask Him to come and heal you. Offer up your struggles to Him. He will work miracles if we let Him. And remember, His vision is different from ours, so if you're not feeling healing in the way you anticipated, don't doubt that He's working. He's healing you in the way that you need it. He is a loving Father, who will fight for his children. Let Him fight for you! You can do it I know you can! It's hard, and it hurts, but it will hurt even more if we remain in this state. His healing is eternal. I encourage you to read John 15. I'll leave you with 2 verses from it, but please take some time and sit with your Bible to soak in His words in the rest of the chapter.
"I am the true vine, and my Father is the vine grower. He takes away every branch in me that does not bear fruit, and every one that does he prunes so that it bears more fruit." (John 15: 1-2)
---
Copyright 2019 Courtney Vallejo
About the Author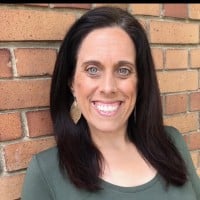 Courtney Vallejo is a convert to the Catholic faith, who lives in California. She and her husband homeschool their three adopted children. She is the cofounder of AMomRevolution.com, whose mission is to inspire, encourage, and reclaim joy in motherhood. She also writes for her own blog, CourtneyVallejo.com. Courtney holds a Master's degree in Film Production and a California Multiple Subject Teaching Credential. Follow her Gluten Free/Dairy Free adventures on Instagram: @aglutenfreerevolution.