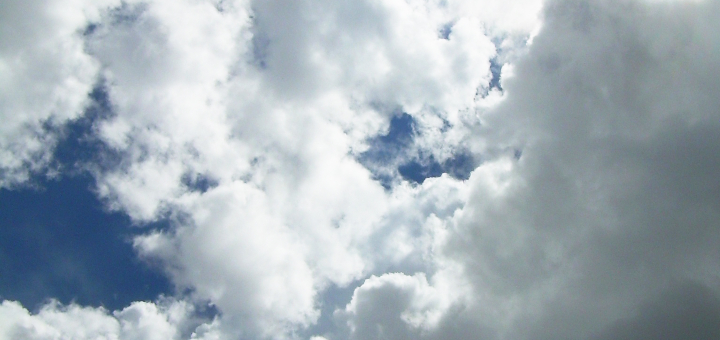 Image credit: By Elvis Santana, FreeImages.com (2006), CC0/PD[/caption] Good old Merriam-Webster describes one meaning of authentic as: "true to one's own personality, spirit, or character." In a world full of filtered media snapshots into people's seemingly perfect daily lives, authenticity can seem to have gone the way of the dinosaurs. (Or at least the pre-internet '80s!) I cannot live up to all of those amazing Pinterest creations, Marie Kondo closets, or Joanna Gaines living rooms. While I strive for a relatively clean house, frequently attacking clutter and purging layer by layer, there will never be a photo shoot done in my living room (or any other room!). My attempts always fall way short. But, honestly, I think there are many times when "good enough" is truly not a bad thing! So far, I've spent almost 26 years as a wife and mother trying to figure out how to actually adult. There are so many days that I feel like the word "inadequate" is etched on my forehead. I constantly fall short of the imaginary bar I have in my own head ... or the bar that I've somehow adopted as my own that really belongs to a friend or family member. Repeat after me: "Comparison is not my friend." When I was in my 20's and 30's with a gaggle of young children, I didn't mind getting older. I wanted to feel like a capable adult. Which is pretty funny because even though I'm now "older", those feelings still escape me most days! I pay the mortgage and utilities, shop for groceries and cook meals, fold endless piles of laundry, and still get woken up most nights by a nine-year-old who had a bad dream and doesn't want to be alone. (But who wants to sleep through the night anyway, right??) Yet "capable" would not be a word that pops into my mind to describe myself. My mind has too many "buts." (And if you're the mom of young children or have a lot of boys, feel free to giggle.) I pay the mortgage and bills "but" I don't save enough. I plan meals for my family every day "but" worry that they aren't eating healthy enough. I plan play dates "but" I worry about them having good friends. Honestly, I could go on and on! Whenever I get stuck in that place of discouragement and have those awful "you're not good enough," "you're ruining your kids," and "why can't I get it together" thoughts stuck in my mind, I find that nothing helps me out of that negative thinking faster than reading about other mamas who feel the same way. Knowing that moms everywhere are fighting to have a more positive spin on life and trying to put their trust in God to guide us and our families makes a huge difference in my own attitude. It's so much more productive to pray that God will make up the difference between what I give to my family compared to what they need than it is to host my own pity party. For all you tired moms stuck in the "but," just know that you aren't alone. Moms of littles ... you will miss your gaggle of children all flopped on you with no concept of personal space. Your children will not be "ruined" because they had days of watching too much TV, or because you yelled too much, or because they ate hot dogs three nights in a row because that's the best you could do. Moms of teens and young adults ... don't give up and find somewhere to hide until your kids get closer to 25 and finally start to act more "human." (This number is not based on real research, just personal experience of several moms in my life!) If there was ever a stage that I pray the most and lean into God, it's this young-adult stage! (Even more than the driving stage! <<shudder>> So that's saying something!) Sometimes this extra prayer is sparked because one of my young adults is struggling and it's hard to stay on the sidelines as a cheerleader/prayer warrior as they work through something necessary in their own journey. I forget where it was (so my apologies to the author), but recently I read some woman's wisdom: If we solve all of our children's struggles, then they will never learn to turn to, and rely, on God. With struggle comes growth, even if it's hard to watch. Sometimes this extra prayer comes from a place of grief because it can be very hard on our mama hearts as our young adults branch out on their own and create their own lives. It's hard to re-create ourselves and let God grow us in brand new ways after giving our whole selves to motherhood for so many years. Even though I'm only a short way into my journey of letting go as my older kids spread their wings, I have seen the way my own grief and the way I try to lean into God is growing and changing me from the inside out. Not easy, but we will survive this parenting stage as well! Not only will we survive, but we will thrive ... that's what hope and moms with a few more years and experience tell me. (See ... we moms need to stick together! Reach out to your mom friends today!) Lean in, brave Mamas. The God who brought these children into our lives will give us the grace in all the stages! No "buts" about it!
Love bears all things, believes all things, hopes all things, endures all things. (1 Corinthians 13:7)
---
Copyright 2019 Michelle Hamel
About the Author
Michelle is a wife, mom of eight, and grammy of 3 (with more on the way!). She spends her time reading, writing, and searching for good recipes to cook for her growing family. Her favorite things to do include spending quiet time in Adoration, shopping for baby clothes, and planning vacations. She loves to write about topics that feel God-inspired in order to encourage and comfort women. Michelle blogs at Normal Chaos.