Welcome to the Our Lady of Charity Book Club! We're reading Our Lady of Charity: How a Cuban Devotion to Mary Helped Me Grow in Faith and Love by CatholicMom contributor Maria Morera Johnson. Maria Morera Johnson begins her reflections on Our Lady of Charity with her own stormy flight into Cuba in 2015, bringing us into the history of this Marian devotion that began in the middle of a storm. About 400 years before Maria made her own pilgrimage to Cuba, three men were trapped in the Bay of Nipe, tossed by stormy waters. In the midst of their fright, they prayed that the Blessed Mother would help them. The storm subsided, the waves calmed, and the men saw something floating on the waters near their boat. That something was an image of Our Lady which would become known as Our Lady of Charity, and when the three men retrieved the statue from the bay, they discovered that it was bone dry. Devotion to Our Lady of Charity grew over the years, and a new shrine was built and dedicated in 2017 on the same spot where a simple palm-frond chapel had been built by the men, who became known as the Three Juans. Devotion to the Blessed Mother helped to bring more people to know and love her Son, as Marian devotions have a tendency to do. Our Lady of Charity appears in blue and white, holding the Christ Child on one arm and a cross in her other hand. She shows us Jesus, bringing us to Him, and she shows us the Cross, reminding us of the instrument of our salvation. This is one of the things I love about Mary and devotions to her. By drawing us to herself, she draws us to her Son. She presents Christ to us and presents us to Christ in the process, acting as a mediator. Our Catholic devotion to Mary doesn't lessen our faith in Christ, though. Instead, she comes to us as our mother. And just as a small child doesn't love his father any less when he cries for Mommy in moments of pain or panic, we don't love God any less for going to His mother when we are hurting or afraid. One of my other favorite things about Marian apparitions is that the Blessed Mother appears to people as they are. In Europe, Mary appears European. In Asia, she appears Asian. And in Cuba, she appears as the people living in Cuba, with her Creole complexion. All of this is to remind each of us that Jesus has given us His mother to be a mother to each one of us. The Blessed Virgin – virgencita, as Maria lovingly calls her – cares for her children as any good mother does. When she came to the Three Juans, she calmed their storm and gave them a tangible reminder that she loved them (the statue), and then stayed with them throughout life by her intercessions on their behalf. Cuba's Christian faith grew through the devotion to Our Lady of Charity. We can always go to the Mother of God with our petitions, and she will go with us to her Son. This is because Mary is a gateway to Christ, always leading us to him. Remember that many images of Mary show her holding Jesus – Mary always points the way to her Son, telling us the same thing she tells us in the Bible: "Do whatever He tells you." Mary was the first evangelist – the first to bring Christ to anyone – when she went to her cousin Elizabeth just after the Annunciation. And Mary has continued her evangelization throughout the world through her apparitions.
To Ponder, Reflect, and Discuss:
Do you have a devotion to the Blessed Virgin Mary, whether it be Our Lady of Charity or any other devotion? When do you go to Mary?
Mary is meant to be a mother to each and every one of us. Is this an idea you lean on when you are troubled? If not, is it something you might want to establish?
How might you develop your relationship with Mary in order to grow closer to her Son?
Order Our Lady of Charity from Ave Maria Press and save 25% with coupon code CHARITYBC. This offer expires August 31, 2019.
---
Copyright 2019 Christine Johnson
About the Author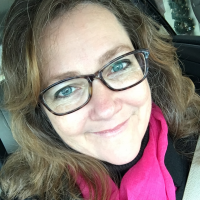 Christine Johnson has been married to Nathan since 1993 and is the mother of two homeschool graduates. She and Nathan live in the Blue Ridge Mountains of Southwest Virginia, where she tries to fit in as a transplanted Yank. She blogs at Domestic Vocation about her life as a wife, mother, and Lay Dominican.