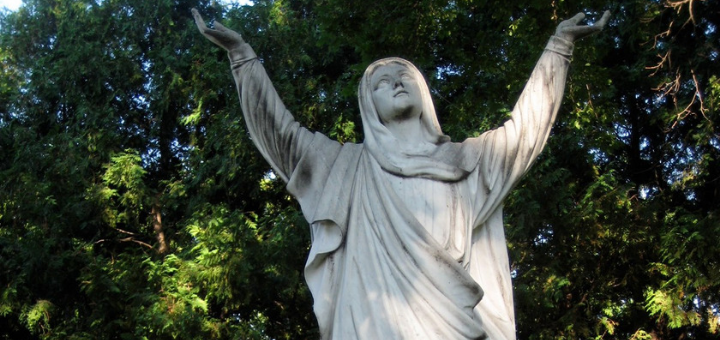 Copyright 2019 Sarah Damm. All rights reserved.[/caption] As moms, we have individual relationships with each of our children. While we strive to love all of our children equally, we also know each child's unique dignity, worth, personality, talents, and virtues. We recognize the importance of personalizing how we care for each child based on his or her temperament, needs, and interests. We do this so that our children feel loved by us in a special way. That when we tuck them in at night, each one believes he or she is the most important person in the world to Mom. The same is true of Our Blessed Mother. Even more so, because she is completely in line with God's will.
The Blessed Virgin is like a good mother who, not content with looking after all her children in general, watches over each one separately. (St. John Vianney)
Being the mother of all creation, Mary personalizes the way she expresses her love by giving us, her children, various ways to grow closer to her. Just as a mother exercises earthly wisdom by not treating all of her children exactly the same, Mary knows how diverse her children are, and she comes to us in unique ways that capture our hearts, meet our needs, and help us to feel her specific love for us. We all need the comfort of Mom A few years ago, I took a pilgrimage to the Shrine of Our Lady of Guadalupe in LaCrosse, Wisconsin. During the Sacrament of Reconciliation, the priest invited me to turn to Mary with my struggles, concerns, and shortcomings. He encouraged me to rest under her mantle of protection, because "sometimes we just need the comfort of Mom." Praying afterward, I looked up at the dome ceiling of the church. It was painted like the starry design on Our Lady of Guadalupe's cloak. I was directly under her mantle, and I will tell you, I felt the intimate comfort of Mom, as she led me to pray to Our Lord for guidance and strength. We see examples of personal encounters with her children, time and time again in miraculous Marian apparitions, various devotions to Mary, and of course the many names we attribute to her. The Holy Name of Mary Tomorrow, September 12, is the Feast of the Holy Name of Mary. According to the Catholic Encyclopedia, "We venerate the name of Mary because it belongs to her who is the Mother of God, the holiest of creatures, the Queen of heaven and earth, the Mother of Mercy." And what's incredible is just how many epithets fall into that one name of Mary. Blessed Archbishop Fulton Sheen once wrote that Mary "has so much dignity that no title could exhaust it." Yes, many titles are given to Mary that emphasize her various attributes. But her numerous names also appease our need to have a personal connection to her. To spiritually crawl into her lap, rest our head on her shoulder, and feel her motherly love penetrate our weary souls. A few examples
Our Lady of Guadalupe is the merciful mother who appeared to St. Juan Diego.
We find hope and healing in Our Lady of Lourdes.
This month of September, devoted to Our Lady of Sorrows, shows us just how much Mary understands our personal struggles. St. John Paul II said that Mary "who is the Mother of Sorrows and also the Mother of Consolation, can understand you completely and help you."
Other names for Mary are simply affectionate, such as Star of the Sea, Cause of Our Joy, Mystical Rose, and Seat of Wisdom.
Praying the Litany of Loreto shows us that the list of names associated with Mary is inexhaustible. And they offer us motherly wisdom, comfort, and love when we need it most. 3 ways to love Mary in return Mary loves being our mother, and just as she constantly offers her love to us, we have the opportunity to show her our love and affection, in return.
One way to demonstrate love for Mary is by praying the Litany of Loreto. What name of Mary are you drawn to? Ask for Mary's intercession, using the title that invites you to be closer to her.
Another way is by growing the habit of praying the Rosary. Begin with one decade per day, and go from there. As you grow in this prayer practice, it might be encouraging to pray along with a Rosary podcast, such as A Rosary Companion or Relevant Radio.
Lastly, honor Mary by making a consecration to Jesus through Mary. Entrusting her with your hopes and prayers causes Mary much delight! And just think how much joy this brings Jesus, who gave His mother to us in the first place!
What is your favorite name for Mary? How has Mary offered you love and affection in a unique way? How do you show your love and affection toward Mary?
---
Copyright 2019 Sarah Damm
About the Author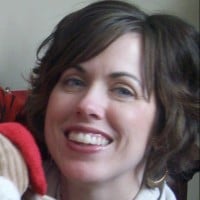 Sarah Damm is a Catholic wife and mother of six children, living in Minnesota. She spends her days running errands, helping with homework, and keeping up with laundry and the family schedule. Sarah loves her faith, coffee, and good books. You can find out more about her at SarahDamm.com.