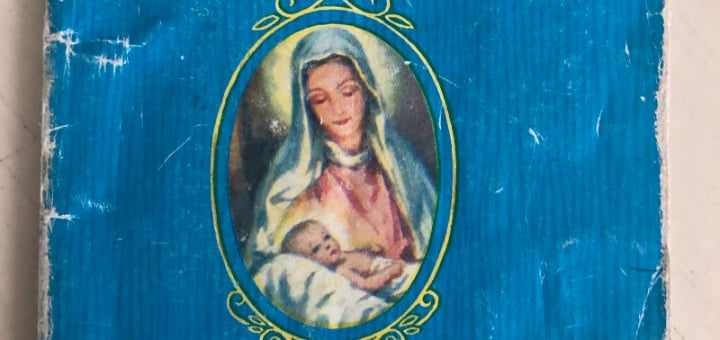 Copyright 2019 Margaret Dwyer Hogan. All rights reserved.[/caption] A really wonderful moment happened for me last Sunday. My husband and I decided we had a very busy family day ahead of us, and to allow our kids to sleep in, we would attend 5:30 Mass at our parish or a later Mass at the college up the street. The point was – we had "found time"! A blessing on our anniversary weekend. Having that space allowed me to share with him a journal I recently found that he had given me in the year 2000 – with a picture of the Blessed Mother – and a caption that said "Confess onto me your innermost thoughts, your deepest desires, your darkest secrets, your most desperate longings. For I shall not judge thee, but embrace thee." I wrote that year about juggling two young kids (a baby and a 2-year-old) and work – the demands of the day, and watching my husband also exhausted from "doing it all." I journaled about how my day went – what were my priorities – how the day was actually going in terms of my time and attention, and how I desired it to go – how to "reorder" the day!
Copyright 2019 Margaret Dwyer Hogan. All rights reserved.[/caption] I had newly discovered the Rosary, so that was on the list. When to pray it, what happened on the days I did not pray it (things did not go so well!). But here is where the story gets very interesting – out from the book falls a blue prayer booklet my mom kept with her all the time. She had one by her bedside, and one in her purse. And when she died on Christmas Eve, 2002 – I got them both.
Copyright 2019 Margaret Dwyer Hogan. All rights reserved.[/caption] I have written before about how I credit Father Peyton's ministry for my conversion to daily Rosary prayer – a laminated card was given to me by a new friend in my life during this very time I was journaling, with the mysteries! I put it above my car visor and would learn a mystery a week until I had a whole set done, and move onto the next It became my lifeline in so many ways – but especially when my mom became ill in 2002, and passed on Christmas Eve. So here is the bombshell – this past Sunday, I opened up this blue little Rosary booklet and there writing the introduction was a message from Father Patrick Peyton! I could not believe it! My mother, too, was touched by the work of this priest – I was literally shedding tears of joy and disbelief!
Copyright 2019 Margaret Dwyer Hogan. All rights reserved.[/caption] It was just remarkable that the booklet produced in 1972 was a part of my mother's prayer life in Grand Blanc, Michigan -- and 47 years later I live in Easton, Massachusetts, near the Peyton Center and have a very real personal devotion to Father Peyton. How much do I love this priest? I planned a whole family summer trip to see where he grew up, visiting his parish in Attymass, Ireland, this past summer. Father Peyton is not a person my mom and I ever discussed – EVER! In fact, in my young adult life I was firmly secularized – while I had a great faith in God's unconditional love, going to Mass, seeking the sacrament of Reconciliation, or praying the Rosary were not on my weekly – yet alone daily – radar. As a child born in 1964, I was firmly in frame of mind of being single, living in the city, and having it all! While money was not my motivation, I certainly aspired to make my mark on the world. My mom and I could not have been more different. And here we are in 2019. She has been gone for 17 years, and yet we are connected. I have often said the Rosary connects heaven and earth. I visualize it as a sort of ladder really – the Blessed Mother providing the avenue through her intercession and protection. Words seem inadequate for all the emotions this has heaped upon me – this connectedness to my mom, the Blessed Mother, Father Peyton and of course our Lord Jesus Christ whom all of these great women and man served! It is a reminder once again to remain faithful in the little things to understand in the end what a big impact you can have: my mom's quiet witness of her devotion planting the seeds for my devotion down the road – and Father Peyton having a hand in both through his words and ministries. My takeaway from finding all of these treasures this weekend: Be steadfast and true to whatever God is calling you to do in this moment and time, and when in doubt -- pray a Rosary and have confidence the Blessed Mother will guide your path.
---
Copyright 2019 Margaret Dwyer Hogan
About the Author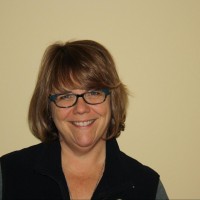 Margaret Dwyer Hogan is a mother of four, married for 20 plus years to Michael Hogan. In 1998 at the gentle invitation of a friend, she learned to pray the mysteries of the Rosary using a card published by Holy Cross Family Ministries. This led to a radical change in her family life. Margaret now promotes devotion to Family Rosary however she can! At CatholicMom.com, Margaret coordinates the Sunday Gospel Activities.