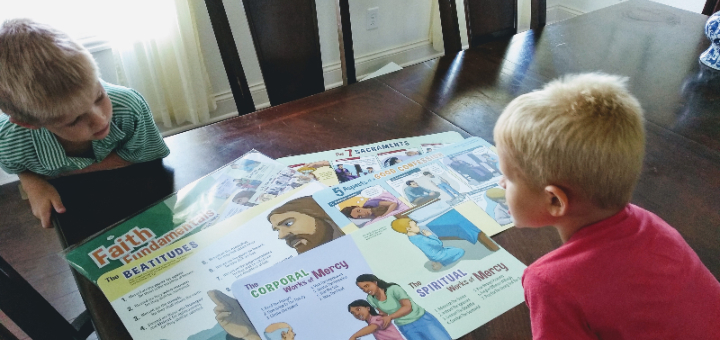 Copyright 2019 Danielle Heckenkamp. All rights reserved.[/caption] Growing up, I have terrific memories of dinner time with the family. It was my job to set the table and we always had an array of place mats for the children, in the hope that the table would remain clean. We had addition/subtraction mats, maps of the world and USA, alphabet, and reading place mats, but I believe that I have just found the best ones (and 20 years later!). Ascension has come out with The Lord's Table – Faith Fundamentals, a set of 4 place mats. Each mat has a different topic: The Beatitudes, The Corporal Works of Mercy, the Seven Sacraments, and the Five Aspects of a Good Confession. Each mat introduces the fundamentals of the topic while also providing beautiful imagery. These Catholic place mats are great conversation starters for the dinner table with children and adults. We have had several great conversations about the Beatitudes and the Corporal Works of Mercy during our summer lunches. The younger children admire the images while the older children discuss in depth. My children have created a rotating schedule so every child can have a chance with each mat.
Copyright 2019 Danielle Heckenkamp. All rights reserved.[/caption] I love any small but meaningful way to incorporate the Catholic faith into our family life and these place mats are a great addition. Thank you, Ascension, for creating a beautiful representation of these Catholic fundamentals during one of the most important times of the day to spend as a family – meal time.
---
Copyright 2019 Danielle Heckenkamp
About the Author
Danielle Heckenkamp is a stay at home mom and freelance writer who lives in Wisconsin with her husband and six children. Danielle writes about her daily experiences as a mom and love for her Catholic Faith. Danielle is the co-author of a nonfiction book about manners and common sense. You can find more of Danielle's writing at Homegrown Living or step inside her daily life on Instagram.