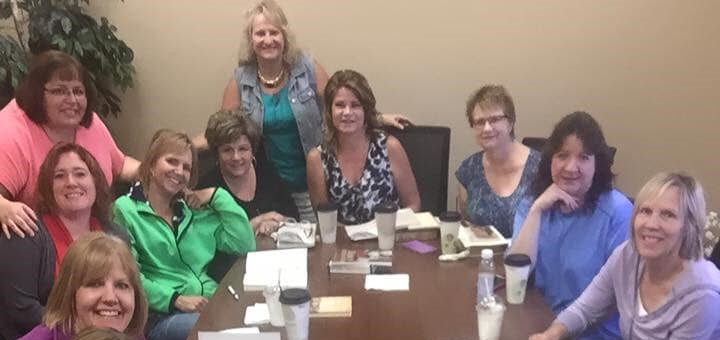 Copyright 2019 Shellie Rusch. All rights reserved. Used with permission.[/caption] Walking into a funeral home recently to attend a wake, I scanned the crowd for familiar faces. "Oh, there they are," I thought, spotting ladies from my book study. I knew they would be there. Linda had not been able to come of late, but she had been a beloved member of a book study to which we had both belonged for a dozen years. My book-study friends are women from different parishes and social circles. Yet, we've become sisters in Christ, growing closer to God and each other through the books that we read and discuss. It was my old homeschooling friend Shellie from another parish that had invited me to join all those years ago. (Shellie took the selfie and Linda is at the bottom right.) Family and work obligations sometimes keep me away, but when my schedule permits, I look forward to the friendships and the intellectual and spiritual stimulation of the book study. On the evening of Linda's wake, the immensity of our group hit me. The friendships are divine connections so unique in today's busy world. There had been no question that those women would be there, remembering and praying for our friend who was now on the other side of eternity. The precious value of our group inspired me to compile a list of five reasons to join or start a book study/book club.
You will read more. Even if you don't get it all finished in time, even skimming parts of it will add to your store of knowledge as will the group discussion.
You will read books you otherwise might not, thereby expanding your horizons.
New friendships will blossom, and old ones grow deeper.
Prayer support. Women connected through faith and friendship are fierce prayer warriors when called upon.
Time to slow down. As adults, there's precious little time just to relax with friends. A book study makes that possible every week.
Book Club Became Life-Changing
I recently did a podcast with Allison Gringas and before taping, we talked about book studies. I learned that Allison had a life changing experience through joining one; going from uninformed faith matters to passionate about it. Now, she actually writes books specifically for them. "After nearly ten years not only attending but eventually leading Catholic women's Bible studies/book clubs, I realized there was a lack of shorter books, designed for a group to bridge the time between longer reads," she explained. "After finishing a 6-10-chapter book, the group would be a little wary of jumping into another, but I knew the importance of remaining together as a group to continue the habits of daily prayer, spiritual reading, and time with the Scriptures." After bringing this problem to the Lord in prayer, Allison felt God tell her, "You know what they need, you do it." Following that nudge, she created the Stay Connected Journals for Catholic Women to help women stay connected to their faith, each other, and most of all God. These journals, (which can be bought separately) include opening and closing prayer, short reflections, discussion questions and Scripture to reflect upon and discuss. "That last part is my favorite." Allison said, "because it was truly spending time in God's word that my life transformed." Allison also works with WINE (Women in the New Evangelization) which offers an online book club support through Read Between the Wines Book Club which includes books and study guides for 12-week sessions. "The crux of WINE's work is in creating women's amazing book club offerings and helping women create small — in real life — groups of their own," she said.
Favorite Books
Here are some of my favorite book suggestions for groups.
The Screwtape Letters (study guide available), by C.S. Lewis, is a classic We come to deeper insights into how the devil works through the ironic portrayal of human life from the vantage point of Screwtape, a highly placed assistant to "Our Father Below," Satan.
The Temperament God Gave You. This was a fun and insightful understanding intoour own personalities as well as those of our husbands and children. Art and Laraine Bennett help to identify our personality traits and use them in union with biblical principles.
Reclaim Regret. The subtitle says it all: How God Heals Life's Disappointments; You See Your Failure; God Sees Your Future. Everyone has regrets. Kathryn Hermes, FSP, helps people create a new future out of any failure or disappointment through Scripture, prayer, stories and meditations.
---
Copyright 2019 Patti Maguire Armstrong
About the Author