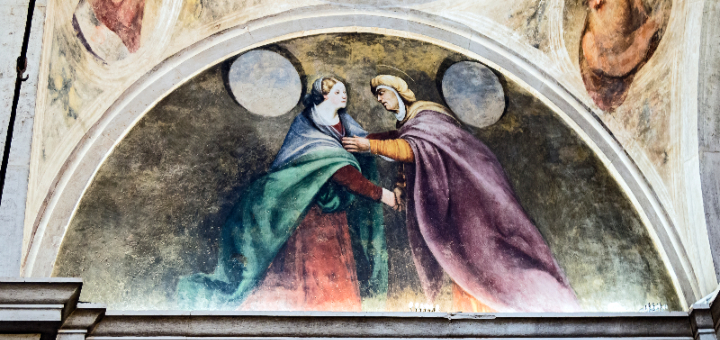 By Didier Descouens -

Own work

, CC BY-SA 4.0, Link[/caption] The Blessed Virgin Mary's feast of Annunciation used to be celebrated an octave before Christmas on December 18 -- this was mostly known in Spain but also throughout the world because of the Passion and Lent being the original Feast of Annunciation of March 25. So, a long time ago this feast was transferred to Advent -- it seems to go with the longing of the Saviour at this time of year. This feast of the Expectation of Mary is also sometimes called the "Feast of Our Lady O" -- as the O antiphons are also recited during this time of year. This particular antiphon is for this feast: "O Virgin of virgins! How shall this be? For never was there one like Thee, nor will there ever be. Ye daughters of Jerusalem, why look ye wondering at Me? What you behold is a divine mystery." (SalveMariaRegina.info) Since we are talking about the Annunciation, let's also reflect upon this passage from Luke's Gospel:
And the angel being come in, said unto her: "Hail, full of grace, the Lord is with thee: blessed art thou among women." And the angel said to her: "Fear not, Mary, for thou hast found grace with God. Behold thou shalt conceive in thy womb, and shalt bring forth a son; and thou shalt call his name Jesus. ... And behold thy cousin Elizabeth, she also hath conceived a son in her old age; and this is the sixth month with her that is called barren: Because no word shall be impossible with God." And Mary said: "Behold the handmaid of the Lord; be it done to me according to thy word." (Luke 1:28, 30-31, 36-38, Douay-Riems translation via DRBO.org)
Notice: Mary calls herself "the handmaid of the Lord." She is calling herself a "servant." In Greek the word "doula" also means "servant." So, Mary is God's servant -- she is ready to do his will -- but also she can be a "doula" to her cousin Elizabeth ... Now we read in the Gospel of Luke:
And Mary rising up in those days, went into the hill country with haste into a city of Juda. And she entered into the house of Zachary, and saluted Elizabeth. And it came to pass, that when Elizabeth heard the salutation of Mary, the infant leaped in her womb. And Elizabeth was filled with the Holy Ghost: And she cried out with a loud voice, and said: Blessed art thou among women, and blessed is the fruit of thy womb. And whence is this to me, that the mother of my Lord should come to me? For behold as soon as the voice of thy salutation sounded in my ears, the infant in my womb leaped for joy. And blessed art thou that hast believed, because those things shall be accomplished that were spoken to thee by the Lord. (Luke 1: 39-45, Douay-Riems translation via DRBO.org)
So, Mary goes in haste to visit her cousin Elizabeth who is also pregnant. Even her son John leaped for joy in Elizabeth's womb. Wonder of wonders! I love this passage because if anyone needs to know if a pre-born baby is truly human, just read this passage three times! The Bible does not say if Mary stays for the birth of John, but we will assume she most likely did before returning home. A doula is a person who serves mothers during pregnancy and birth and sometimes postpartum. Mary is a doula to Elizabeth in the Bible. She is serving her cousin! She ministers to Elizabeth's needs.
Copyright 2019 Emily Hennessee. Used with permission. All rights reserved.[/caption] Imagine being in your first trimester helping someone in their last trimester. I doubt if very many of us being pregnant would be able to accomplish what Mary did here. So, this is a good time to meditate on what Mary did here for Elizabeth during the Christmas season and week. Let's take this Christmas time to focus on meditating upon these passages of Mary and Elizabeth. Also, read the passages of Jesus' birth. It is important to read all of this. We are focused on decorations and getting our house ready for Christmas. Are you ready for Christmas spiritually? Have you meditated on the mysteries of our Faith? What do you think -- was Mary our first doula?
---
Copyright 2019 Julie Larsen
About the Author