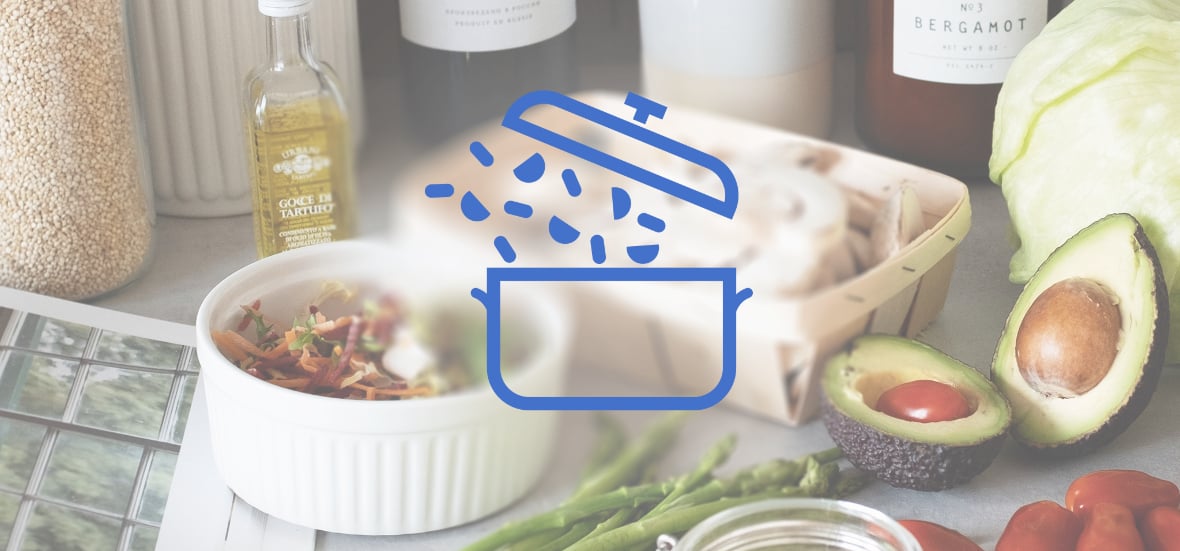 A good recipe collection is like a good wardrobe; you should be able to mix and match the individual pieces to create a wide variety of good combinations. I have previously posted the recipes for both blackened shrimp and creamed corn gravy on CatholicMom, but here I've combined them in a different way to create a completely different meal that's a classic Southern favorite.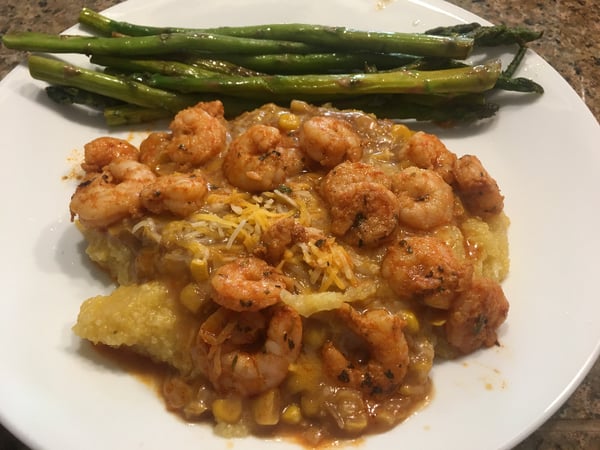 Yellow Grits
Boil water according to package directions. For every 2 cups water, add 1 cube beef bouillon. Do not add additional salt. Add grits when boiling and cook as directed. Butter is optional; it's in the gravy.
Blackened Shrimp
1 lb. fresh shrimp, peeled and deveined (Note: If you're using frozen seafood, make sure it's completely thawed, but it's better to buy it fresh.)
About 4 tbs. butter, melted
Spice mixture:
2 tbs. paprika
1 or 1 ½ tsp. salt (depending on taste)
1 tsp. (or more) freshly grated lemon zest
¼ tsp. garlic powder
½ tsp. ground black pepper
1 ½ tsp. dried basil
1 tsp. dried thyme
¼ tsp. ground red (cayenne) pepper
Heat a heavy cast iron or aluminum skillet over high heat for 10 minutes. Stir together all ingredients for the spice mixture in a small bowl. Place shrimp in a large Ziploc bag and pour the melted butter over them, then mix to coat. Add the spice mixture to the bag and use your hand to stir and coat them all. Add to the skillet and cook over high heat about 3-4 minutes, stirring frequently, until they are pink all the way through.
Creamed Corn Gravy
2T butter
2T all-purpose flour
14-oz. can creamed corn
½ t Creole seasoning*
Melt the butter in a saucepan, then add the flour and stir to make a roux. Cook over medium heat about 10-15 minutes, stirring frequently, until it turns a rich brown color, darker than peanut butter. Add the corn and Creole seasoning. Stir and simmer until ready to serve. Serve grits, then gravy, then shrimp. Garnish with shredded cheese if desired. Enjoy!
*Creole seasoning is widely available in many commercial brands, but if you can't find it, or if you're an overachiever who likes to make things from scratch, I've included my grandmother's seasoning recipe below.
Eileen's Creole Seasoning:
2 tbs. salt
1 tbs. ground red pepper
1 tbs. chili powder
1 tbs. garlic powder
1 tsp. black pepper
Place all ingredients in an empty spice bottle and shake to combine.
---
Copyright 2020 Karen Ullo
About the Author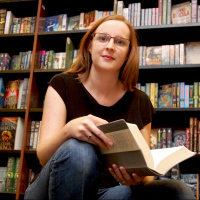 Karen Ullo is the author of two award-winning novels, Jennifer the Damned and Cinder Allia. She is one of the founding editors of Chrism Press, which is dedicated to publishing Catholic and Orthodox fiction, and the former managing editor of the Catholic literary journal Dappled Things. She's also a wife and mother of two. Find out more at KarenUllo.com.