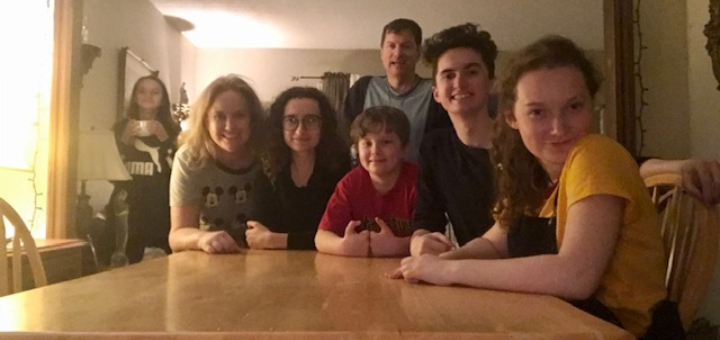 Copyright 2020 Monica McConkey. All rights reserved.[/caption] There is no doubt that these are some unprecedented times! With church and business closings, cancellation of Holy Mass and the necessity of physical distancing, life has dramatically changed for most of us. We're not trying to downplay the hardships and we continue to pray for all those affected by COVID-19: all those who have lost loved ones or who experienced the virus, all those who continue to work, risking their own health and those closest to them, particularly in the medical profession and all businesses and workplaces required to stay open and all those who face financial difficulties and uncertainty. We're just trying to scrape some good out of this crazy time and stir up some hope, particularly if this pandemic continues … and we will continue to pray more as a family and individually and try to live our Faith, trusting in the Lord in this difficult time.
We know that all things work for good for those who love God. (Romans 8:28)
The chicks are all under one roof. While we have had weeks here and there when the family has all been together, this seems different given the circumstances and the limitations requiring us to stay at home. Two of our older kids have returned from University and are continuing their studies online. We have shuffled beds and workspaces a bit to accommodate and we're still working out a little bit of structure that fits us all. While there are always adjustments, there have been many more happy surprises moments that have made our time together special. Who knew that a spontaneous Light Saber Battle at bedtime could be what we've been missing all these years? Copyright 2020 Monica McConkey. All rights reserved.[/caption]
We will forever cherish the Holy Sacrifice of the Mass and the privilege of attending it. I never thought the day would come when public Masses are cancelled and the Sacraments are near impossible to receive. While it has been a spiritual boost to stream Bishop Barron's daily Mass or Fr. Mike Schmitz's Sunday Mass in our living room, I think we won't soon take for granted the privilege of attending Holy Mass, once it finally becomes available. (Fr Mike) Screenshot copyright 2020 Monica McConkey. All rights reserved.[/caption] Have you seen the Homilies at Home Directory Monica has been compiling on her blog? Copyright 2020 Monica McConkey. All rights reserved.[/caption]
Online Resources for Faith and Learning. It seems to me that the number of resources (including live-streamed and on demand Masses and homilies) have exploded with this outbreak. While priests are offering their private Mass to be streamed, parishes are building up their communities on social media, offering support and resources and even distance-socializing. Educational resources and support for homeschooling seems more readily available and often free and it looks like our schools are starting to round up resources for an extended time of learning at home.
Projects we don't usually have time for. Suddenly, we're able to tackle some house projects that we never quite get to. Crafts (with any supplies we have on hand) are more welcomed ideas once again. There seems to be more time for reading (alone or out loud) and as the spring weather eases in, more gardening to do as a family. We've always enjoyed watching movies as a family and we'll be introducing all of our favorite Jesus movies as we get closer to Holy Week. Copyright 2020 Monica McConkey. All rights reserved.[/caption]
Family Workshops. This is the time to give homeschooling a try. While most of our kids/young adults are pretty self-directed in their studies, it has been neat to see the older kids bringing their expertise to softly coach the younger kids, ok, mainly Adam (our youngest). I think it's kind of funny that the loose schedule our oldest came up with has English and Art every day, science and gym alternating … and no math. No worries. We're tucking in math in other ways. There are lots of resources online for that. I think we might weasel in some board games and they won't even realize that they're practicing their mental math. Copyright 2020 Monica McConkey. All rights reserved.[/caption]
More Meals Together. We usually have dinner together during the school year, but now we always do, and with our whole family. We share many of the other meals together along with the cooking and cleaning. We even had a cooking competition last Sunday with teams of two preparing brunch, dinner, and dessert. It was really fun! We had some food combos we've never considered before and our dessert was presented within an impromptu ballet routine, which I only wish I had recorded, but probably wouldn't have been allowed to share.
Outside Time. We've been taking more walks (and runs). Two of the kids are teaching themselves to skateboard and we play a little basketball in our driveway. Some of our neighborhoods are holding scavenger hunts, presenting a letter or two in their house window for walkers to collect and decode.
Chalk your Walk. Neighborhoods have started to "chalk your walk" presenting nice messages and artwork on their driveways in colorful chalk.
Twilight Singsongs. Quarantined Italians having been singing their hearts out from their balconies in the evening for weeks now. They will likely inspire many others to do the same over here in North America! Copyright 2020 Monica McConkey. All rights reserved.[/caption]
Facetime Families. This time of isolation is particularly difficult for our loved ones in retirement homes. We're starting to get creative and with the help of their awesome care workers, we've been able to keep in touch! We are also missing some of our favorite families we usually get to spend time with. We've had visits with are local loved ones, sitting 6 feet apart in our backyard and plan to Facetime our other favorite families, to help get us through!
Copyright 2020 Monica McConkey. All rights reserved.[/caption]
---
Copyright 2020 Monica McConkey
About the Author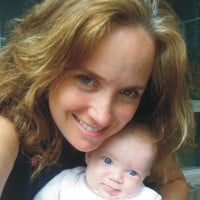 Monica, mom of 5, blogs about Catholic crafts and family traditions at EquippingCatholicfamilies.com. She is an author and creator of Super Saints quizzing cards and over 45 Saint, Sacrament, Catechism and Prayer-packed Craft Kits to help teach the Catholic Faith. The Catholic teaching tools and gifts are available through Arma Dei, the Catholic family publishing company founded with her husband Bill.