Jonathan Roumie as Jesus. © 2019. All rights reserved.[/caption] The recent independent, completely crowd-funded, multi-season series on the life of Christ is like no other "Jesus movie" from the past. Not only is it a streaming series, a first, but it is also paid for exclusively by viewers in an online initiated pay-it-forward process of streaming on The Chosen app, available through iTunes, Google, and other services. The app is free as well as all of season one's eight episodes, but there is a short video in between encouraging people to donate toward the development of season two. Created and directed by Dallas Jenkins and produced by Chad Gunderson and Justin Tolley, this beautifully crafted series brings us back into Israel at the time of Christ. The Chosen, as an episodic series, looks at the life of Jesus especially through the eyes of those who knew him. Jonathan Roumie, the winner of MovieGuide's Grace Prize for Television for this role, portrays Jesus with passion and intensity. The first season looks at the lives of the apostles more than what is written in the Scriptures, especially Peter (Shahar Isaac), Andrew (Noah James), James (Kian Kavousi), John (George Harrison Xanthis), and Matthew (Paras Patel). Faithful to the Scriptures, Jenkins fills in with probable dialogue and character development what the Bible only hints at. He brings to life these people by presenting their humanity thereby making them relatable to us here and now.
Shahar Isaac as Peter and Noah James as Andrew. © 2019. All rights reserved.[/caption] Shahar Isaac convincingly represents Peter as a financially troubled fisherman who can't get a break from the oppressive debt in which he finds himself. Matthew, played by Paras Patel, is a socially awkward but cunning businessman controlled by the Romans, who collects the taxes from the fisherman, especially Peter. They are fierce enemies, but when Jesus comes into their lives, everything is different. They still retain their unique personalities, but their goal in life changes and so does their purpose in life, as well as their relationship with each other, as shown in an emotionally gripping way in Episode Six. One of the most profound moments of the series for me was in Episode Seven when Nicodemus (Erick Avari) comes to meet Jesus at night because he is afraid the other Pharisees will find out. Jesus speaks so compassionately to him, seeing his interior struggle with the Law while sensing in his heart his desire to believe. When they part, Jesus hugs him with such affection and brotherly love that I found myself weeping. This kind of deep human connection Jesus has with people is what Jonathan Roumie portrays so convincingly.
Jonathan Roumie as Jesus and Erick Avari as Nicodemus. © 2019. All rights reserved.[/caption] I had the chance to sit down with Jonathan Roumie to ask him about the series and his experience depicting Jesus Christ. Me: Jonathan, how was it for you to play the role of Jesus in this series? Jonathan: It's the preeminent honor, not only of my career, but also of my life. It has been an amazing experience for me especially because of all the feedback that I've gotten from viewers of the show. It's been so overwhelmingly positive and touching and life changing for so many people. Some people from around the world have gotten baptized as a result of the show. It doesn't get more fulfilling, personally and spiritually, than knowing that someone is seeking Christ as a result of the art that I'm involved with. ... This role has become my personal mission. I feel God put me on this earth to introduce people to His Son in a very deliberate and obvious way that I could not have anticipated. Me: This series is about "filling in" the Gospel stories, in a way, giving context to Jesus' words in Scripture. What does the overall portrayal in the series mean to you? Jonathan: I feel we bring his humanity to life that has never been explored before. And that has been the resounding reaction from people that really has connected them in a way that they weren't previously seeing His humanity and not thinking of Him as human. Most people don't tend to think of Him as human, they think of Him as solely divine. They forget He is human and they forget He is Jewish and that He had friends, and cousins, relatives, and family … and skinned his knee, and went through puberty, and all the things that humans do … and experienced anger and anguish, and pain and suffering, and everything except sin. The biggest thing people respond to is seeing Jesus laugh … and chuckle … and make jokes. How could He not have a sense of humor knowing all that He would have to endure? Me: Did you see a lot of Jesus movies in order to play this role or does it come from your own spirituality and relationship to God? Jonathan: I've seen a lot, but didn't specifically sit down to watch any … but Jesus of Nazareth is my favorite. I've thrown in a few nods [to that film] by improvising a line … when I said, "Simon, son of Jonah" … and I've seen Robert Powell do that and I wanted to add that as my homage to the impact that series had on me. ... He [Robert Powell] brought a mystical quality to the role. ... I think about that when doing scenes when you need a little more mystical quality or divine quality, like doing the Miracles … but aside from that I try to just let everything go about my conceptions about the role and my own humanity and simply try to become a vessel for the Holy Spirit to work through me using those lines and Jesus' words and the inspiration of the spirit to perform the scene. Sometimes the scene won't go the way I want it to go and I'll try to push for something one direction and it may not necessarily get there and I just have to be OK with that and realize that, well, this is just the Spirit working through me today and I have to let go of my own ego and allow the work to speak for itself and the Spirit to speak for my work.
Jonathan Roumie as Jesus. © 2019. All rights reserved.[/caption] Me: What gives you "life" while on set? What gives you energy to put yourself in this role? Jonathan: I always pray. I'm always praying the night before, and the day of and throughout the day. I try to go to Mass when I can and receive the Eucharist. I get a lot of energy from that. The friendships that I have with the guys that play the apostles … they're all beautiful, beautiful human beings. Everybody on that set is just so lovely and light and loving. Whether or not they believe, they are all so supportive and encouraging. Me: What do you hope people will get from this series? What impact do you think it will have? Jonathan: I think it has the potential yet to change millions of lives. ... We're reaching people that haven't had access to the Gospels… the Bible is banned in some countries still but people have cellphones and so far we haven't been banned in any countries, as far as the app goes, since it is also entertainment. The goal of the creators is to evangelize so that's what we're hoping for … and it's happened on a small scale. Think globally, act locally, right? Globally, we'd love the world to follow Jesus … locally, if it starts with a few people in China, Japan, or Zambia ... wherever. It will spread! I was working on set the other day and a guy on set, a non-Chosen set, a background actor, comes up to me and he says, "Excuse me. Are you in The Chosen?" I wasn't expecting that and I said, "Yes, I am." He says, "Oh my gosh, I just finished watching that for the third time and I just started it again …" He's like, "I see a lot of celebrities being on set, but you're the only one I ever wanted to take a picture with." And apparently he was a heroin addict for nine years and got off heroin and found Jesus and said to me that this show has made his walk with Christ so much more tangible and engaging.
Sr Nancy and Jonathan Roumie. Photo by author. All rights reserved.[/caption] Me: If this series continues, will you still be playing Jesus? Jonathan: Oh yes! I'm all in! Me: Do you think playing the role of Jesus will put you in a niche and other things may not come or they will come because you played Jesus? Jonathan: The answer, when I prayed on it, is how I live my life now which is that my destiny is not in the hands of men, it's in the hands of God and whatever God wants for me He will reveal to me. And if He wants me to work other shows and do other things, I'll work other shows and do other things. If He doesn't, then at least for now, this is where I'm at. I'm coming into it with a level of acceptance. I'm doing a TV show that is an antihero sort of thing but it's a great stretch for me and an indication that God has other stuff for me. My personal prayer would be: to be successful in other things that have large audiences and then draw them over to this thing that sort of put me on the map…and get them interested in Jesus. I feel like that is possibly how he may want to use me … is bring people in through the media and bring those who haven't met Christ. ... That's my hope. But, whatever God wants! If you have not seen The Chosen, then get the app on iTunes or Google Play, and watch it with family and friends. This Holy Week and Easter season is a perfect time to watch a visual interpretation of Jesus so as to put oneself more profoundly in sync with the Church's liturgy during the Sacred Triduum. You will not be disappointed!
View the trailer:
https://youtu.be/K1-FoFj8Jbo
---
Copyright 2020 Sr. Nancy Usselmann, FSP
About the Author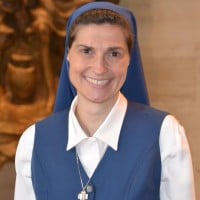 Sr. Nancy Usselmann, FSP is a Daughter of St Paul and the Director of the Pauline Center for Media Studies in Los Angeles, CA. She is a Media Literacy Education Specialist, theologian, international speaker, film reviewer, and blogger for BeMediaMindful.org. Her book A Sacred Look: Becoming Cultural Mystics is a theology of popular culture published by Wipf & Stock Publishing.