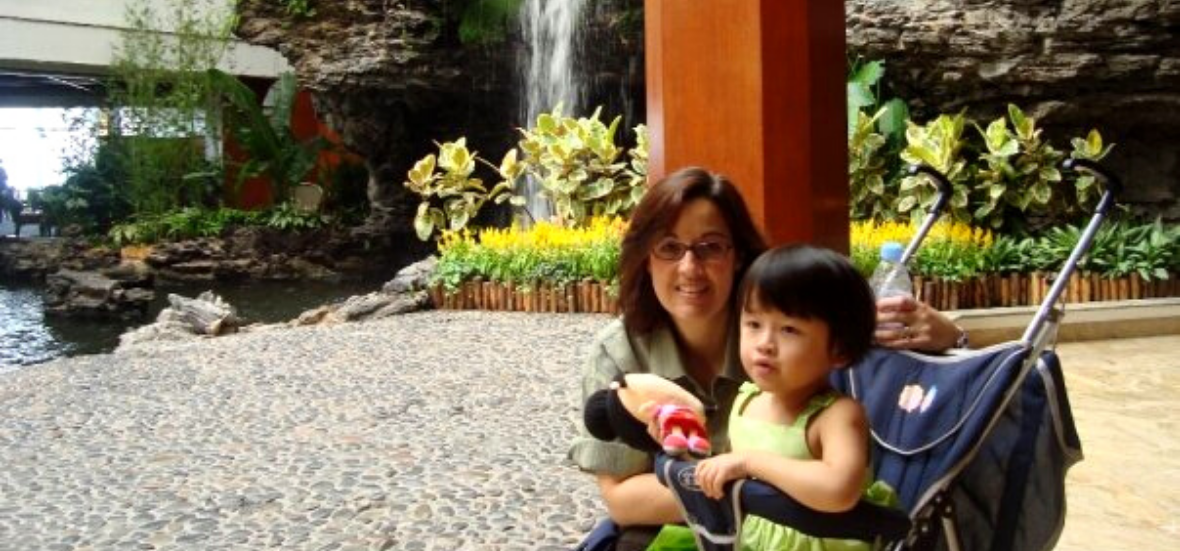 Allison Gingras contemplates her daughter's adoption in the light of our adoption into our heavenly family.
The adoption from China of my daughter, Faith, was the focus of a recent Catholic Momcast. What a blessing to share the magnificent God-moments that lead to our family bringing this special, sweet, little girl into our home. In the podcast with Danielle Bean, I shared the Holy Spirit inspirations and encouragements that guided this anxious mama half-way across the world to complete her family.
Aware that I painted this idyllic picture of the process, although the story does have a super happy ending, I wanted to share a little more of the challenges in our journey. The challenge specifically of her rejection encountered early on that challenged whether I truly understand how to discern God's will. Those moments on my knees, in prayer, learning to trust as I'd never trusted before. Every moment of Faith's adoption holds an important key to unlocking our adoption into our heavenly family — one many of us rejected at some point in our journey.
The dance of the early days in Faithy's adoption comprised of one step forward and two steps back. While my husband, Kevin, bonded almost immediately with her, our mother-daughter relationship would take a little more time and a lot more work. The first moment we were alone together, while Kevin and the interpreter ran to Walmart (yes, Walmart in China), Faithy fell apart. Her hysteria led to both of us covered in vomit; oh yes, child, like it or not, I thought, the bonding has begun! Sure, her brothers started by urinating on me, but every good mother knows, once some excretion from your child lands on your favorite shirt, you are bonded for life!
As an early childhood educator (at the time), I knew to build trust, I had to take on all her caretaking. She had to see me as someone who could quickly, adequately, and lovingly fulfill her needs. The line she allowed me to walk was thin; while she needed to keep Kevin nearby to help her feel peace and comfort, I did the same with the Holy Spirit. Crucial to keeping my emotions at bay, I often remind myself how confused and scared this beautiful little girl must be — I cannot even imagine waking one day to have your entire world turned upside-down! Especially for her, a three-year-old deaf child with absolutely no communication skills.
Each tantrum, rejection, and disobedience may have challenged by patience, but more so through prayer and confidence in Christ; these behaviors stirred a determination to help her feel secure and loved. On one incredibly overwhelming day, I excused myself to hide in the hotel bathroom to pray the Rosary. Tucked in my suitcase from home, I found a crumbled, well-worn pamphlet I'd used to relearn the Rosary when I 'reverted' back to the Catholic faith only a few years prior. The fruit of the first mystery was "Trust in Mary's Intercession!"
A wave of peace rushed over me as I realized Mary walked alongside every moment of my motherhood. She'd been there when I delivered my first son two months premature. She protected me during life-threatening surgery for an ectopic pregnancy; my last act before slipping under anesthesia was to pray the Hail Mary. As I clung to my beads while sitting in a dry bathtub, tears streaming down my face, praying as never before, I knew however long bonding took — I wasn't alone.
A wave of peace rushed over me as I realized Mary walked alongside every moment of my motherhood. #catholicmom
Today, ten years later, Faithy and I enjoy the closest mother-daughter relationship. She began to warm up to me only a few weeks after arriving back in America. In fact, if you ask who her favorite family member is — I win every time! And the Rosary? Still, my go-to prayer for all my parenting struggles, challenges, and insecurities.
---
Copyright 2020 Allison Gingras
Image copyright 2020 Allison Gingras. All rights reserved.
About the Author