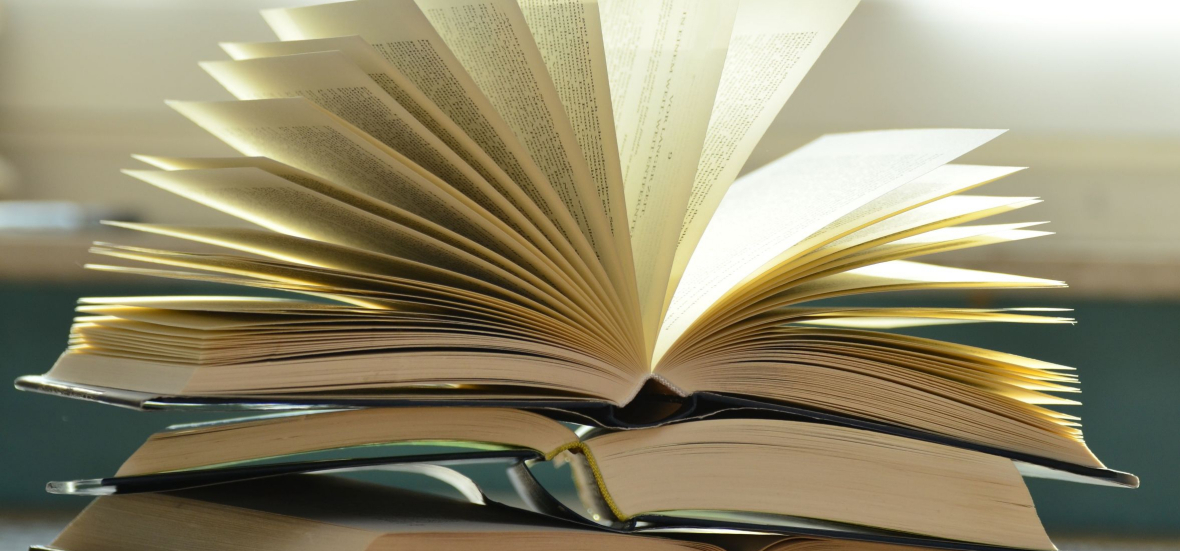 Carolyn Astfalk hosts the Open Book linkup: Share what you're reading and get recommendations from other readers.
Welcome to the August 2020 edition of An Open Book, hosted both at My Scribbler's Heart AND Catholicmom.com.
An Open Book is all about what my family is reading this month, from the adults down to the little kids.
Share what you're reading by linking up your blog post below. Simply write about what you're reading. You can make it personal or, as I do, extend it to the whole family. Your post can be as simple as a few lines about the book or as in-depth as a 700-word review. That's entirely up to you. You can even forego writing all together and record a video or simply post cover photos.
No blog? No problem. Please share what you're reading in the comments.
We've been doing a lot of reading this summer, especially since our local libraries have re-opened, at least in part. Let's face it: there aren't a whole lot of entertainment options this summer, so in addition to hanging out at the pond/creek, my kids are enjoying reading good books.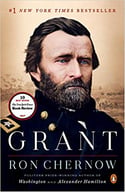 While his time on the road has been greatly diminished, my husband did begin listening to Grant by Ron Chernow on his way to and from Scout camp. Intrigued by a History Channel series on Ulysses S. Grant, he was eager to learn more about this former general and president of the United States.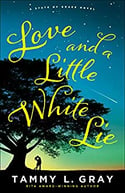 Love and a Little White Lie by Tammy L. Gray is a very well-written inspirational romance novel of healing, hope, and spiritual awakening. I love the direction the author is taking with this story, which reminds me a lot of one of my favorite novels, The Grace Crasher by Mara Faro. I also love this striking cover.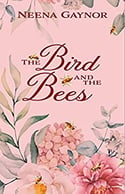 I was moved by this debut novel by Neena Gaynor, The Bird and the Bees, a Christian romance set mainly in Erie, Pennsylvania. The patient, stalwart third baseman Ketch Devine serves as a model of God's unconditional love. There is a lot to ponder here about what it means to live and to whom or what we anchor our lives.
Ranger Redemption by Lynn Shannon is a well-executed romantic suspense novel with an intertwined small-town cast of characters that add layers of complicity and multiple suspects to the lineup. The story is well-paced with a sweet second-chance romance at its center.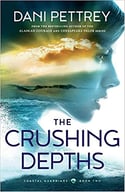 I enjoyed the second installment in Dani Pettrey's Coastal Guardian series, The Crushing Depths. It's uniquely set on an oil rig off of the Virginia coast. There's a big cast of characters and multiple crimes. If you're looking for a fast-paced crime novel with a sweet romance, this one will fit the bill.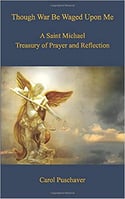 Though War Be Waged Upon Me: A Saint Michael Treasury of Prayer and Reflection by Carol Puschaver is a short prayer book that will deepen your knowledge of the familiar prayer to St. Michael the Archangel. It also includes information on how to pray the St. Michael Chaplet.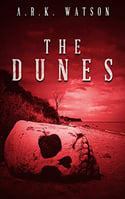 The Dunes by A.R.K. Watson is a short novella with a Twilight Zone vibe. This short fiction features a married couple and is set on the beach. Saying much more may ruin if for you, so you'll have to check it out for yourself. At 99 cents, why not?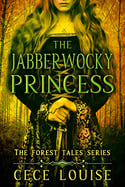 The second book in The Desperate Forest series by Cece Louise is at least as fun as the first. The Jabberwocky Princess is a historical YA novel with a contemporary feel and a little light magic (think dragons!). This is a fantastic series of clean romances for teens that have a bit of a fairy tale quality to them. More on that in the interview I did with the author last month.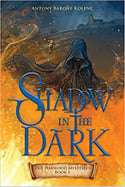 I enjoyed reading Antony Kolenc's Shadow in the Dark, new from Loyola Press. This historical novel for tweens and teens is set in medieval Europe and centers around a spooky mystery: Who or what is the shadow roaming the abbey grounds at night? The angel of death or a wayward monk? Such begins the series featuring young orphan Xan (short for Alexander) and his friend Lucy.
My oldest son is procrastinating on his school summer reading project by reading more from the Star Wars universe. He picked up Star Wars Myths & Fables by George Mann on our first trip to a bookstore this year! This attractive hardcover features various Aesop's fable-like stories including various Star Wars characters in different times and places. He appreciated the artwork at the beginning of each chapter too.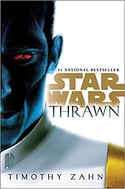 We have a slew of decades-old Timothy Zahn Star Wars paperbacks in the attic, but my son was drawn to a more recent release by the same author at the library. Thrawn is short for Grand Admiral Thrawn, an officer in the Imperial Navy. The story follows his rise through the ranks in the early days of the Empire when many alien races are oppressed. This is the first book in a trilogy he plans to read.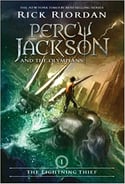 My seventh-grade daughter chose The Lightning Thief by Rick Riordan as her reward for completing the reading portion of the library's summer reading program. This series came recommended by her older brother, and she has been tearing through it greedily as fast as she can get the remaining books from the library. In a world where Greek gods and demi-gods roam the earth, Percy Jackson discovers he's the son of Poseidon, which puts his life in danger. When someone steals Zeus's lightning bolt, Percy must find it.
The Witch of Blackbird Pond by Elizabeth George Speare came recommended by a librarian based on my daughter's interest in colonial America. A young girl, Kit, flees her home in Barbados and arrives in Connecticut. Kit befriends a Quaker woman the local Puritans consider a witch.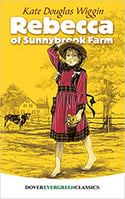 Knowing how much my daughter loved Anne of Green Gables, I picked up a copy of Rebecca of Sunnybrook Farm by Kate Douglas Wiggin from the library, and she loved it, informing me that this book actually was written before Anne and influenced L. M. Montgomery and various other authors. Imaginative Rebecca comes to live with aunts in Riverboro, where she comes of age.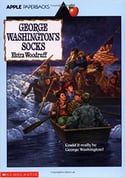 George Washington's Socks by Elvira Woodruff was required summer reading that my daughter liked (but didn't love). Several kids time travel to Revolutionary War times where they witness General Washington's crossing of the Delaware River and try to get home. My daughter was a little frustrated by the magical rowboat plot device.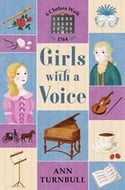 I ordered some (wonderful!) Usborne books and products for my kids this summer and grabbed Girls with a Voice and Girls with Courage by Ann Turnbull and Adele Geras. In Girls with a Voice, set in the 18th century, a girl dreams of becoming an opera singer. She's sent to boarding school when her father loses a large amount of money on a failed investment, jeopardizing her musical education. In Girls with Courage, set in the 19th century, a girl is sent to her uncles' home when her mother is having another baby. She must ride with her eye-patch-wearing uncle to discover what's happened to her mother. (To buy, check in with an Usborne Books & More consultant.)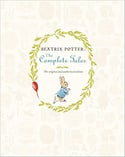 My third grader picked out a huge book from the library that she is steadily reading aloud to the rest of us (whether we're listening or not). The Complete Tales of Beatrix Potter includes all of the classic tales of Peter Rabbit, Benjamin Bunny, Squirrel Nutkin, and more with the original illustrations.

We brought home a slew of Berenstain Bears books from the library too. All four of my kids have loved the Berenstain Bears, and we read these books again and again and again. As a parent, I've always appreciated the honest but gentle and humorous way they tackle common childhood problems. One of the favorites this go-round has been The Berenstain Bears and the Double Dare by Stan and Jan Berenstain.

I've begun reading The Wind in the Willows by Kenneth Grahame aloud to the kids. It's been a while since I read this one, and the chapters are pretty long for a children's book. I enjoy introducing the kids to this world, which they connect with a particular area of children's garden at the nearby Hershey Gardens.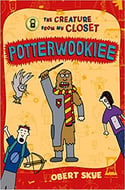 My youngest son has been reading Potterwookiee: The Creature in My Closet by Obert Skye. In it, the main character puts both books and a chemistry set in the closet and some amazing creatures result. This one was handed down from his older brother. Illustrations à la Diary of Wimpy Kid make it a fun read.
Want more details on An Open Book? You can also sign up for An Open Book reminder email, which goes out one week before the link-up.
Join #OpenBook linkup + share your current reads! Hosted by @CMAstfalk + @CatholicMomCom #catholicmom
---
Copyright 2020 Carolyn Astfalk
This article contains Amazon affiliate links; your purchases through these links benefit the author.
About the Author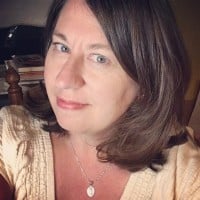 Carolyn Astfalk is a wife, mother of four young children, and a writer. Her contemporary Catholic romances are available at Amazon.com. She is a member of the Catholic Writers Guild, a Catholic Teen Books author, and blogs at My Scribbler's Heart. Visit CarolynAstfalk.com.