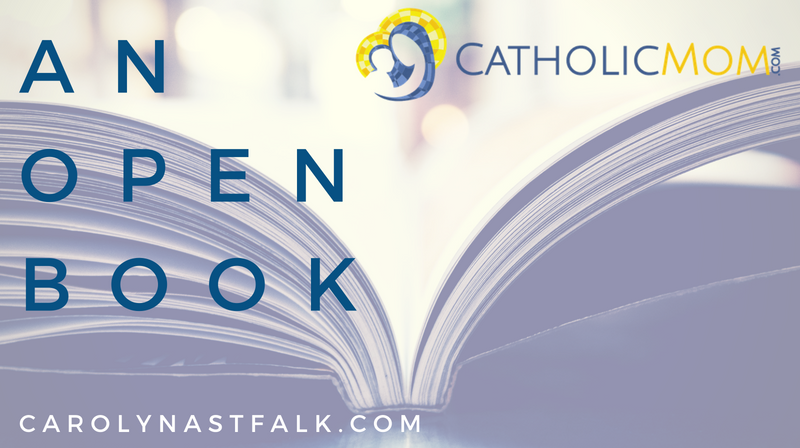 [caption id="attachment_151513" align="aligncenter" width="800"]
Copyright 2018 Carolyn Astfalk. All rights reserved.[/caption]
Welcome to the June 2020 edition of An Open Book, hosted both at My Scribbler's Heart AND Catholicmom.com!
[Tweet "Join #OpenBook linkup + share your current reads! Hosted by @CMAstfalk + @CatholicMomCom"]
An Open Book is all about what my family is reading this month, from the adults down to the little kids. Share what you're reading by linking up your blog post below. Simply write about what you're reading. You can make it personal or, as I do, extend it to the whole family. Your post can be as simple as a few lines about the book or as in-depth as a 700-word review. That's entirely up to you. You can even forego writing all together and record a video or simply post cover photos.
No blog? No problem. Please share what you're reading in the comments.
The school year here went out with a whimper during stay-at-home orders, and our reading and listening routines are changing again. I spend almost no time in the car or alone, so my audiobook listening has really dropped off, but my teenager is trying listening to books for the first time when he takes daily walks.
I generally don't read fantasy, but I make exceptions for author friends' books, and I've been meaning to read Katy Huth Jones's Mercy's Prince, the first in a five-book series, for years. This is just the kind of fantasy I enjoy: it's human-centric with names I can pronounce! I had no trouble immersing myself in the fictional world replete with an invading reptilian horde and noble dragons. A sweet and tender romance and some gritty (but not gruesome) battle scenes round out this Christian fantasy for teens and adults.
At Love's Command is Christian historical romance author Karen Witemeyer's latest release. This one includes more action than most of her novels, but since the hero is a cavalryman turned mercenary, it makes sense. The likable heroine is a doctor, unusual for her time. Karen Witemeyer writes with a consistency of quality that I admire.
Becky Wade's Stay With Me, the first in the Misty River Romance series, tackles some tough issues not often seen in Christian fiction, the main one being opioid addiction. Despite the grim topic, Stay With Me remains hopeful, even humorous at times and includes beautiful faith themes that come together seamlessly by the end.
Farmgirls Die in Cages in Corinna Turner's most recent release in her unSPARKed series. I love that these are published in short, serial installments, each one as exciting as the last. Great adventure fun for teens and adults. Life with dinosaurs seems plausible in this wonderfully designed future world.
The Art of War by Sun Tzu is a fifth century B.C. Chinese military handbook that my now-high school senior (gulp!) listened to on audiobook. He's interested in both Western and Eastern classics, so this appealed to him.
My two oldest kids loved E.K. Johnston's Ahsoka, so my son was eager to cash in on a deal for Queen's Shadow by the same author, which he's also been listening to. While not his favorite Star Wars novel, he's enjoyed seeing some of the characters from The Clone Wars series, of which he's a big fan.
My middle school daughter had planned on reading Roland West, Loner by Theresa Linden for a self-directed literature assignment, but the school year ended without it being realized. Instead, she's reading it for pleasure (though I may work through the discussion questions with her afterwards). Roland West, a quiet, unassuming kid, is thrust into a new high school along with his bullying twin brothers. He discovers friendship, a mystery, and maybe even a miracle. This is another that both her older brother and I enjoyed and a fabulous introduction to the West Brothers series, which is wrapping up with Fire Starters, just released on Pentecost.
Another Theresa Linden book makes the list this month: Breastplate of Righteousness, the second book in her Armor of God chapter book series. I had the pleasure of editing this little illustrated book that's great for students in the early elementary grades. Each book includes simple lessons about virtue in the context of medieval students aspiring to be nights and dames. I have two young readers in the target audience for this one!
My youngest child dug into the books he received from his teachers to kick off his summer reading. Mouse Soup by Arnold Lobel includes several short illustrated tales for young readers. My now-second grader also began Super Fly: The World's Smallest Superhero by Todd H. Doodler. It's what you'd likely expect. Mild-mannered Eugene Flystein and his Fantastic Flea sidekick take on the villainous Crazy Cockroach.
My younger readers have also picked up the Diary of a Wimpy Kid books that belong to their older brother, and, believe it or not, they've been zipping through my Garfield books from the 1980s while clutching my old stuffed animals. Apparently I'm so they're so old that they're not readily available anymore.
You are invited to the Inlinkz link party!
Want more details on An Open Book? You can also sign up for An Open Book reminder email, which goes out one week before the link-up.
Check out the archives of An Open Book!
---
Copyright 2020 Carolyn Astfalk
This article contains Amazon affiliate links; your purchases through these links benefit the author.
About the Author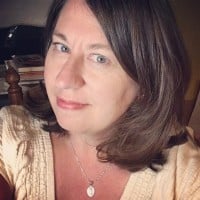 Carolyn Astfalk is a wife, mother of four young children, and a writer. Her contemporary Catholic romances are available at Amazon.com. She is a member of the Catholic Writers Guild, a Catholic Teen Books author, and blogs at My Scribbler's Heart. Visit CarolynAstfalk.com.