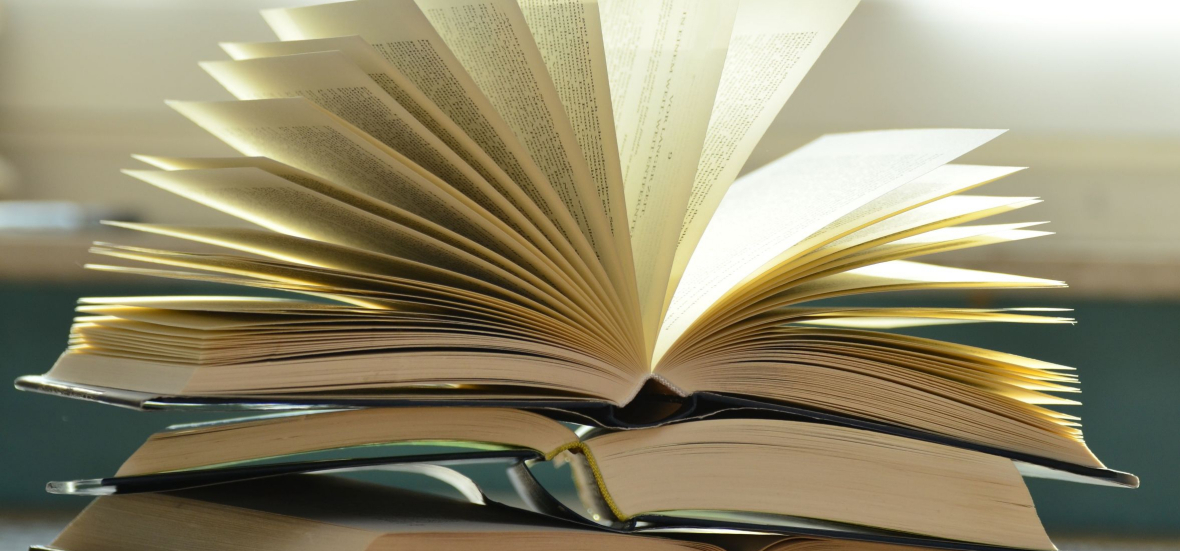 Carolyn Astfalk hosts the Open Book linkup: Share what you're reading and get recommendations from other readers.
Welcome to the September 2020 edition of An Open Book, hosted both at My Scribbler's Heart AND Catholicmom.com.
An Open Book is all about what my family is reading this month, from the adults down to the little kids.
Share what you're reading by linking up your blog post below. Simply write about what you're reading. You can make it personal or, as I do, extend it to the whole family. Your post can be as simple as a few lines about the book or as in-depth as a 700-word review. That's entirely up to you. You can even forego writing all together and record a video or simply post cover photos.
No blog? No problem. Please share what you're reading in the comments.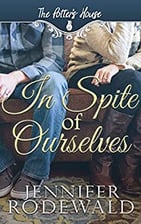 In Spite of Ourselves by Jennifer Rodewald is what I call a marriage of inconvenience story. A drunken, quickie Vegas marriage of strangers can't just be forgotten by either Jackson or Kenz. What follows is a sometimes funny, always heartfelt story of God writing straight with crooked lines. Jackson is an inspiring model of God's faithfulness, and this book is one of my favorites this year.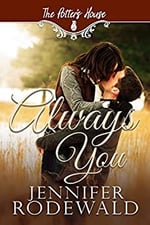 I had to go back and read the first book in the Murphy Brothers series by Jennifer Rodewald: Always You. This novel is less dramatic that In Spite of Ourselves, a gentle friends-to-lovers novel with real and relatable problems being obstacles to a new romance. There are seven brothers in this family, so there is much more good stuff to come!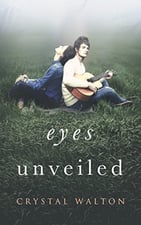 Crystal Walton has freshened up her first series, and I was happy to read Eyes Unveiled. It evokes all the confusion of burgeoning adulthood: discovering who I am, what I want to do, and my place in the world. It's a story of self-discovery and sweet romance with the challenge of a bit of a love triangle.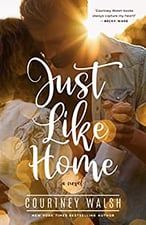 Each book in Courtney Walsh's Harbor Point series is better than the last. Just Like Home is an unlikely romance between professional ballerina Charlotte and high school football coach Cole. Gruff, rude, hurt, and angry Cole ends up being a perfect, endearingly sweet and romantic match for sheltered Charlotte, who is seeking love and acceptance in the wake of her long-distance friend's (Cole's sister) death.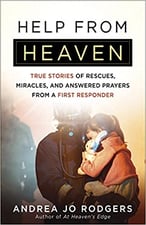 Help from Heaven: True Stories of Rescues, Miracles, and Answered Prayers from a First Responder by Andrea Jo Rodgers is a collection of some of the author's experiences as an EMT over the past several decades. Interspersed with Bible verses and short reflections, these are the kind of short tales that become addictive. What kind of predicament is it? Will they get to the hospital in time? Will they make it?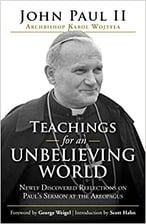 Teachings for an Unbelieving World: Newly Discovered Reflections on Paul's Sermon at the Areopagus by Pope John Paul II renewed my appreciation for one of my favorite saints. Decades before he'd become the Holy Father, themes central to his papacy are evident in these short and easy-to-read reflections.
Bigfoot!: The True Story of Apes in America by Loren Coleman provides a good overview of the popular and cryptozoological history of Bigfoot for the casual observer. I read this as research for a novel I'm writing and found it a solid and enjoyable examination of the phenomena heavily concentrated on the 1960s.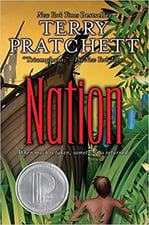 For his summer reading assignment, my high school senior chose Nation by Terry Pratchett, an author new to him. He seems reluctant to part with this book, even though it has to go back to the library. This multi-award-winning Young Adult novel concerns Mau, the last surviving member of his nation, alone on a desert island. Then he meets Daphne, the sole survivor of a shipwreck. Themes include death and nationhood.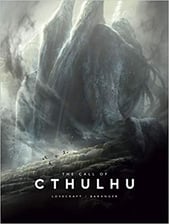 Curious about H.P Lovecraft, he downloaded and quickly read The Call of Cthulhu. The description calls it a "harrowing tale of the weakness of the human mind when confronted by powers and intelligences from beyond our world." My son said it was okay but that he didn't find it scary, except in a Dracula sense, which I take to mean suspenseful, where what's unseen is scarier than what is presented.
My daughter has mostly been finishing series she'd begun this summer, first Percy Jackson and the Olympians, then the follow-up to Rebecca of Sunnybrook Farm, The New Chro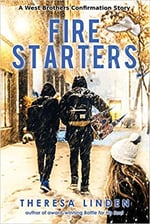 nicles of Rebecca by Kate Douglass Wiggin, which she found a bit disappointing, and then Theresa Linden's West Brothers series. She's currently reading Fire Starters, which is great preparation for Confirmation, still more than a year away for her. The West Brothers — Jarret, Keefe, and Roland — were away from the Church and have missed being confirmed, and their friends are on hand both to help them prepare and solve a mystery involving their parish church.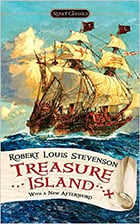 She also read the classic Treasure Island by Robert Louis Stevenson. We seem to have a family of pirate-lovers, and she enjoyed this as much as the rest of us have. It didn't hurt that we found a fancy hardbound version with a ribbon bookmark and gold-trimmed pages at the library. It's the little things.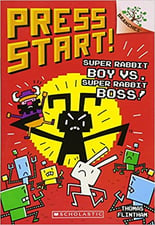 I've been slacking off a bit with the little kids this past month, but my youngest read his reward book from the library's summer reading program, Super Rabbit Boy vs. Super Rabbit Boss by Thomas Flintham. It's the fourth book in the series, but that didn't seem to bother my second-grader. He loves all things video games, and this book, heavy on illustrations, suited him just fine. He'd like to read the other books in the series.
Want more details on An Open Book? You can also sign up for An Open Book reminder email, which goes out one week before the link-up.
---
Copyright 2020 Carolyn Astfalk
This article contains Amazon affiliate links; your purchases through these links benefit the author.
About the Author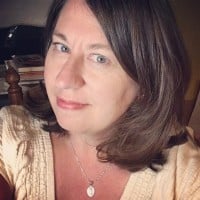 Carolyn Astfalk is a wife, mother of four young children, and a writer. Her contemporary Catholic romances are available at Amazon.com. She is a member of the Catholic Writers Guild, a Catholic Teen Books author, and blogs at My Scribbler's Heart. Visit CarolynAstfalk.com.