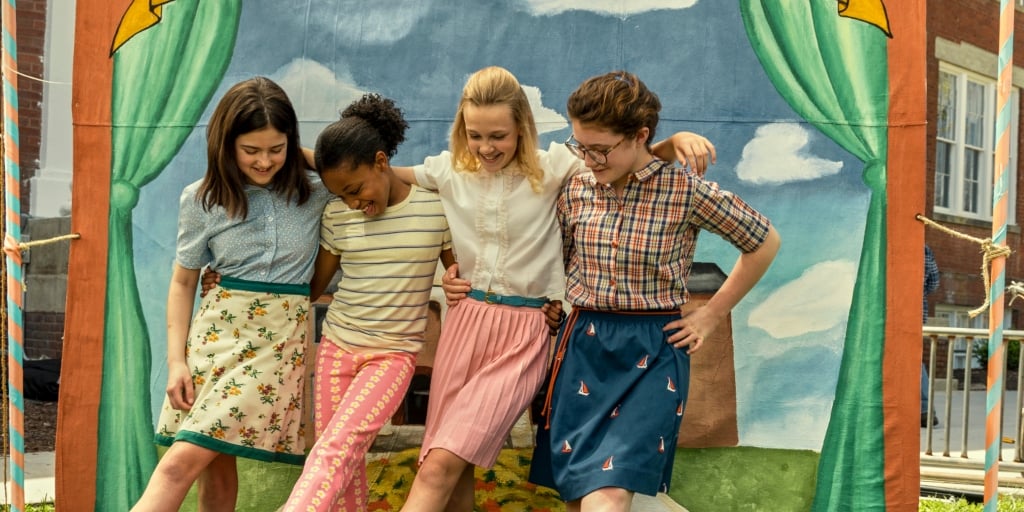 Sister Nancy Usselmann, FSP, explores how this movie based on Judy Blume's book for tweens takes a deep dive into the way parents evangelize their children.
---
I remember growing up with Judy Blume books all the rage. I wasn't allowed by my mother to read Are You There, God? It's Me, Margaret, even though it was available through my Catholic school's Scholastic Book Fair. But, as any kid would do, I read parts of my friend's copy. It is all about growing up and the things tween girls talk about among themselves—boys, bras, and menstruation. Mixed in throughout, though, it speaks to the reality of the spiritual and the human yearning for God. What I didn't realize then, was that it is also a commentary on religious disaffiliation as becoming a cultural movement—a lens I bring to it as an adult within our current cultural climate.
The story centers on Margaret Simon (Abby Ryder Fortson), an eleven-year-old navigating the world of puberty and her relationship with God. Her parents, Barbara and Herb (Rachel McAdams, Benny Safdie) didn't raise her with any religious affiliation. Her paternal grandmother Sylvia (Kathy Bates) is Jewish, whose humorously sarcastic personality endears her to her granddaughter who she hopes one day would share her Jewish faith. Margaret never met her maternal Christian grandparents because they disowned Margaret's mother when she married her Jewish husband. Neither of her parents practice their faith and so have decided to leave Margaret free to choose her own path, a trend that has increased in these last decades.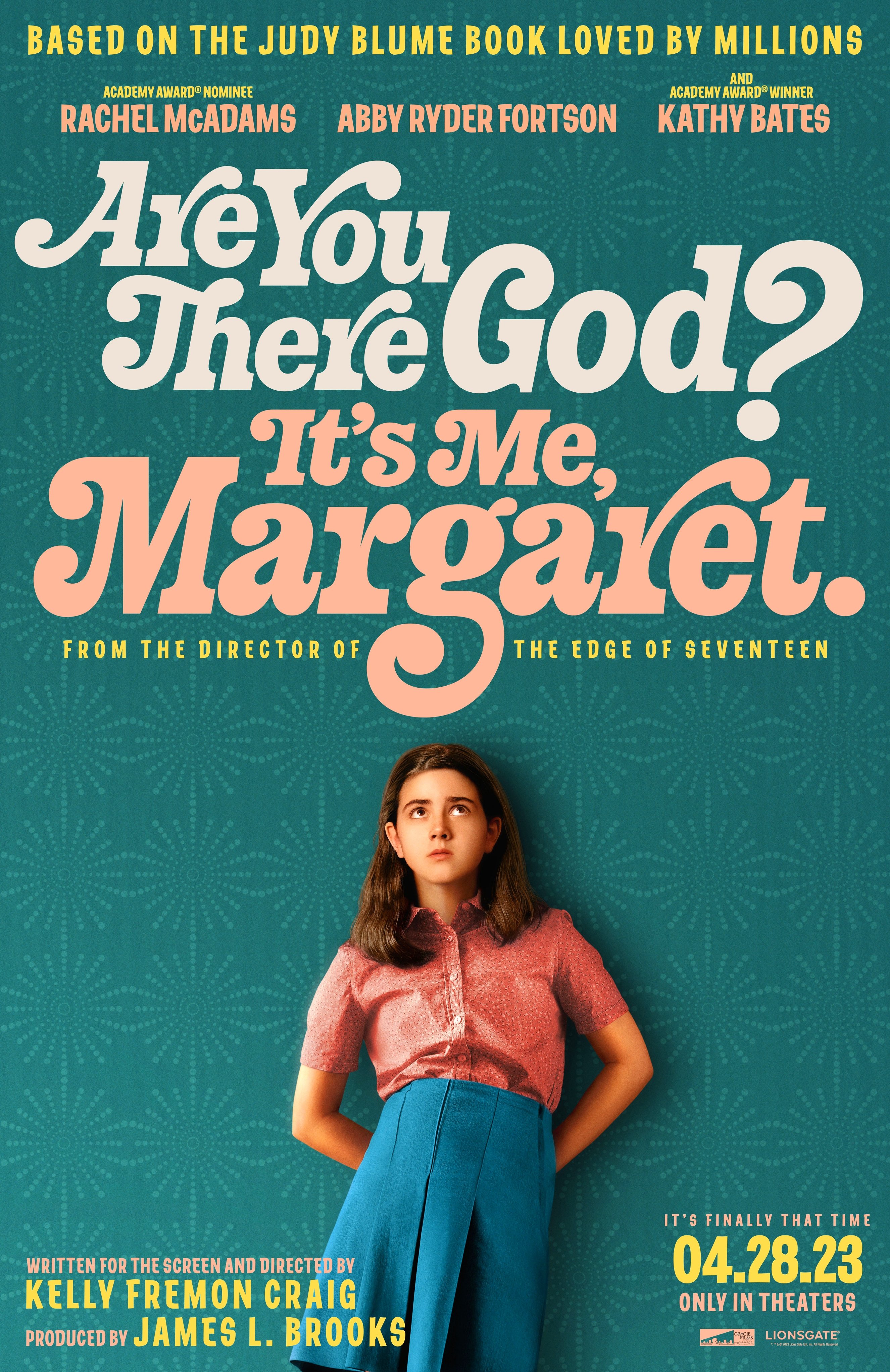 The well-crafted film is set in the 1970s, a flashback for Gen Xers who connect with the spot-on clothing, music, and sets. Margaret returns from summer camp to her home in New York City, only to learn that her family must move to New Jersey. When Margaret moans to God in the silence of her room of the impending socially disruptive move, she prays, "Please don't let New Jersey be too horrible!" You cannot but laugh out loud at the honesty portrayed through a young pubescent girl's perspective.
Almost immediately after moving into their expansive new home, Margaret meets Nancy (Elle Graham) whose wild and free personality becomes infectious. Together with two other sixth graders, they form a secret club as they moon over boys, especially Philip Leroy (Zachary Brooks), the school's pretty boy. Margaret instead secretly admires Moose (Aidan Wojtak-Hissong), the friend of Nancy's brother, Evan (Landon Baxter). Her first crush consumes her throughout the film. The girls gossip about Laura Danker (Isol Young) whose body advances in puberty long before the others and talk about who among them will get their period first. The film addresses these subjects gracefully, attentive to the true nature of girls as different than boys, something the current media culture seems to dismiss.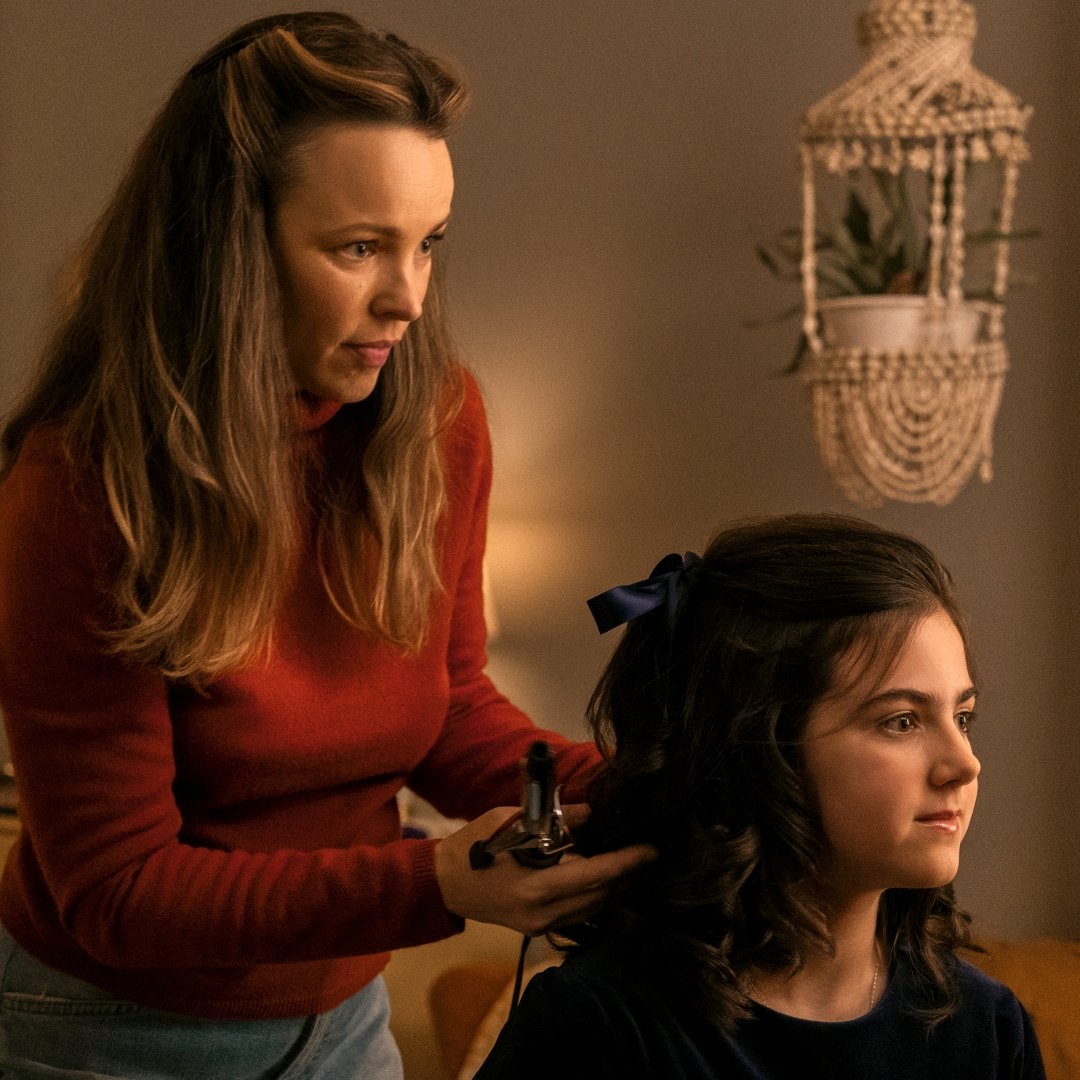 Margaret's journey goes beyond her biological changes. She seeks a relationship with God but is unsure of what that looks like. Diverting from Blume's book, director Kelly Fremon Craig's adaptation has Margaret confused about religion. Blume instead has Margaret tell her friends that she has no religion at all. In the film, Margaret talks to her mother Barbara, about it, and Craig gives McAdams' character more depth than the book does by sharing the reason for Barbara's disaffiliation from organized religion. Unfortunately, disapproval of her parents over the choice of a life partner led to them disowning her. However, as the film continues, we see Barbara seeking reconciliation with her parents and them coming to visit with an ulterior motive of bringing Margaret into the Christian faith. At the same time, Sylvia brings her to temple, hoping she'll join the Jewish faith. It all blows up before Margaret and she makes her feelings known to the whole family.
Margaret begins to grow into her own person while coming to a greater understanding of morals as they impact her relationships and daily life situations. As complicated as middle-school life is, the film gently addresses these challenges in the life of a pre-teen. Margaret's relationship with God continues, even if in a small way, leaving the viewer to acknowledge that God can still be part of our lives.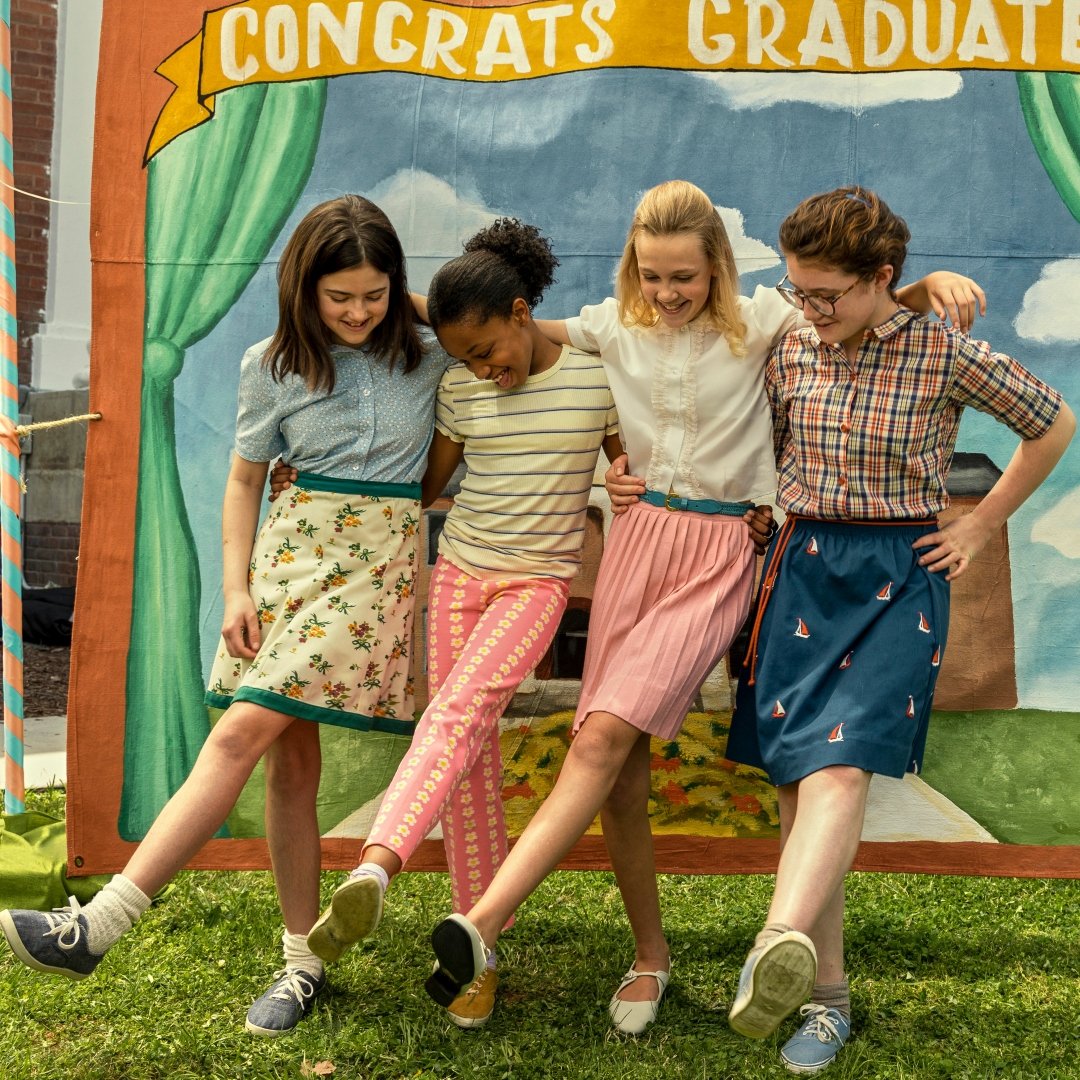 As a film, it's impeccably scripted and edited. Is it a great film? My bias will always be colored by my issues with Judy Blume and her perspective on normalizing talk about teen sex, masturbation, and gender issues, which she promotes in her other books. Her ideas formed generations of young people who are the parents and grandparents of today's children. Maybe it's not surprising then that a morally relativistic culture exists. But what is also troubling to me is the normalization of religious disaffiliation and the parent's lack of teaching their child spiritual values, leaving the child free to make their own decisions. This seems to be a lack of parenting and sharing of values which are communicated in and through the family unit.
People in ministry who look at studies about young adults disaffiliating from organized religion shouldn't be too dismayed. This is not a current phenomenon, but has been gradually developing in our American culture over the decades. Is it something to be concerned about? Of course! But it starts with catechizing the parents now so they can pass on faith values to their children. The trend of allowing children to choose their religion when they grow up seems to me to be a shirking of a parent's duty to form their child's emotional, physical, and spiritual lives. When they leave out the spiritual, they leave out an essential element of what it means to be human. We are body and soul created to long for what is beyond this material world. We ultimately seek God whether we are aware of it or not. Only God can truly satisfy our deepest yearnings: something I hope a child like Margaret would eventually discover despite her unaffiliated parents.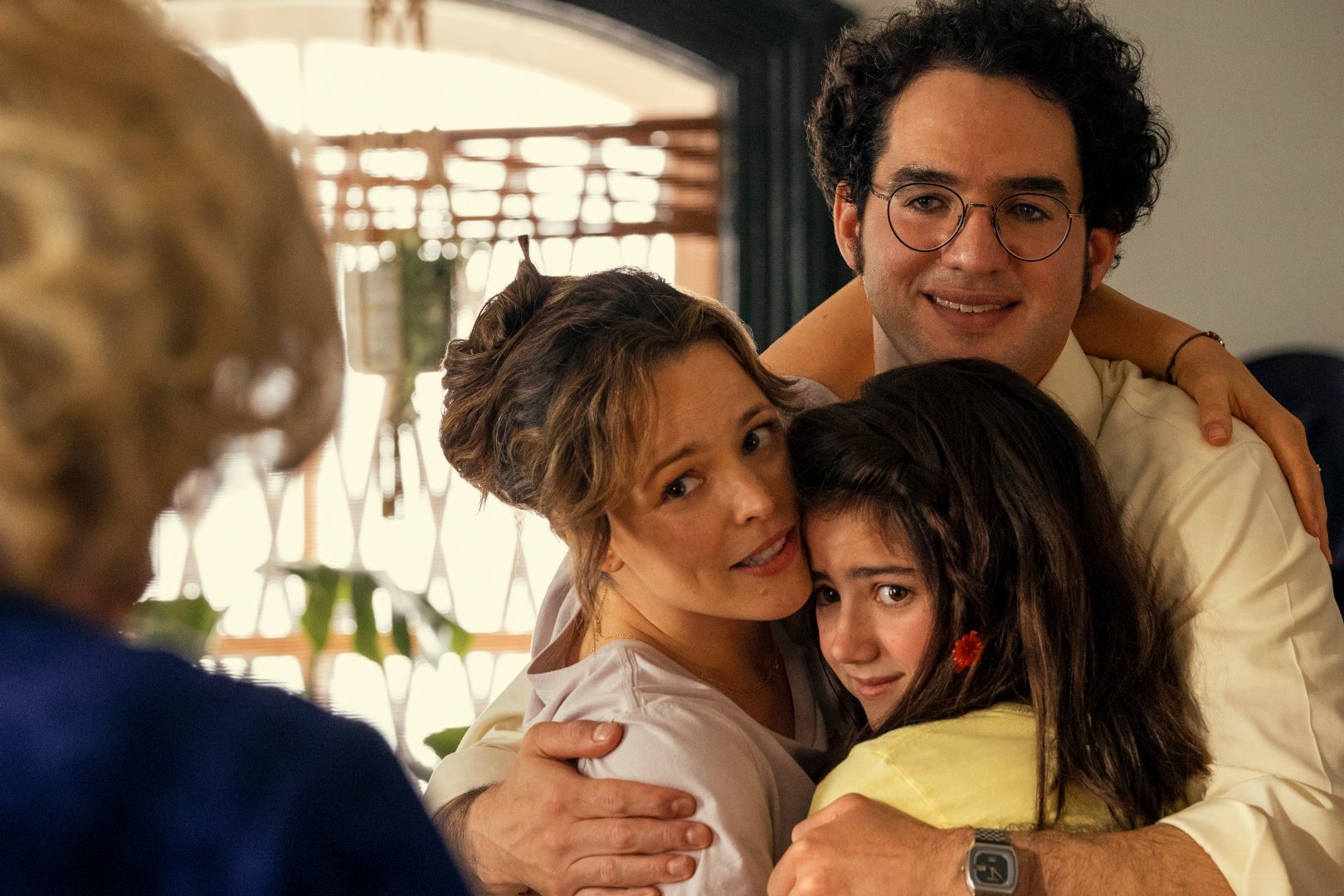 ---
Copyright 2023 Sister Nancy Usselmann, FSP
Images: Dana Hawley/Lionsgate ©2023 Lionsgate. All rights reserved.
First published on bemediamindful.org
About the Author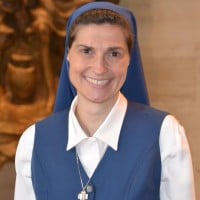 Sr. Nancy Usselmann, FSP is a Daughter of St Paul and the Director of the Pauline Center for Media Studies in Los Angeles, CA. She is a Media Literacy Education Specialist, theologian, international speaker, film reviewer, and blogger for BeMediaMindful.org. Her book A Sacred Look: Becoming Cultural Mystics is a theology of popular culture published by Wipf & Stock Publishing.