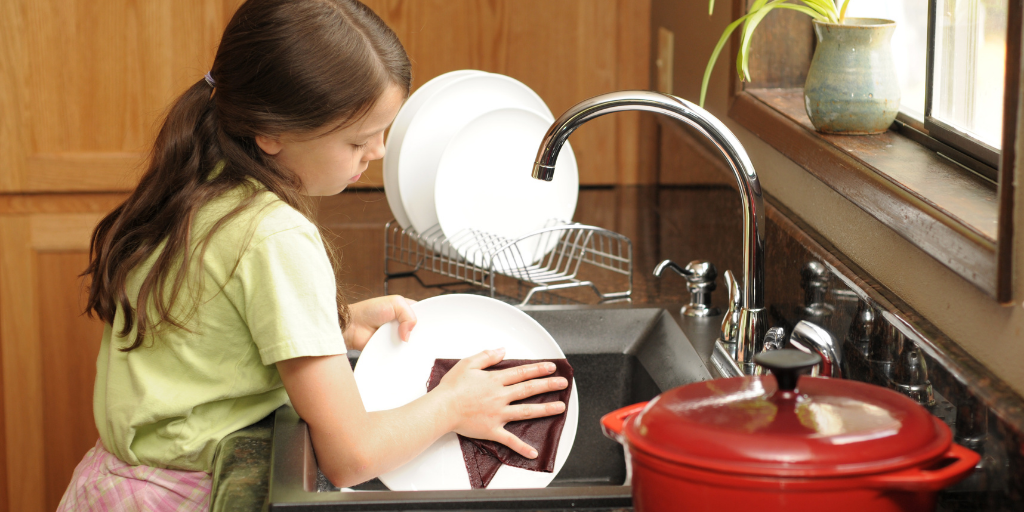 Charisse Tierney rebooted her family's chore system based on advice from other moms. Here she shares what she learned and what she changed.
I decided to refresh our family's chore system for the new year. I asked for ideas from some other moms and found the inspiration I needed to compile the following routines, charts, and lists.
Family Meeting
Before jumping in to our new chore system, we had a family meeting to make sure everyone understood what was going to happen. I created a packet for each family member with the lists and routines we would be implementing. This also included an "agenda" for our meeting so everyone would know what to expect.
Expectations and Consequences
I started with a clear list of the expectations my husband and I have for members of our household. This included things like "Show respect through words, actions, and attitude", "Complete daily chores efficiently, cheerfully, and completely", and "Show Mom and Dad social media, texts, etc. anytime you are asked."
This document also included a list of possible consequences such as "Lose screen time", "Lose phone", and/or "Extra chores."
I also created cards with extra chores printed on them that I can give to any of my children who are not abiding by our expectations. These are chores that would be completed instead of screen time. I wrote each child's name on a clothespin, stuck a piece of magnetic tape on the back, and put the clothespins on our family's dry erase board. This way, I have consequences ready when needed.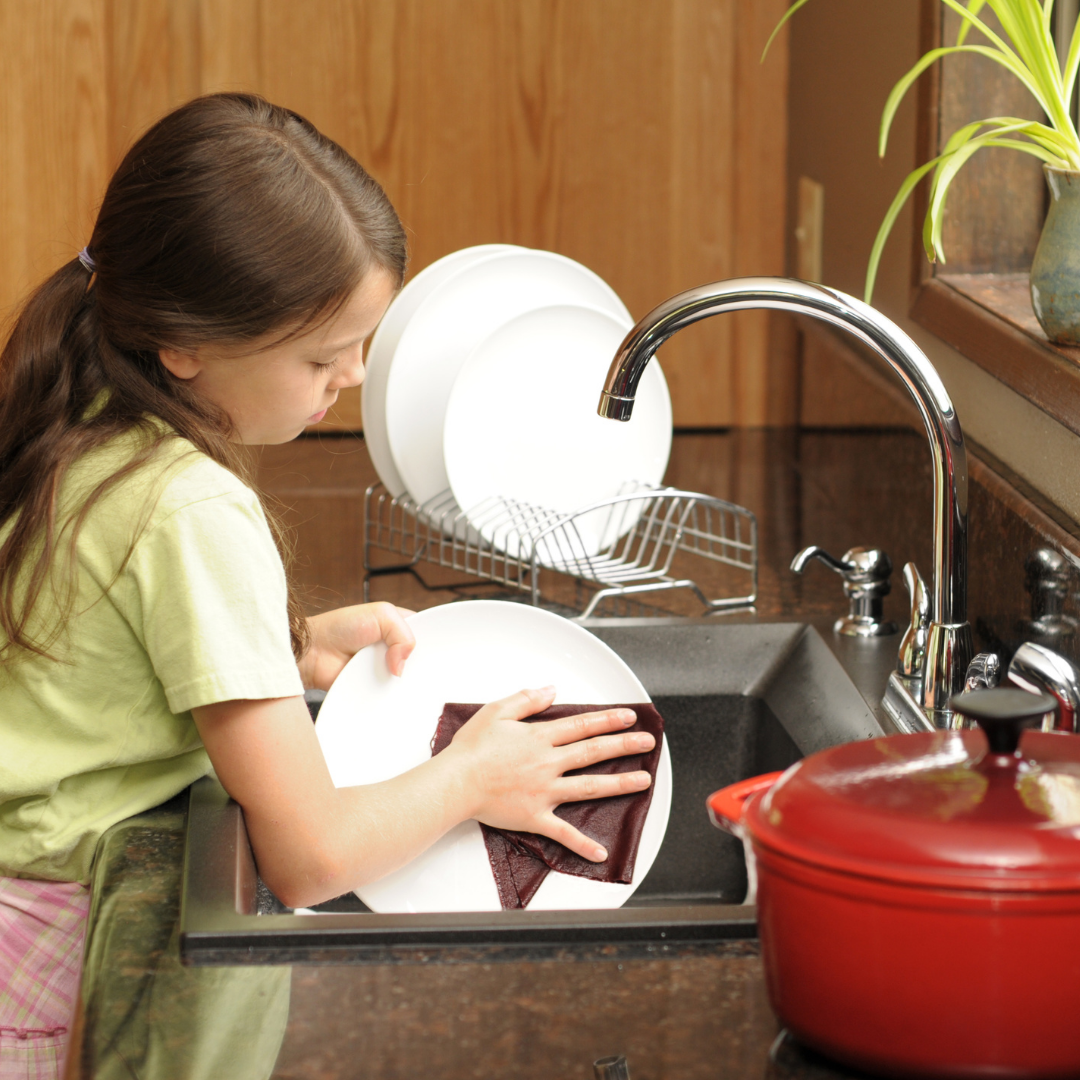 Definitions
This list clarified some of the chores and terms listed on my children's daily chore chart. I realized they also needed clear explanations of what my husband and I mean when we ask them to "babysit" (don't park your younger siblings in front of a screen for two hours), or prepare a "meal" (not just a sandwich or bowl of cereal). I also included an image of a plate from Canada's food guide that depicts ideas for creating balanced, healthy meals.
Daily Tasks
These are tasks that must be completed every day before screen time or extended leisure time.
Older Kids' Schedules
I created a simple weekly schedule for each of my high school kids to fill out for me. This way I know their work schedules, activity schedules, and social plans. I'm also asking them to write down when they have tests coming up at school so I am more aware of what is going on in their world of academia—and to help them create better study habits.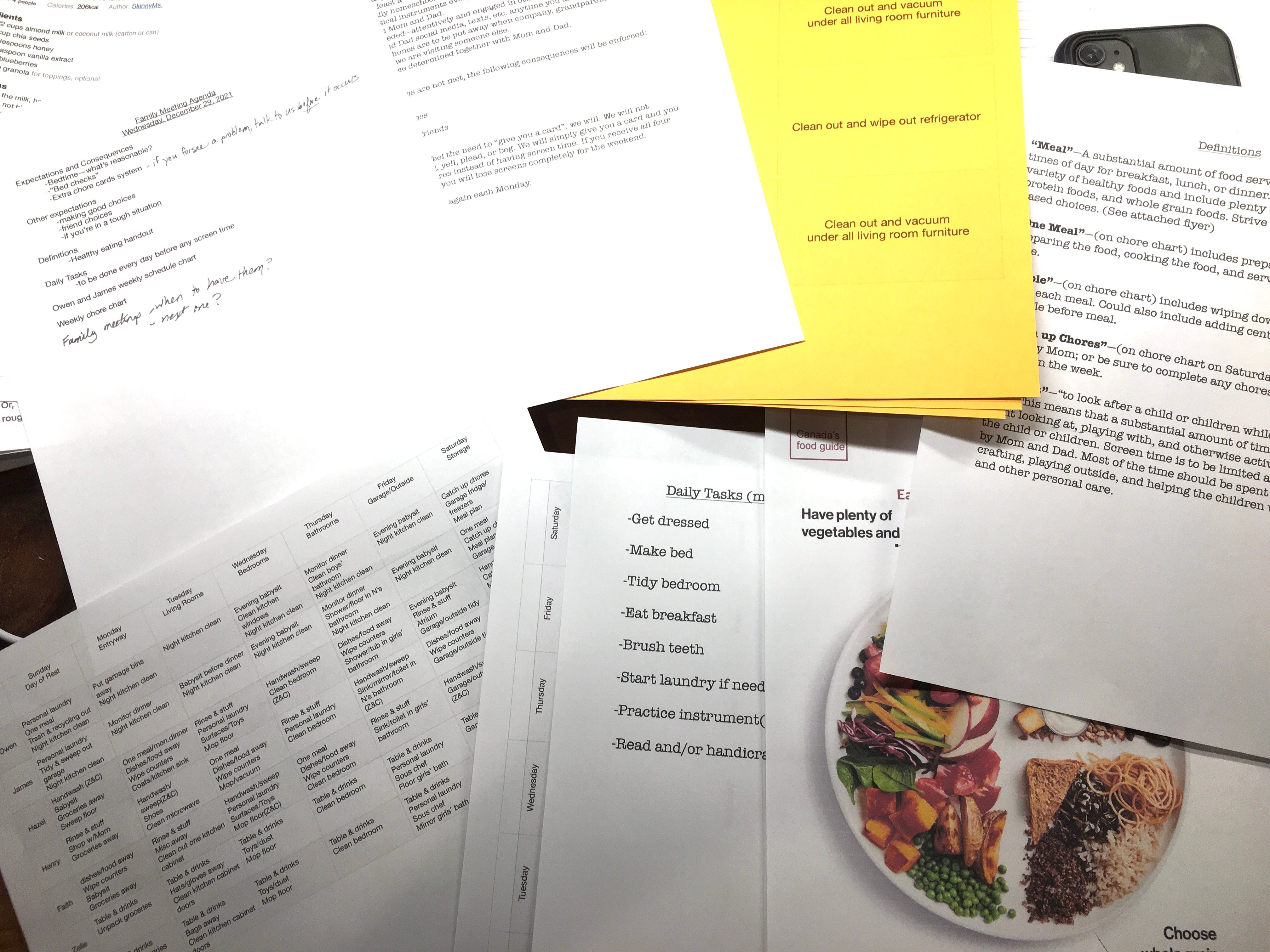 Chore Chart
This is a chart with each day of the week and each child's name. Each day has a particular focus on a "zone" in the house. Each child has specific tasks to help clean each zone, as well as meal time and personal care chores.
Each child is expected to plan and prepare one meal per week.
Each child is expected to do his or her own laundry on the designated day.
I gave chores to my high school boys that they could complete at times they are home, such as setting all of the garbage out for trash day and cleaning up the kitchen before bed.
Click to tweet:
6 steps to creating new chore charts for your family #catholicmom
I am sure we will continue to readjust all of our charts and lists, but they have given us a place to start. Our household is already running more smoothly and peacefully.
Every family is unique, including in the way they manage caring for their home and each other. Hopefully our system will give you inspiration and ideas for what will work for your family!
---
Copyright 2022 Charisse Tierney
Images: Canva Pro; chore chart photo copyright 2022 Charisse Tierney, all rights reserved.
About the Author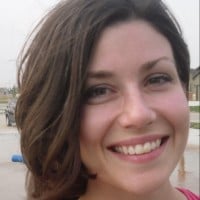 Charisse Tierney lives in Wichita, Kansas, with her husband Rob and seven children. Charisse is a stay-at-home mom, musician, NFP teacher, and a Catechesis of the Good Shepherd catechist. She is also a contributing author to The Catholic Mom's Prayer Companion and Family Foundations magazine. Charisse blogs at Paving the Path to Purity and can be found on Facebook.