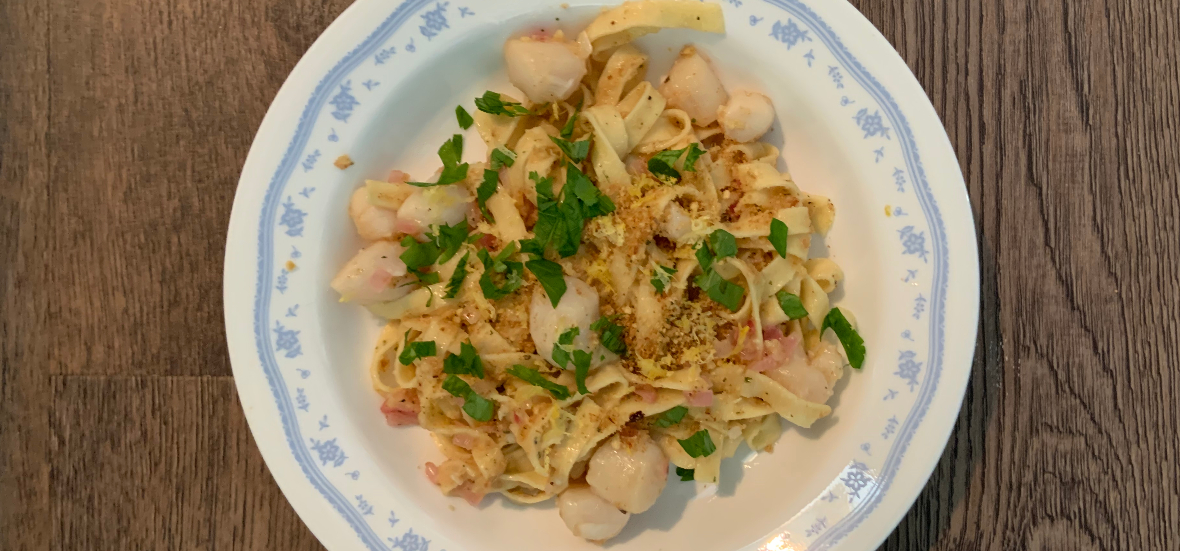 Barb Szyszkiewicz shares a quick-to-prepare recipe for two, for your next Meatless Friday date night.
Fresh pasta and bay scallops team up for a dinner that comes together quickly. After you gather the ingredients, cook time is less than 15 minutes!
Fettuccine with Lemon and Scallops (for two)
4 tbsp extra-virgin olive oil (divided)
1/4 cup breadcrumbs (I used roasted garlic breadcrumbs - use whatever you have on hand or make your own)
1/2 tsp crushed red pepper
6 oz fresh fettuccine
8 oz bay scallops, rinsed and patted dry
1/2 cup shallots, chopped
3 cloves garlic, minced
1 oz dry white wine
1/4 cup fresh lemon juice (1 lemon)
2 tbsp butter
2 tsp lemon zest (1 lemon)
1/4 cup chopped fresh parsley
salt and pepper to taste


Prepare all ingredients before you begin cooking. Set a pot of water on to boil for the pasta (if you're using dried pasta instead of fresh, wait to cook the rest of the dish until you've put the pasta in to boil).
Heat 1 tbsp olive oil in a large skillet over medium heat. Add breadcrumbs and stir until they begin to toast. Add crushed red pepper, stirring until fragrant. Remove to a bowl.
In the same skillet, heat remaining oil over high heat. Add scallops. Sprinkle with salt and pepper to taste (don't go overboard on the pepper since there's already crushed red pepper going on) and sauté just a minute or two. Remove to a bowl.
If you're using fresh pasta, add it to the boiling water and cook until just done. Reserve 1 cup of pasta cooking water. Drain the pasta, return it to the pot, mix in the scallops and add a bit of the pasta water to keep everything from drying out.
Quickly sauté the shallots and garlic, about 3 minutes. Add lemon juice, butter, and wine. Bring to a boil, then add to the pot with the pasta and scallops. Toss to combine, adding more pasta water a bit at a time to moisten if needed.
Mix in half the breadcrumb mixture.
Serve pasta in large bowls, topping with the remaining breadcrumb mixture and fresh parsley.
For #MeatlessFriday dinner for two, @franciscanmom shares a recipe for fettuccine with lemon and scallops #catholicmom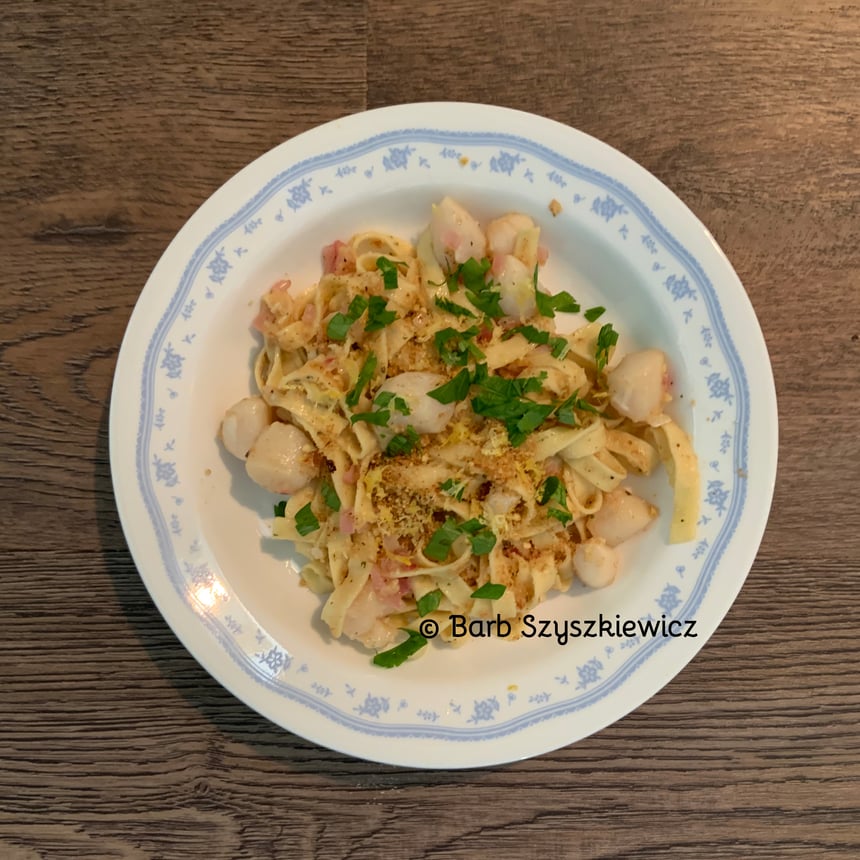 ---
Copyright 2020 Barb Szyszkiewicz
Image copyright 2020 Barb Szyszkiewicz. All rights reserved.
About the Author