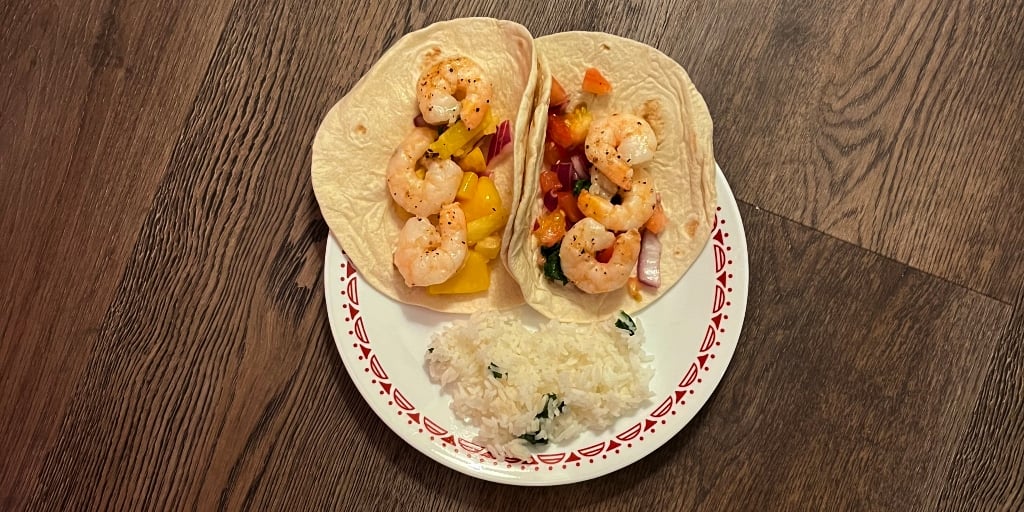 Two salsas are better than one, according to Barb Szyszkiewicz's son when he cooked up this Meatless Friday meal.
---
If you're despairing that your child will never expand his culinary horizons beyond vanilla yogurt, chicken nuggets, French fries, and macaroni and cheese, take heart. My youngest is now 20 and after nearly three years in college, influenced by those contest-style Food Network shows that provide five unrelated ingredients and 17 minutes to make a gourmet meal out of them, he's become quite the adventurous eater and even a pretty good cook.
We're still working on the "clean as you go" portion of our program, but this is a big step already.
Last week, before he returned to school for spring semester, he went grocery shopping with me, intending to get ingredients to make shrimp tacos. Deep in the produce section, he loaded his shopping cart with tomatoes for pico de gallo (on the shopping list), plus two mangoes and a pineapple (not on the list). He then declared that he'd be making two kinds of salsa to go with our tacos.
That meant we needed to rethink the seasoning we'd use on the shrimp, so it would go well with both pico de gallo and mango/pineapple salsa. Lemon pepper seasoning did the trick.
We enjoy rice seasoned with a handful of chopped cilantro and juice of ½ lime with this dish.
Lazy Shrimp Tacos Two Ways
Makes 6 servings
LUKE'S MANGO SALSA
1 mango, peeled and diced
½ pineapple, diced
1 cup red onion, finely diced
Juice of one lime
1/4 cup fresh cilantro, chopped
Pinch of salt
Combine and chill for several hours before serving.
PICO DE GALLO
3 medium plum tomatoes (about 1 pound), diced
1/4 cup finely-chopped red onion
2 TBL jalapeno peppers, chopped fine (be sure to remove all the seeds)
1/4 cup fresh cilantro
juice of one lime
1/2 tsp kosher salt
Combine and chill for several hours before serving.
CITRUS SHRIMP
1 ½ lb. raw shrimp, peeled and deveined
3 tbsp olive oil
1 ½ tbsp lemon pepper seasoning
Set oven at 425°F. Cover sheet pan with foil.
Dry shrimp by patting with paper towels.
Combine shrimp, olive oil, and seasonings in a bowl. Pour onto prepared sheet pan. Scrape remaining oil over top of shrimp. Bake 8 minutes for medium shrimp, 1 minute more for large.
Serve tacos on warm tortillas with your choice of toppings.
Click to tweet:
Two salsas are better than one! Try these fastest-ever shrimp tacos for #MeatlessFriday. #catholicmom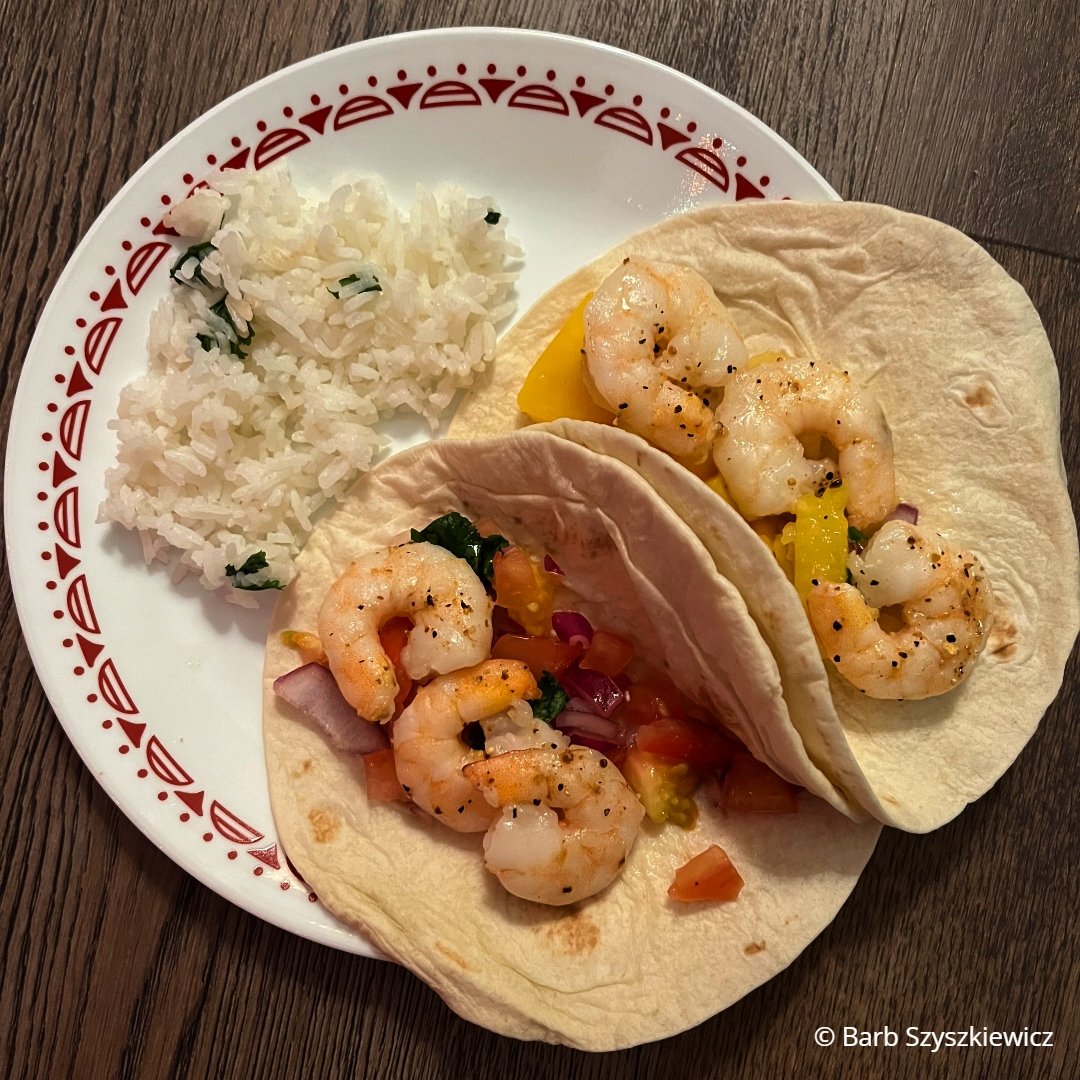 ---
Copyright 2023 Barb Szyszkiewicz
Images: copyright 2023 Barb Szyszkiewicz, all rights reserved.
About the Author