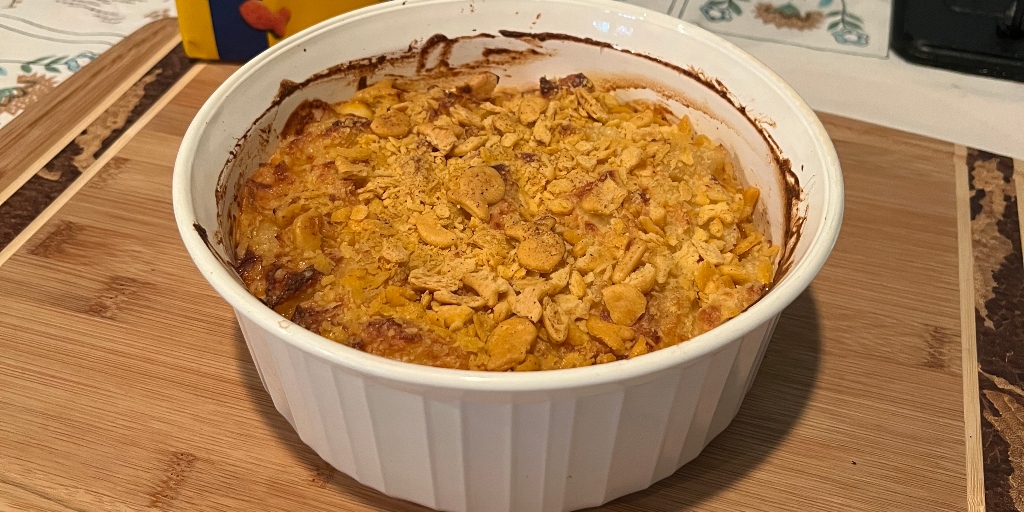 Barb Szyszkiewicz adds crushed Goldfish crackers to top her family's favorite seafood mac-n-cheese.
---
When Old Bay-flavored Goldfish crackers appeared on store shelves here in the Northeast this summer, I decided they'd make a fun topping for macaroni and cheese. Usually I use panko or breadcrumbs as a topping, but you can use crushed Goldfish or potato chips to add a crispy touch to this family favorite. Try any flavor of Goldfish or chips your family enjoys: it's a great way to use the broken ones at the bottom of the bag.
While macaroni and cheese isn't necessarily considered a summertime dish, I discovered that I can make this in our air fryer, so I don't heat up the kitchen by turning the oven on. I've included both traditional baking and air fryer directions in this recipe.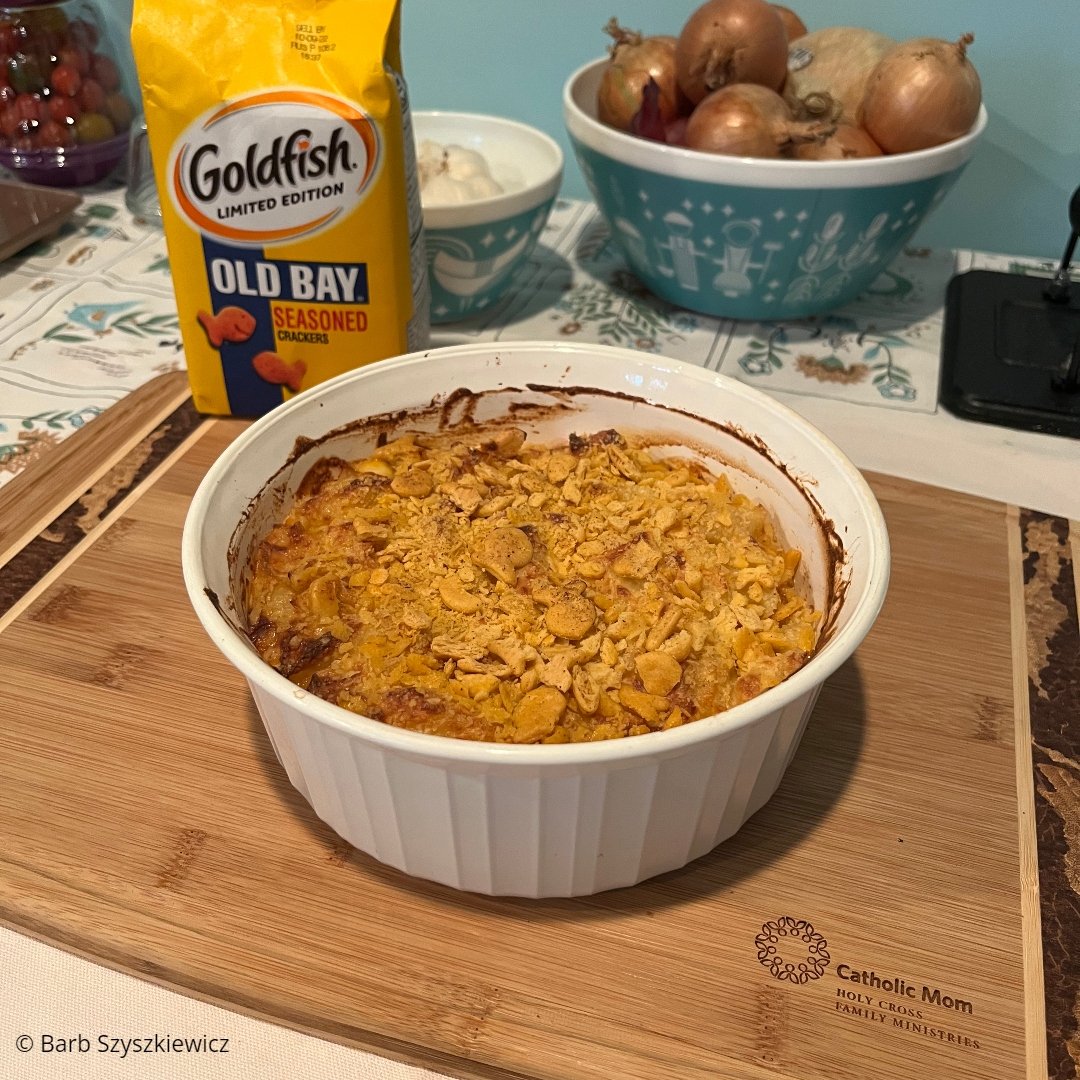 Mac-n-Cheese with Goldfish Topping
Makes 6 servings
Ingredients
1/2 pound elbow or small shell macaroni
2 cups milk
4 tablespoons (1/2 stick) butter
1/4 cup all-purpose flour
3 cups shredded cheese (we like a Cheddar-Jack blend for this)
1/2 teaspoon freshly ground black pepper
1/2 TBL kosher salt
1 packet (6 oz) imitation crab meat, shredded or cut in small chunks
1/4 cup crushed Goldfish crackers for topping (or use crushed potato chips, panko, or breadcrumbs)
DIRECTIONS
Cook pasta al dente as directed on the package.
Heat milk in a small saucepan (or the microwave), making sure not to boil it. Meanwhile, melt butter in a heavy pan. Whisk in flour and then the hot milk and cook until thickened and smooth. Remove from heat. Add cheese, pepper, and salt. Stir until combined. Add in crab meat and pasta and stir until well coated.
Grease a 2-quart casserole dish and pour in the pasta mixture. Sprinkle with crushed Goldfish crackers, crushed potato chips, panko, or breadcrumbs. Bake 30 to 35 minutes at 375° or until the sauce is bubbly and the casserole is browned on top.
This dish can be made ahead, covered and refrigerated before the baking step. Add at least 15 minutes to baking time if baking from refrigerated. Keep it covered for the first 30 minutes of baking, then remove cover to crisp up the topping.
To bake in air fryer: Use an oven-safe casserole dish that can fit in your air fryer with room on all sides for air to circulate. Bake 20 minutes at 325°. Do not attempt to follow the make-ahead instructions if baking this in an air fryer: the topping will burn before the inside of the casserole is warmed.
Click to tweet:
Try any flavor of Goldfish or chips your family enjoys to top mac-n-cheese. #catholicmom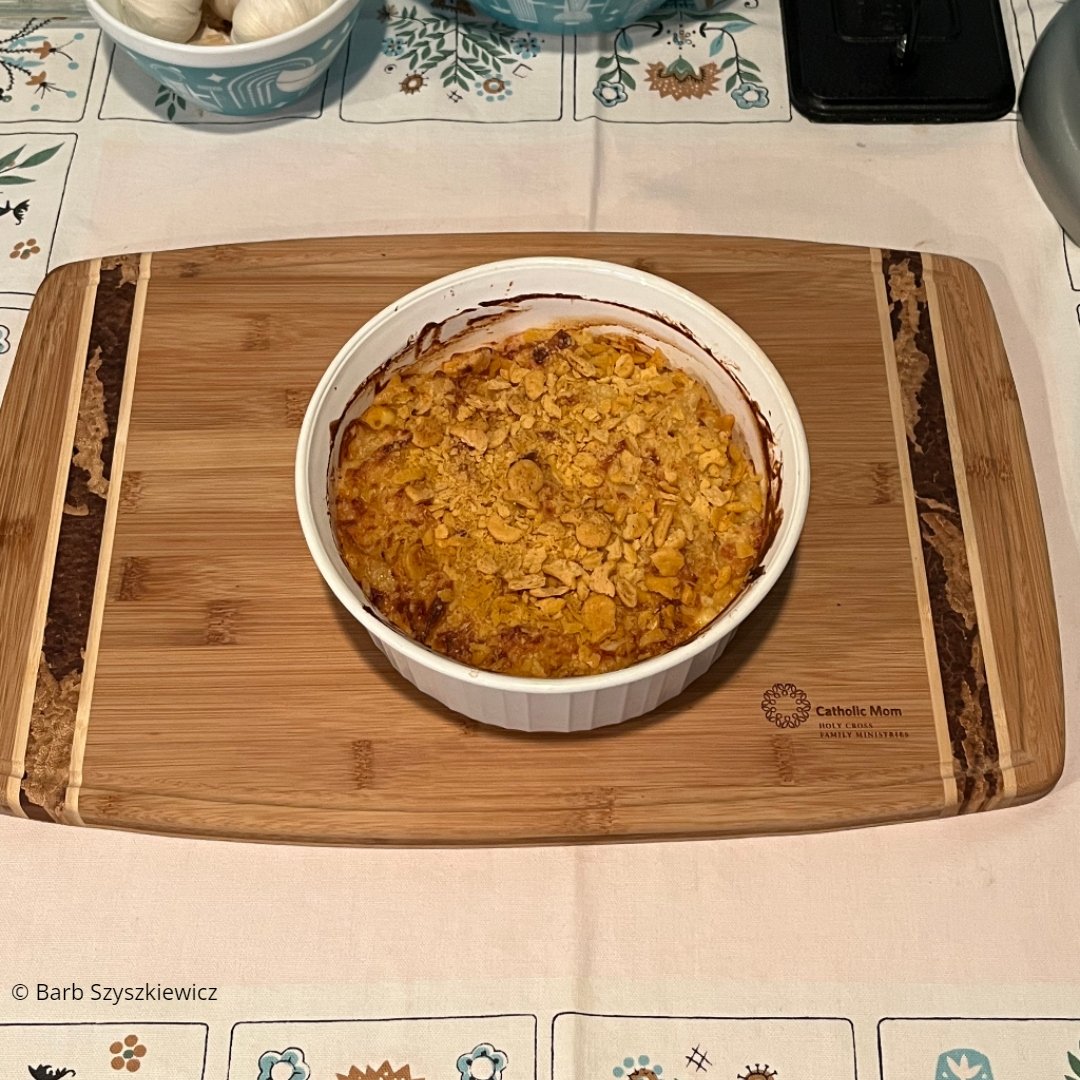 ---
Copyright 2022 Barb Szyszkiewicz
Images: copyright 2022 Barb Szyszkiewicz, all rights reserved.
About the Author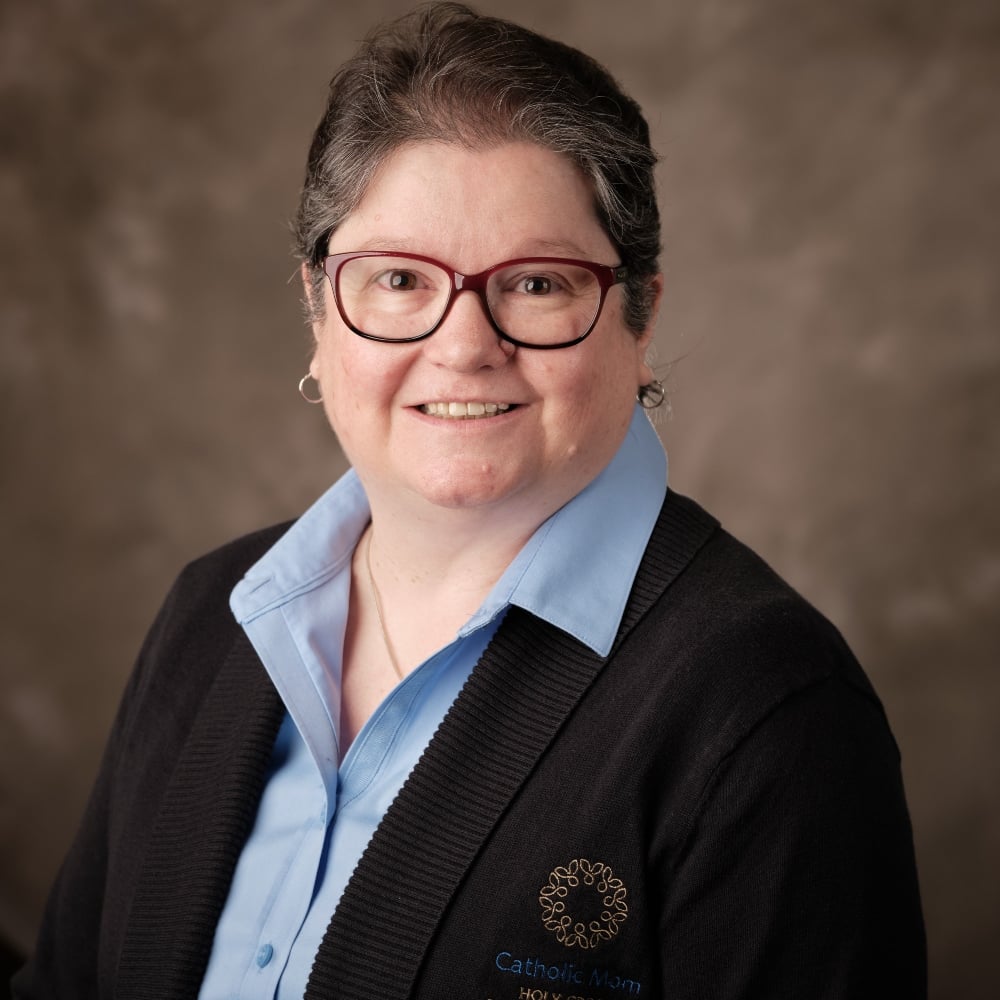 Barb Szyszkiewicz is a wife, mom of 3 young adults, and a Secular Franciscan. She is editor at CatholicMom.com. Barb enjoys writing, cooking, and reading, and is a music minister at her parish and an avid Notre Dame football and basketball fan. Find her blog at FranciscanMom and her family's favorite recipes with nutrition information for diabetics at Cook and Count. Her booklet, The Handy Little Guide to Prayer, is available now from Our Sunday Visitor.