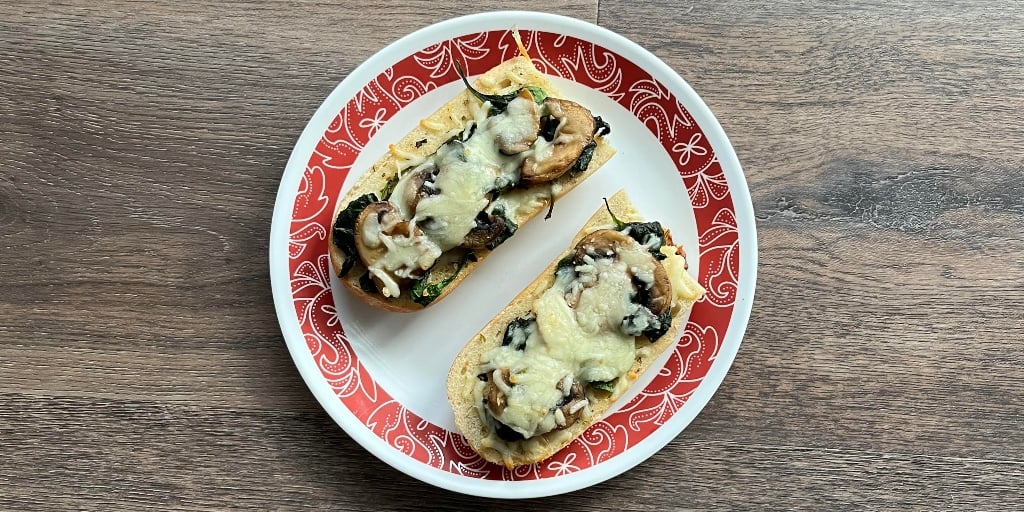 Barb Szyszkiewicz shares a simple recipe for a French bread pizza that's a little out of the ordinary.
---
I realized, once I started making the recipe for spinach-mushroom French bread pizza that I found online, that I was really making garlic bread with fancy-looking toppings. And that was 100% fine with me. I've changed the ingredients and procedure from the original so I could incorporate fresh spinach instead of frozen. This is a perfect way to use up that bag of fresh spinach you bought, intending to use it in salad, before it becomes a science experiment. You can even make the topping earlier in the day, and then assemble and bake the pizza quickly when you're ready to eat.
Spinach-Mushroom French Bread Pizza
Makes 3 servings
Spinach-Mushroom Topping
1 tbsp olive oil
10 oz. sliced fresh mushrooms (white or baby bella)
1 clove garlic, minced
1/8 tsp black pepper
8 oz fresh spinach, washed


PIZZA
1 loaf French bread
4 tbsp butter, softened
1 tsp garlic powder
1/4 tsp dried oregano
1/4 tsp dried basil
1 cup shredded mozzarella cheese
1/8 cup shredded Parmesan or Romano cheese
DIRECTIONS
Sauté mushrooms in olive oil until they have softened and liquid has evaporated from the skillet. Add garlic and pepper. Add handfuls of fresh spinach one at a time, stirring between each as the spinach cooks down. At this point you can chill this topping to use later, or remove it from the heat until you assemble the rest of the pizza.
Preheat the oven to 350. Slice French bread into 3 equal portions, then slice each section lengthwise so you have 6 pieces total. Cover a baking sheet with parchment paper. Spread softened butter on cut side of each section of the French bread, then place it, butter side up, on the prepared baking sheet. Sprinkle with garlic powder, oregano, and basil.
Stir about 1/4 of the mozzarella cheese into the spinach-mushroom mixture. Dollop spoonfuls of the mixture on top of the buttered bread, then spread across the surface. Top with the remaining mozzarella, then sprinkle Parmesan or Romano over the top.
Bake about 15 minutes, until cheese is melted and is slightly browned on top.
Click to tweet:
For #MeatlessFriday, a simple recipe for a French bread pizza that's a little out of the ordinary. #catholicmom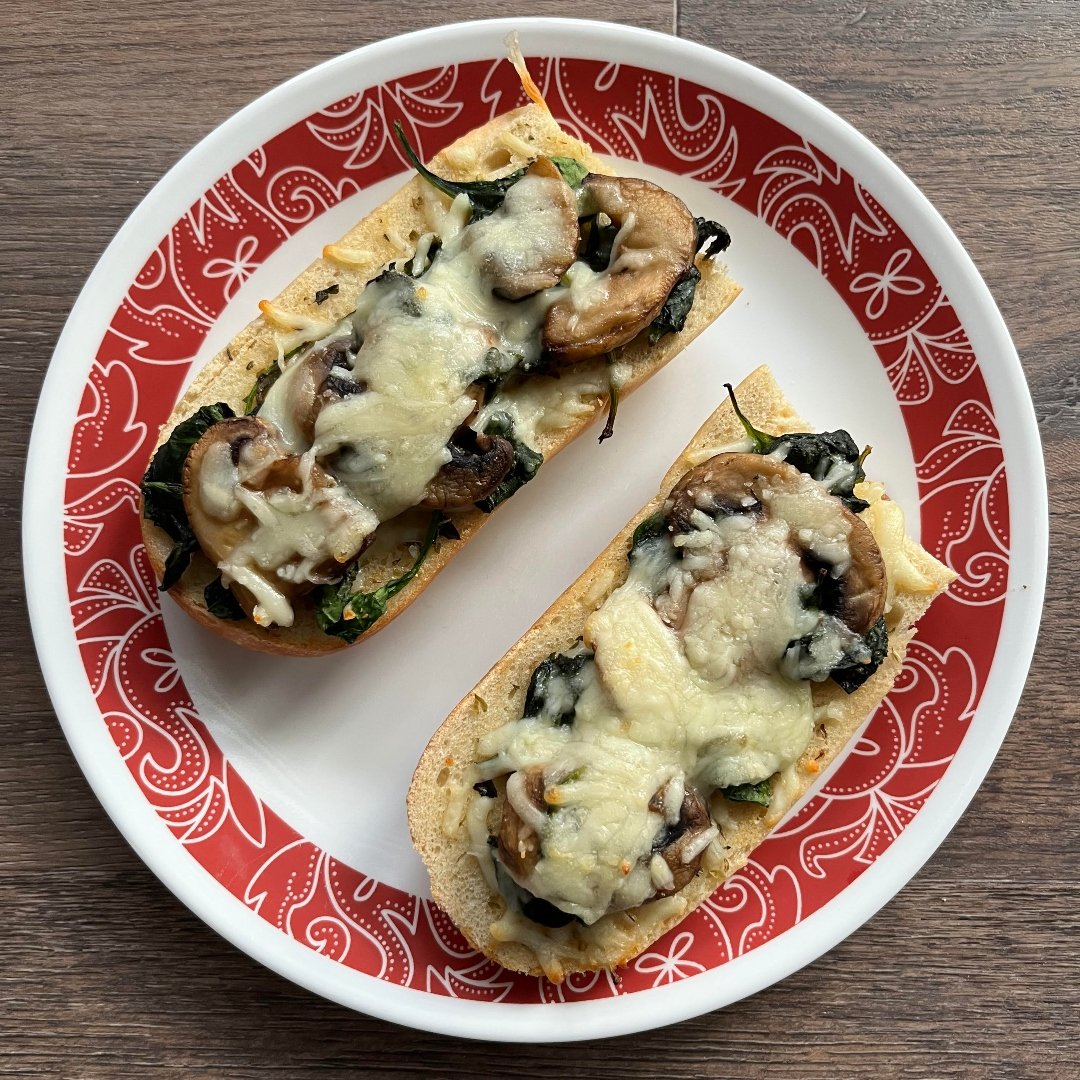 ---
Copyright 2022 Barb Szyszkiewicz
Images: copyright 2022 Barb Szyszkiewicz, all rights reserved.
About the Author