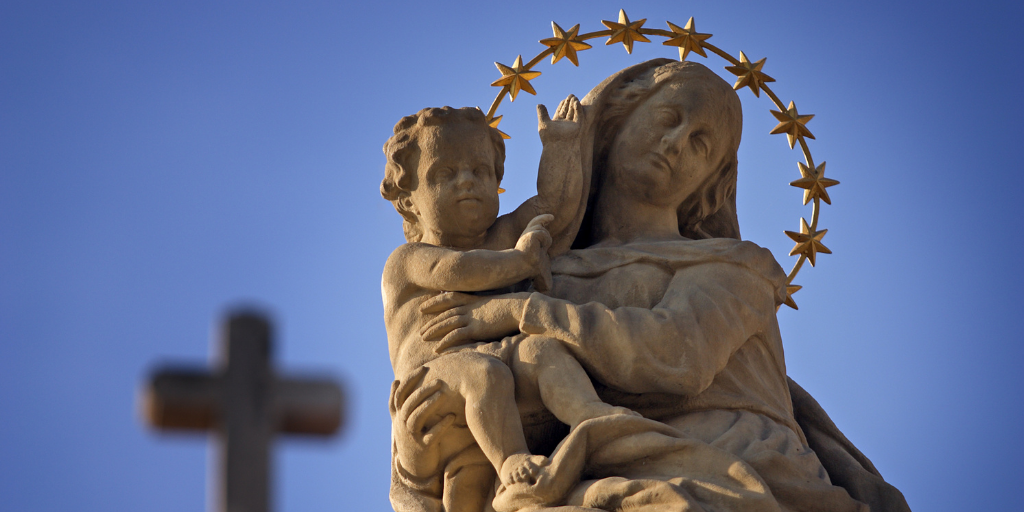 Taryn Oesch DeLong reflects on how her Marian consecration has enriched her motherhood.
Marian consecration is a spiritual practice in which Catholics entrust ourselves to Mary — essentially giving her permission "to complete her motherly task in us," according to Father Michael Gaitley's 33 Days to Morning Glory: A Do-It-Yourself Retreat In Preparation for Marian Consecration. In this process, we are consecrating ourselves to Jesus through Mary because, as St. Louis de Montfort wrote in True Devotion to Mary: With Preparation for Total Consecration, Marian devotion is "an easy and secure means for finding Jesus Christ."
I consecrated myself to Mary using Fr. Gaitley's program in 2018, when I was still single. Now, as a wife and mother, I'm discovering new fruits from my consecration; it's enriching my motherhood and my relationship with the Mother of God in beautiful ways.
Pregnancy: A Journey With Mary
My perspective on and relationship with Mary changed and evolved throughout my pregnancy. During my first trimester, I walked by her statue after Mass and thought, "You were full of grace! How can you relate to what I'm going through right now?" Did Mary suffer from morning sickness? Did she feel exhausted to the point of tears? Did she worry that she felt too sick to be happy? I felt totally disconnected, feeling that a perfect woman, full of grace and without sin, couldn't possibly help me with what I was going through.
My second trimester began during Advent, and as I started to feel better, I felt a renewed connection with Mary as I reflected on her pregnancy during this season of anticipation. I felt more excited about my own child and wondered at how Mary and Joseph must have felt about their child, who was also their God!
In February, we found out our baby was a girl. The girl name we'd picked out was a family name and also a name in honor of Our Lady of Sorrows. As we continued to pray to Our Lady for our daughter, I felt myself growing closer to her as my mother, as mother to my child, and as a model to guide my motherhood.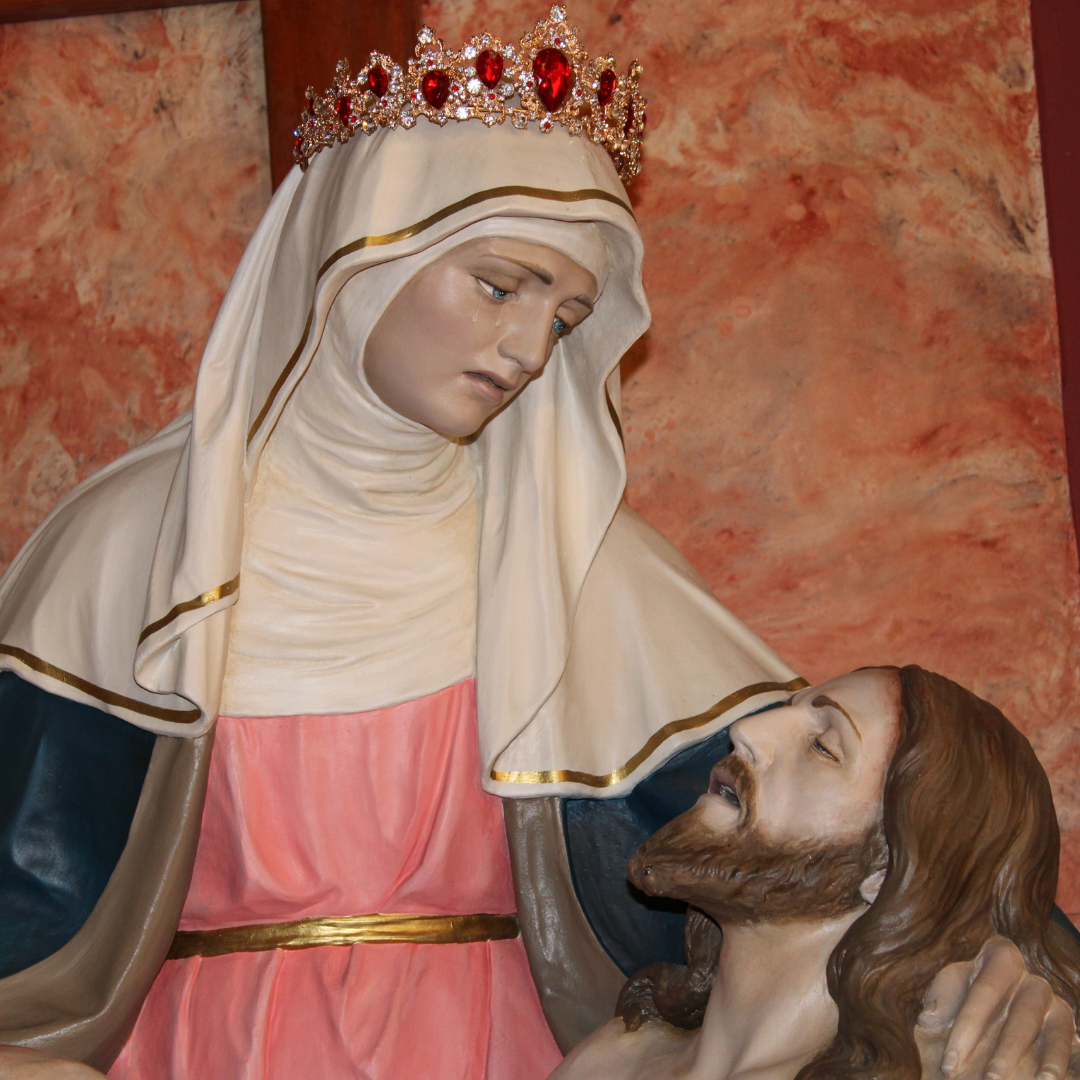 The Birth of a Mother
The challenging (might I say brutal?) transformation into a mother brought me closer to Mary than I've ever been. There were times when, in desperation, all I could do was pray a sleep-deprived version of Mother Teresa's prayer, "Mary, Mother of Jesus, please be a mother to me now." Now, even as my daughter has left the newborn stage and is a chubby little baby, when I worry that I will never be a good enough mother, when I struggle with perfectionism, I still pray that the only mother who has ever been perfect will guide my heart. And my husband and I continue to pray to Our Lady of Sorrows for our daughter.
As a result of my renewed devotion to Jesus' mother, I also have a renewed commitment to my consecration. I am more conscious of the brown scapular I wear as a reminder that I belong to Jesus, through Mary, and I renew my consecration each morning by praying an adaptation of Pope St. John Paul II's "Totus Tuus" prayer. This prayer reminds me of what it means to be a mother — a tall order — but it also reminds me that I'm not alone in my motherhood journey.
Click to tweet:
As the mother of all humanity, Mary brings us to her Son and helps make us holy. #catholicmom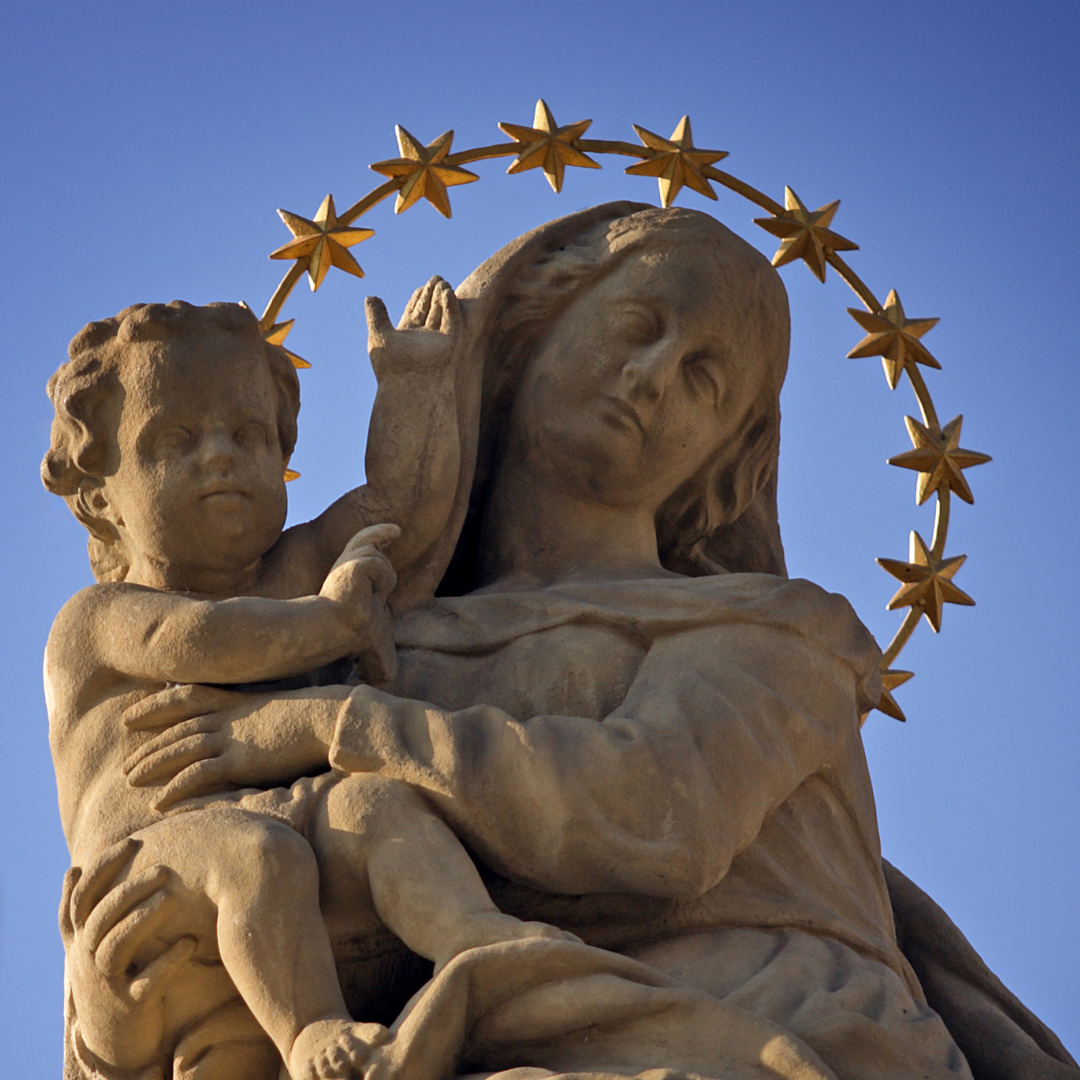 The Mother's Role in Salvation
Fr. Gaitley writes that "Jesus wants to include all of us in his work of salvation." As Jesus' mother, he adds, Mary's role in that work is not just to be his mother but to be our mother; he gave her that job right before his death (John 19:26-27). As the mother of all humanity, she brings us to her Son and helps make us holy.
We're mothers, too, so that's our job as well — on a smaller scale, with our own children. By consecrating ourselves to Jesus through Mary, we are giving ourselves to her so she can bring us to him. We're also receiving the perfect model for doing so with our children. If my ultimate goal as a mother is to bring my daughter closer to Jesus, to help her become a saint, then I have the ultimate example to follow in Mary, who is always leading her children closer to her Son.
---
Copyright 2021 Taryn Oesch DeLong
Images: Canva Pro
About the Author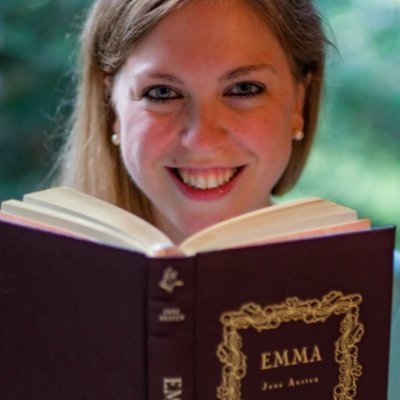 Taryn DeLong is a Catholic wife and mother who encourages women to live out their feminine genius as co-president of Catholic Women in Business and a contributor to publications for Catholic women. Connect with her on Instagram or her website, Everyday Roses.