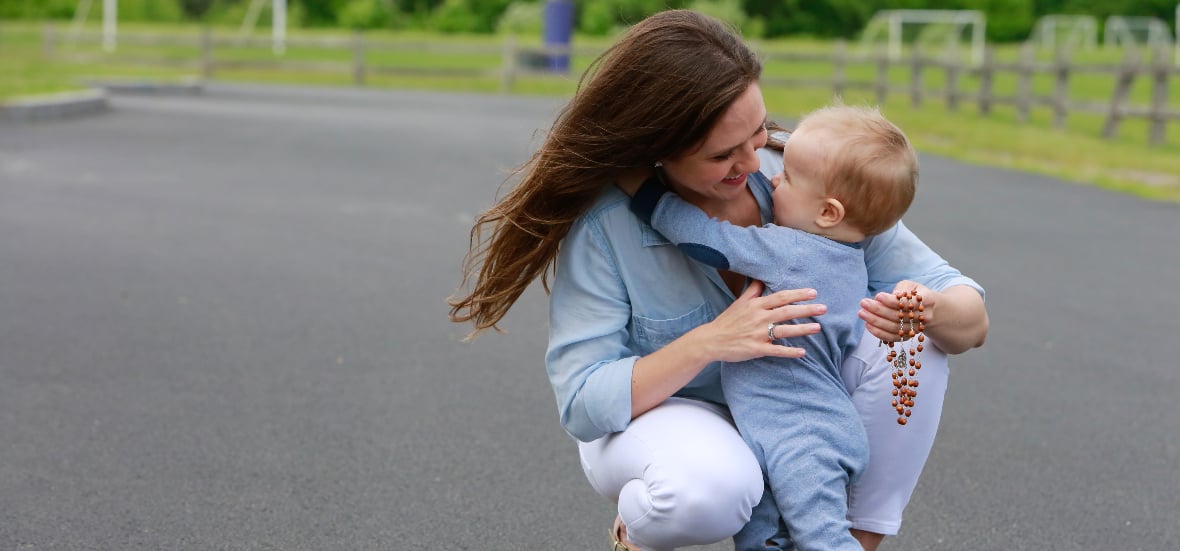 Why is the Rosary the perfect family prayer? Fr. Willy Raymond, C.S.C., details 20 reasons to pray the Rosary.
The Rosary is the perfect family prayer! Infants in the womb are soothed by the joyful repetition of the Hail Marys. Babes in their mothers' arms begin to gurgle sounds in praise to God when they hear the rhythmic recitation of the Rosary. These prayers calm, comfort, and soothe them.
Children of all ages who allow Mary to take them by the hand and lead them to the School of Mary experience the warmth and joy of Mary as they gaze with her upon the face of Jesus. She lovingly tells them of the joys, delights, sorrows, and glories of Jesus. After all, along with God the Father and the Holy Spirit, she is the one who knows Him best and loves Him most on earth and in heaven.
Children love stories. The Rosary is composed of 20 dramatic stories, from the teenager Mary of Nazareth visited by an angel who announces to her that she is to become the Mother of God, all the way to living happily ever after as Queen of Heaven and Earth.
The Rosary is a unifying prayer, uniting all the members of the family in meditation and occasionally contemplation. By God's grace and Mary's love, the Family Rosary joins children, fathers, mothers, brothers and sisters, grandparents and cousins, friends, and neighbors in a bond of faith, hope, and love that need never be sundered. This bond is what fills the family home with peace and joy. Try visiting a home in which the family prays the daily Rosary and you will come face to face with the tranquility of order we call peace.
Nothing speaks more clearly to children than the experience of seeing dad and mom kneeling in prayer, whether in Church or the living room at home. This says to the children:
"This is real, this is important enough to stop everything else and focus on Jesus, His Mother, and all the saints."
This is the time to pray for grandparents, cousins, uncles and aunts, friends and neighbors, pets and even enemies.
There is solid data that people with Alzheimer's disease and other forms of dementia respond well to the rote prayers of the Rosary and, like infants, find comfort and consolation in the Rosary.
Nothing happens by accident. Even a pandemic, in the hands of a good God, can turn evil into a blessing and a way to encounter Our Lord Jesus Christ. So let us open our hearts, with the help of Mary, to God's grace, his goodness, his truth and his beauty as we pray the Twenty Mysteries of the Holy Rosary.
We pray for all families, especially those whose mothers, fathers, sons and daughters are on the front lines of caring for our communities: nurses; doctors; EMTs; local, state, and national leaders; police, fire, and military personnel; and all those who work in food service and other essential jobs. Finally, we pray for a speedy and full return to ordinary life with the help of scientists and other leaders.
CLICK TO TWEET
Even a pandemic, in the hands of a good God, can turn evil into a blessing and a way to encounter Our Lord Jesus Christ. #catholicmom
And now, let us consider the many ways in which Praying the Rosary blesses the family:
You live longer!
You are physically healthier.
You are emotionally and spiritually healthier.
You are happier and more joyful.
You are more connected to family and friends.
Your life has purpose.
You are more connected To God.
You become friends with Mary and the saints.
You are surrounded by grace and goodness.
Your mind and heart are centered on what is important in life.
You become a more grateful person.
You and your family draw others to faith by your lived example.
Your children are attracted to and formed in the faith.
You and your children grow in all the virtues, especially faith, hope, and love.
Your home is filled with a sense of calm and peace.
You and your family become humble and filled with awe at what God has already done for you.
Families who pray the Rosary together experience almost no divorce, whereas for all American families the divorce rate is near 50%.
The Rosary helps illness, reversals and suffering of all kinds become redemptive for the whole family.
The Rosary helps the family cope with inevitable loss and death as part of the life of faith and of human life.
The Rosary links us here on earth to the entire Mystical Body of Christ, including the souls in Purgatory and the glorious souls in Heaven.
---
Copyright 2020 Fr. Willy Raymond, C.S.C.
Image by George Martell/Holy Cross Family Ministries, 2017. All rights reserved.
About the Author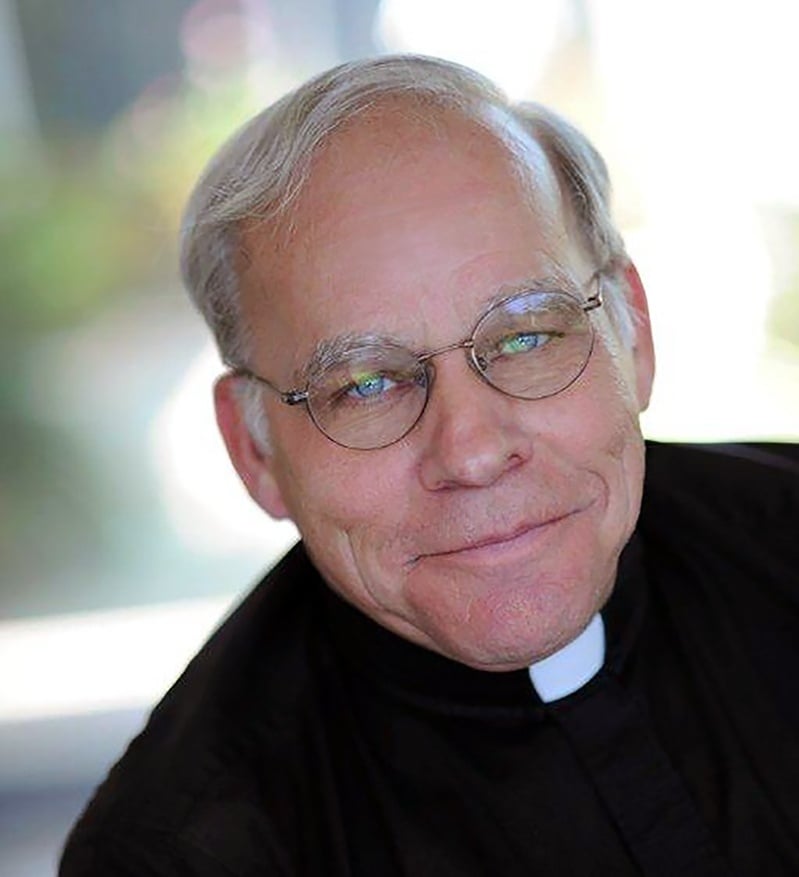 Father Willy Raymond, C.S.C. is President of Holy Cross Family Ministries. He entered Holy Cross Fathers in 1964. He earned a Bachelors in Philosophy from Stonehill College in 1967 and a Masters in Theology from the University of Notre Dame in 1971. In addition to English, Father Willy is conversant in French and Spanish. He's a native of Old Town, Maine and one of 12 children. He remains a diehard fan of the Boston Red Sox, even though he has served as Chaplain for the Los Angeles Dodgers.