Receive Daily Gospel Reflections in your inbox
Today's Gospel: John 1:35-42 - 2nd Sunday of Ordinary Time In today's Gospel Jesus presents a simple, yet profound question to two of John's disciples, "What are you looking for?" Jesus was not seeking information, but something much deeper. Jesus asks this same question to each of us – "What are you looking for?" He invites us to get in touch with our deepest desire, our deepest longing. Our response sets us on our way in our journey of faith and discovery into who Jesus is. Further on in the Gospel, Jesus invites these same two disciples to "Come and see," and they do! In fact, they spend the entire day with Jesus. Would that not be so amazing – to be invited by Jesus himself to come and see, and then to spend an entire day with Him? In reflecting on this Gospel, I realize that I too am being invited to come and see and spend not just one day, but each moment of every day, for the rest of my life, with Jesus! He desires to be woven into who I am so He can be present in all I do. Jesus invites each one of us to come to the royal banquet and feast on spiritual food and to see Him present in each moment of our lives – He is there!
Ponder:
How have you responded to Christ's personal invitation to follow Him? Do you come to Jesus every day and do you seek to see His hand at work in your life?
Pray:
Jesus, my soul longs for You; you are what I am looking for. Help me to come to Your banquet daily and nourish myself with spiritual food. May my eyes clearly see You working in every detail of my life.
---
Copyright 2018 Kathleen M. Billings Receive CatholicMom.com newsletters in your inbox, including the Daily Gospel Reflection each morning!

*

indicates required
About the Author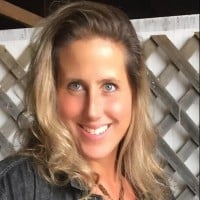 Kathleen Billings blogs at seasonsoftheheartandhome.com. She writes about living her faith in every season, as a wife and a mother of five, amidst the ordinary moments each day that God wants to make extraordinary. She has a BA in Theology, is a regular blogger on marriage for the USCCB Website, a contributing author to the book "Amazing Grace for Mothers," and an active Catholic speaker.