Receive Daily Gospel Reflections in your inbox
Today's Gospel: John 6:1-15 - 17th Sunday in Ordinary Time Today's Gospel presents to us the powerful story of the feeding of 5,000 – one of Christ's most famous miracles when He walked the earth. Whenever I struggle to trust in God's providence in my life, or feel unequipped for the tasks I feel He is calling me to do, I read this Gospel. It humbles me and reawakens my heart to see life through eyes of faith. I am reminded of how much abundance God can and wants to create with what we are willing to surrender to Him. In this Gospel, Jesus's disciples are concerned with how they will feed an enormous crowd with the insignificant amount of food that they have. Jesus simply and calmly asks them to hand over the five loaves of bread and two fish, and then He miraculously multiplies it. Not only does Christ provide food for the entire crowd present, but there are leftovers! This is how God wants to work in our lives! He asks us to offer Him what we have and who we are, to trust in His providence for our life, and then witness Him multiply our gifts for His glory and for our salvation. He desires to use us as instruments to feed a world starving for His love. Christ meets the physical needs of thousands of people through feeding them bread and fish, but more importantly, He feeds them spiritually through His preaching. Likewise, Christ wants to fulfill the spiritual hunger that we all have. He is the Bread of Life that we can consume daily through His words in Scripture, through the Mass and the Eucharist, and through the Sacraments. Jesus is the Living Water that fills our souls with Truth and sets us on the path to a life of abundance in Him!
Ponder:
Do you believe that God can multiply what you give Him? If so, how have you witnessed this in your life?
Pray:
Jesus, help me to surrender all that I am to You and to trust in Your providence in my life. Feed my soul with Your truth and grace!
---
Copyright 2018 Kathleen M. Billings Receive CatholicMom.com newsletters in your inbox, including the Daily Gospel Reflection each morning!

*

indicates required
About the Author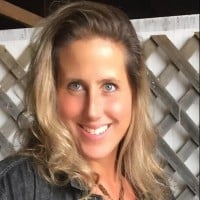 Kathleen Billings blogs at seasonsoftheheartandhome.com. She writes about living her faith in every season, as a wife and a mother of five, amidst the ordinary moments each day that God wants to make extraordinary. She has a BA in Theology, is a regular blogger on marriage for the USCCB Website, a contributing author to the book "Amazing Grace for Mothers," and an active Catholic speaker.