Receive Daily Gospel Reflections in your inbox
Today's Gospel: Matthew 5:13-16 "Just so, your light must shine before others, that they may see your good deeds and glorify your heavenly Father." The Gospel reading today gives us the ever-familiar metaphors of the salt of the earth, the city set on a mountain, and the light under a bushel basket. Many a lovely homily has likely been given on these as examples of ineffectual use of the gifts of the Holy Spirit. This is shown to be a warning against receiving a great grace and not using it properly.. Knowing our gifts is important, but reflecting on the Gospel passage today what struck me the most was that those who see "your good deeds will glorify your heavenly Father". So, it isn't just about knowing and using your gifts, but most importantly, it is that you use your gifts to give glory to God, to bring other people closer to God. What is the motivation behind the things that you do? Do these things need to be examined? It can be easy to be working on a ministry that appears to be a good work, using your talents to serve others, but be lured into the trap of being motivated by pride. Instead, we should be motivated to do something so that God might be glorified, not so that we might be glorified.
Ponder:
Do you know what your gifts are? Are they causing others to give glory to God?
Pray:
Lord, grant me the unwavering courage to use my gifts as You have intended and that in all that I do I may give glory to You.
---
Copyright 2018 Amanda Torres Receive CatholicMom.com newsletters in your inbox, including the Daily Gospel Reflection each morning!

*

indicates required
About the Author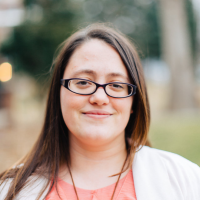 Amanda Torres is a Catholic convert, wife, and working mom from St Paul, MN. She is making great use of her Bachelor's Degree in History and Anthropology as a Management Analyst for the State of Minnesota. When she is not busy trying to get her husband, her rambunctious 7 year-old, and toddler twins into Heaven she enjoys reading, writing, and drinking coffee with entirely too much creamer. Amanda also occasionally blogs at In Earthen Vessels: HoldThisTreasureInEarthenVessels.wordpress.com