Receive Daily Gospel Reflections in your inbox
Today's Gospel: Matthew 8:28-34 Have you ever felt uncomfortable? Maybe that feeling came over you when you were the new gal at church or at a new job, or on your wedding day or delivering your first baby? Life has a way of presenting uncomfortable situations and encounters. In Matthew 8, Jesus cleanses a leper, heals the Centurion's servant, cures Peter's mother-in-law and even calms a storm at sea before encountering the two demoniacs coming from the tomb. To an uncomfortable situation, Jesus brought hope and healing. How many of us would have run away instead? When I landed the part as an extra in a TV series, uncomfortable took on a whole new meaning! I had no idea what the role of extra entailed! Spending long hours in very uncomfortable heels was not the worst part. Sitting silently became my penance, as talking and moving, my two favorite things to do, were not a part of the script. A glimmer of hope came when the director asked me to stand near a young lady and pretend to be talking. Up and talking nonstop we shared our life stories in whisper mode, while pretending to be guests at a "Daytime Emmy Awards Banquet". As the scene finished I said to her, "You are the first person that I have talked to all day that I can relate to." Her reply stunned me, "Good! Then you can tell everyone that today, you met a witch!" What did I do? Like Jesus did in the gospel of Matthew, under my breath of course, I rebuked the devil with a heartfelt prayer to St. Michael. Do not be afraid of uncomfortable situations, even if your boat is sinking or a witch comes on the scene. Call upon Jesus. Then with the determination of an Olympian, run your fastest toward Him in those uncomfortable heels.
Ponder:
What uncomfortable situations have you encountered in your life? Did you respond with faith? The way Jesus would want you to do?
Pray:
Dear Jesus, when I experience uncomfortable situations, remind me that You are the captain of my boat. Help me to put my trust in You. You know what to do.
---
Copyright 2018 Ellen Mongan Receive CatholicMom.com newsletters in your inbox, including the Daily Gospel Reflection each morning!

*

indicates required
About the Author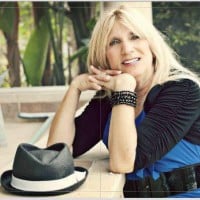 Ellen Mongan, a Catholic writer and speaker, has been married more than 40 years to Deacon Pat Mongan. They have 7 children and 12 grandchildren. Ellen is a host of WOW Radio Podcasts, a religious columnist for the Augusta Chronicle, and has spoken on both radio and television. She is the founder of Sisters in Christ, Little Pink Dress Ministry, and Women-Fests.