Receive Daily Gospel Reflections in your inbox
Today's Gospel: John 19:25-34 - Memorial of the Blessed Virgin Mary, Mother of the Church Today is my mom's 93rd birthday. My friends say, "I wish she was my mom." or "When I get older I want to be just like her." I smile and agree. I did not always feel that way. When I was younger I wanted my mom to be like my grandma, who was like Mother Teresa. She prayed the rosary all day long and always pointed us to Jesus. My mom was more like Lucille Ball, or Marie Barone on the sitcom, "Everyone Loves Raymond." It was not until I accepted my mom for who she was that I appreciated her as my mom. I learned a great lesson from this gospel. When Jesus hung on the cross, He knew that His mother was going to need a son to care for her. Jesus turned to John to fill those shoes. He knew that John and those who followed would need a mother's love. Jesus gave John the best mother He knew, His own. She became ours too! As we embrace the meaning of "Son, behold thy mother," may we know that we have a grace-filled mother we can always turn to. Never do we need a mother more than when we become a mom. None of us is the perfect mother. In fact, my children secretly desire that I would be more like my mom. So in the ways I have failed, I turn to Mary, asking her to pray for my children. I give my children to Mary, just as Jesus gave John to Mary. Mary always points to Jesus. What can I say about Mary? I am thankful she is my mother too and I want to be just like her! On this new feast day we celebrate Mary as Mother of the Church. God thought of everything!
Ponder:
Have you asked Mary to be your mother? What ways can Mary and the Church help to heal the wounds in your heart and your children's?
Pray:
Dear Jesus, in the last moments of Your life when in agony, You gave us one of the greatest gifts of all, Your mother to be our mother too. Help us to learn from Mary a mother's love, and to always point others to Your love for us.
---
Copyright 2019 Ellen Mongan Receive CatholicMom.com newsletters in your inbox, including the Daily Gospel Reflection each morning!

*

indicates required
About the Author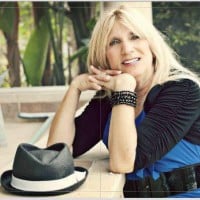 Ellen Mongan is a Catholic writer, speaker, and host of WOW MOM podcasts. Her book, WOW MOM: A Walk with God, is on Amazon. She contributes to Catholic Mom, Women of Grace, and Augusta Chronicle. Her most important roles as wife to Deacon Patrick and mother of eight led her to ministry. Learn more and contact her to speak at EllenMongan.com.