Receive Daily Gospel Reflections in your inbox
Today's Gospel: Matthew 17:22-27 There is a great deal to unpack in today's Gospel. Jesus, referring to himself as "the Son of Man", describes where His destination and ending will be. Foretelling his death greatly distressed the disciples, but, as the Son of Man, the disciples needed to understand that this mission is greater than human reality. It is divine and eternal, with a promise of a third day! Next, Jesus knows that Peter was confronted by the collectors prior to his arrival. Jesus tells Simon Peter to find a coin in the mouth of a fish to pay for both Jesus and himself. They are foreigners. This is the point Jesus is making here. The collectors did not see Jesus as part of their society, family, or a Capernaum-an and questioning Peter made that point clear, so Jesus, not to offend them, paid the tax. In His own way, of course! As busy parents doing busy family activities and obligations, we tend to feel overwhelmed when bad news or a sticky situation arises. Whatever that situation is, still the daily life stuff needs to be attended to. Life doesn't stop just because Aunt Mary died, a child gets sick, or we get into a car crash on the way to carpool. We still need to "pay the tax", we still need to keep going, even if our hearts are breaking. Life keeps on tugging at us to stay focused! Jesus is here to keep His promise of a third day. He is here for us as we struggle through each trial and He is here for us to remind us that He loves us and that we, too, are foreigners. There is a far better place we are journeying to, and the Son of Man will lead us there!
Ponder:
When life gets overwhelming, what has worked to keep you going? Prayer? Mass?
Pray:
Dear God, help me when I get overwhelmed and allow life to get me down. I am thankful that You love me and will guide me as I get through my obligations. Amen!
---
Copyright 2018 Ebeth Weidner Receive CatholicMom.com newsletters in your inbox, including the Daily Gospel Reflection each morning!

*

indicates required
About the Author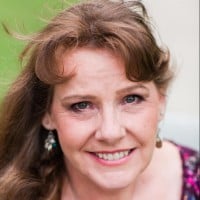 Ebeth Weidner, a Master Catechist and cradle Catholic who considers herself a Catholic information junkie, writes from her heart about the faith and hope she finds in the Catholic Church. She is the author of "A Catholic Mom Climbing the Pillars" blog. She is the wife of a research science Professor and mom to 3 great young adults people living on the coastal side of North Carolina.