Receive Daily Gospel Reflections in your inbox
Today's Gospel: Mark 16:9-15 He said to them, "Go into the whole world and proclaim the Gospel to every creature." (Mk 16:15) Jesus rebuked the Eleven for the unbelief and hardness of their hearts. They had not believed those who had seen Him after He had been raised. And yet He sent them out into the whole world to proclaim the Gospel to everyone. There are times when I think I probably disappoint Jesus. When my faith falters a little. When I do not trust Jesus and become afraid. Afraid to witness. Afraid to stand up and tell my story. Afraid of making a mistake. And yet Jesus still sends me out to witness to others. He calls me to write and to speak and to share my story. He calls me to be a spiritual director to help others to hear Jesus' call. Like most of us, I get upset if I am not heard or understood. But then I am soon reminded. By a gospel verse, or a song, or by someone who thanks me for sharing my story. I forget that it is not about me. It is all about Jesus and His presence in my life. His presence that shines through even when I think my words are not enough. And I am emboldened by others proclaiming the Gospel. I find courage in their courage. And so Jesus tells us. He tells you and He tells me. Go into the world and proclaim the Gospel. And we go.
Ponder:
Why are we afraid to give witness to Jesus? In what ways can we give witness?
Pray:
Jesus, give me courage when I try to give witness to Your presence in my life. Help me to let You shine through.
---
Copyright 2019 Colleen Spiro Receive CatholicMom.com newsletters in your inbox, including the Daily Gospel Reflection each morning!

*

indicates required
About the Author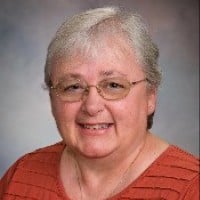 Colleen Spiro is a Catholic mother, grandmother and a deacon's wife. A certified spiritual director, Colleen loves to share her faith and encourage others through her retreats and writings. You can read her reflections at her website, Catholic Prayer Life and read or listen to her podcast at Finding God in the Everyday.