Receive Daily Gospel Reflections in your inbox
Today's Gospel: Luke 2:22-35 Have you ever waited a really long time for something that was meant to be one of the most important moments of your life? Think: birth of a baby, a wedding, even a trip to Disney World could qualify for this. You dream about this moment for what seems like a long time. Christmas is often like this for me. I plan and wait for what seems like months. One year, we had planned a surprise Christmas ski trip for the whole family. This gift would be revealed on Christmas morning. I was so excited for Christmas morning to give this trip to the kids and then, later that day, pack up the car and go. I just couldn't wait. Christmas took forever to come that year. That's probably how Simeon felt here towards the end of his life. He had been waiting and waiting for THE most important moment in ALL of time. How exciting that must have been! I'm not sure how he could have contained himself. Did he turn his head to look toward the door every time someone came into the temple? And then, moved by the Holy Spirit, he recognized the Christ Child. His moment had finally come! That arrival of Jesus is still something that should bring us ecstatic joy and thrills. Just as my ski trip at Christmas, so this event of Christmas should bring us to the brink of bursting with excitement. Ask the Holy Spirit to help you recognize Jesus in this moment of time and fill you with pure joy and wonder.
Ponder:
Even though it feels like we're done with Christmas by this time, the church still is celebrating this great feast. How can we live the joy and excitement of the birth of Our Lord throughout the whole Christmas season?
Pray:
Come, Holy Spirit. As you did for Simeon, help us see the glory of the Lord this Christmas as revealed in the gift of Jesus Christ, the Babe of Bethlehem.
---
Copyright 2018 Tami Kiser Receive CatholicMom.com newsletters in your inbox, including the Daily Gospel Reflection each morning!

*

indicates required
About the Author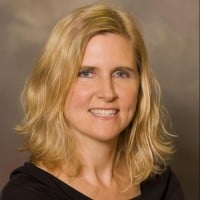 Tami Kiser is a wife, mother, teacher, author, and speaker. She runs a video production studio featuring Catholic speakers. These can be purchased or viewed on Formed. She also is the co-owner and host of a new Catholic Retreat and Cultural Center in the Carolina Mountains called Heart Ridge. She has taught everything from NFP, Zumba, cleaning toilets, Catholic crafting, the hula, bullet journaling, tap dancing, and liturgical living to Saxon Math 54 for the 10th time.