Receive Daily Gospel Reflections in your inbox
Today's Gospel: Mark 6:14-29 We learnt today about the death of Jesus' cousin and the last prophet of the Old Testament: John Baptist. He was killed for only one reason: he was telling the truth about the sin and how we should avoid it, and a powerful woman, Herodias, did not want to hear it. To tell the truth, especially about sinful behavior, is not easy. Our society tends to accept all kinds of sin as "normal" and urges us to "accept" it, since what one believes should not be "imposed" to others. As Catholics, we should never accept sin, because it hurts our relationship with God and does a terrible harm to the soul. We should be very firm when denouncing sin, but very merciful with the sinner. To tell the truth about the sin is an act of mercy and love. It is much easier to look the other way and let everybody deal with their conscience; but in doing that, we may be conniving with that sin and helping Satan to take that soul to hell. When we face a sinful situation, the first thing we should do is ask the Holy Spirit to help us deal with it. We can ask our guardian angel to talk first to the guardian angel of the person we should admonish, so he or she will be more prepared to hear what we have to say. Pray to Our Lady to be at our side, so we can be her instrument to touch the sinner's heart. She who crushes the serpent's head will help us lead that person back to the friendship of Christ.
Ponder:
How is my commitment to the truth and how do I spread it to others?
Pray:
Dear Mother of God, help me have a pure heart and speak only the truth, with love and compassion, and not be afraid of what others may think about me.
---
Copyright 2019 Flávia Ghelardi Receive CatholicMom.com newsletters in your inbox, including the Daily Gospel Reflection each morning!

*

indicates required
About the Author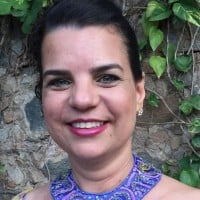 Flávia Ghelardi is the mom of four, a former lawyer already "promoted" to full time mom. Flávia published her first book FORTALECENDO SUA FAMÍLIA and is a member of Schoenstatt´s Apostolic Movement. Flávia loves to speak about motherhood and the important role of women, as desired by God, for our society. She blogs at www.fortalecendosuafamilia.blogspot.com.