Receive Daily Gospel Reflections in your inbox
Today's Gospel: Mark 5:1-20 Today´s Gospel may seem like a fairy tale to many (even Catholics!) who deny the existence of demons and Hell. This is Satan´s biggest weapon: to believe he doesn't exist. Of course, demoniac possession as shown in this Gospel is rare. But the influence of demons in our lives is very common and real and we have to be aware of it, so we don´t fell in their lies. The main purpose God has for our souls is to be with Him someday in Heaven. Everything Divine Providence does and permits in our lives is with this purpose, so even temptation should lead us closer to God. We live in a battlefield where God and His angels are fighting for our souls with Satan and his demons. Our conscience is a powerful tool God gave us to realize when we are acting against His will for us. But in order to do that, we have to form our conscience according to the Church's teachings. If we're not careful, we hear our conscience warning us, but we constantly act against it. So eventually, it will fall asleep and stop bothering us. That is terrible for our soul, and leaves a way open for Satan to influence our decisions. The sacraments, especially Confession and the Holy Eucharist, are great weapons we can frequently use to fight evil in our lives. The Holy Eucharist is the most precious gift Jesus gave us: Himself! He wanted to be with us until the end of time, so He made Himself present, with His Body, Blood, Soul and Divinity. He wants to be one with us. Another thing we can learn from this Gospel is that, after the demons left the man, he was "in his right mind". When we are influenced by evil, our lives are a mess, we can hurt people, especially our loved ones. But once we give our lives to God, we come to our "right mind".
Ponder:
How do I value the Holy Eucharist? Do I receive it as much as possible?
Pray:
"May the holy cross be my light! May the dragon never be my guide! Begone Satan! Never tempt me with your vanities! What you offer me is evil. Drink the poison yourself!" (St. Benedict)
---
Copyright 2020 Flávia Ghelardi Receive CatholicMom.com newsletters in your inbox, including the Daily Gospel Reflection each morning!

*

indicates required
About the Author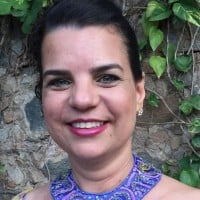 Flávia Ghelardi is the mom of four, a former lawyer already "promoted" to full time mom. Flávia published her first book FORTALECENDO SUA FAMÍLIA and is a member of Schoenstatt´s Apostolic Movement. Flávia loves to speak about motherhood and the important role of women, as desired by God, for our society. She blogs at www.fortalecendosuafamilia.blogspot.com.