Receive Daily Gospel Reflections in your inbox
Today's Gospel: Matthew 21:33-43, 45-46 This is an incredibly challenging Gospel reflection. It involves violence and death—two topics I try to avoid like the plague. But the imagery is provocative for a reason. I attempt to place myself in the role of the landowner. In good faith, he plants a vineyard and leases it to tenants. He dispatches his servants to harvest the produce, and they meet with evil ends: one is beaten, one is killed, and another is stoned. I imagine the outstanding faith it takes for the landowner to send out additional servants. He extends an olive branch to the tenants, but once more his servants are attacked. He then sends his son—his greatest blessing. And the tenants respond by doing the unthinkable: they kill his beloved child. If I place myself in the position of the landowner, I am overcome with grief. I mourn the loss of a child and grieve the callousness of the tenants. Then comes the realization: Am I not like those ungrateful tenants, when I spurn Christ and the ultimate sacrifice He made to open the gates of heaven for me? Isn't God the Father so much like the landowner, sending prophet after prophet to try to minister to His wayward people? In the Gospel passage, Jesus' followers remark that the landowner will hand over the property to tenants who will give him the produce at the appropriate time. This challenges me to be a better steward of what the Lord has given me, and to yield good fruit that will glorify God. The stone that the builders rejected—Jesus—has become the cornerstone of our faith. It is through Him that we can do what might otherwise seem impossible, such as loving the unlovable. He is the source and summit of life!
Ponder:
What must I do to ensure that I do not reject Jesus?
Pray:
Dear Jesus, I am sorry for all those times I have rejected You. Please give me the strength and wisdom to follow You and to produce good fruit.
---
Copyright 2019 Maria V. Gallagher
Receive CatholicMom.com newsletters in your inbox, including the Daily Gospel Reflection each morning!
About the Author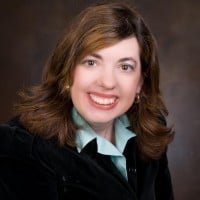 Maria V. Gallagher spends her days advocating for women, children, and families. She is the mother of a beautiful ballerina and a member of the worldwide Cursillo movement. In her spare time, Maria likes to blog, walk, sing, dance, and fill the room with laughter. Read her work at MariaVGallagher.com.