Receive Daily Gospel Reflections in your inbox
Today's Gospel: Luke 24:1-12 - At the Easter Vigil in the Holy Night of Easter On Easter Vigil five years ago, nearly five years to the day, I was baptized and confirmed, received fully into the Catholic Church. The Triduum has been my favorite part of the liturgical year ever since. The mysteries of the Faith are more palpable. The veil dividing this world from the next, the dead from the living, is paper-thin. On the surface, the Triduum is about death. It is somber. Holy Saturday is a eerily still day. But the beautiful paradox of the Faith is that death isn't final. Death doesn't have the last word. We sit with one foot left in the mourning of Good Friday and one foot eagerly stretching itself toward the hope and promise of Easter. We who are called Christians can rejoice in death because our Lord has conquered it. I have always been drawn to somber and sad things. I used to think it odd, but the more I grow in my faith the more I see that this draw on my heart is from God. "Why do you seek the living one among the dead?" Christ's victory over death has saved us from the bonds of death. It holds no power over us who live in Him. Each Easter Vigil I am reminded of my own death to this world. And each Easter Vigil seems to be more beautiful than the last.
Ponder:
Does Easter Vigil remind you that there is beauty in the solemn?
Pray:
O God, we are ever thankful for the gift You have given us in the sacrifice of Your Son, Who conquered death for us and makes it possible for us to have eternal life.
---
Copyright 2019 Amanda Torres Receive CatholicMom.com newsletters in your inbox, including the Daily Gospel Reflection each morning!

*

indicates required
About the Author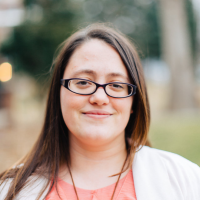 Amanda Torres is a Catholic convert, wife, and working mom from St Paul, MN. She is making great use of her Bachelor's Degree in History and Anthropology as a Management Analyst for the State of Minnesota. When she is not busy trying to get her husband, her rambunctious 7 year-old, and toddler twins into Heaven she enjoys reading, writing, and drinking coffee with entirely too much creamer. Amanda also occasionally blogs at In Earthen Vessels: HoldThisTreasureInEarthenVessels.wordpress.com