Receive Daily Gospel Reflections in your inbox
Today's Gospel: John 15:18-21 We live in a culture which values instant gratification and comfort. Our society touts the benefits of living for ourselves, putting our own needs before others, and trying to get ahead at all costs. It is so tempting to give in to the promises of comfort and to succumb to envying our neighbors who seem to not share our struggles. Living as faithful Christians makes us a target for exclusion and sometimes ridicule. Often, it is easy to feel alone as we face the seemingly insurmountable obstacles, adding a heavy burden to our heart. It is easy to overlook the little moments in our lives where there is a ray of sunshine, a ray of hope, a reminder of God's love. Yet, today's Gospel reading serves as a reminder that following God is not easy or simple. It is not popular, and it is radically different than the lives of comfort we might see from others. Through our dedication as Christians, today's Gospel reminds us we do not belong to the world. Following Christ will lead to discomfort, and yes, sometimes to pain. We will not be popular, we will not be welcomed, and we will not be comfortable. At times, we will be lonely. However, at the beginning of today's reading, we find inspiration and hope -- "If the world hates you, realize that it hated me first." Christ has traveled the road of persecution, pain, and suffering. He did so because of His undying, overwhelming love for each of us. He knows. He sees. And He loves us when we bravely experience persecution, discomfort, or loneliness because of our love for Him.
Ponder:
How can you accept the uncomfortable moments in life with a little more tolerance?
Pray:
Dear Lord, please help me to embrace the crosses in my life, finding strength in Your example of sacrifice and love. Please teach me to embrace the struggles I experience, and to offer them back to You.
---
Copyright 2019 AnnAliese Harry Receive CatholicMom.com newsletters in your inbox, including the Daily Gospel Reflection each morning!

*

indicates required
About the Author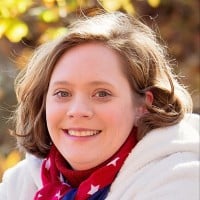 AnnAliese Harry is a proud Army wife to her husband Chris, and a mother to their young children. She has a BA in History, a Masters in Social Work, and has worked with disabled veterans, troubled teens, and in early childhood intervention therapy. AnnAliese volunteers with several military chapel communities and serves as a lector, EMHC, Adoration coordinator, and Catholic Women of the Chapel (CWOC) chapter president and vice president. She blogs about Catholicism, parenting, and military life at A Beautiful, Camouflaged Mess of A Life. Follow her on Twitter, on Instagram, or on Facebook.