Receive Daily Gospel Reflections in your inbox
Today's Gospel: Matthew 1:18-24 Happy Fourth Sunday of Advent! Today's Gospel reading addresses, in a round-about way, themes of both love and peace, through the actions of one silent, but powerful man. Not much is known about Joseph, and he remains silent in the Gospels. However, he also stands as a firm pillar of strength and faith, an example of enduring love and fidelity to God. Because of the openness to God the Father's plan, Joseph plays an integral part in peace for our world simply by marrying the mother of Christ. Among other patronages, Joseph serves as the patron saint of foster families. He is known lovingly as Jesus' foster father, welcoming and embracing a small, helpless child, and raising him as his own. While not everyone is called to be a foster parent, we are all called to help those around us who are in need--most of all the most innocent and frail. Whether it's the elderly, the disenfranchised, or the young, we are called to spread love and peace by caring for our neighbor. And, as we enter this final week of Advent, we are called to remember and recall the example of St. Joseph--to pray for guidance, to be open to God's message, and to follow through on God's plan, not just in our individual lives, but in a way which will see us care for the most vulnerable among us. If everyone extends love toward another, our world will ultimately experience the peace we seek.
Ponder:
How can you extend a little more love today to a person who may be in need?
Pray:
Dear Lord, thank You for the example of faith, love, and fidelity we find in St. Joseph. Please grant me the courage, wisdom, and desire to always strive to do Your will, so as to usher love and peace into the world around me.
---
Copyright 2019 AnnAliese Harry Receive CatholicMom.com newsletters in your inbox, including the Daily Gospel Reflection each morning!

*

indicates required
About the Author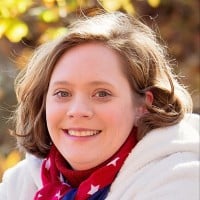 AnnAliese Harry is a proud Army wife to her husband Chris, and a mother to their young children. She has a BA in History, a Masters in Social Work, and has worked with disabled veterans, troubled teens, and in early childhood intervention therapy. AnnAliese volunteers with several military chapel communities and serves as a lector, EMHC, Adoration coordinator, and Catholic Women of the Chapel (CWOC) chapter president and vice president. She blogs about Catholicism, parenting, and military life at A Beautiful, Camouflaged Mess of A Life. Follow her on Twitter, on Instagram, or on Facebook.