Receive Daily Gospel Reflections in your inbox
Today's Gospel: Luke 10:38-42 The Gospel today is the short story of Martha and Mary, which all of us moms know very well. We are constantly torn between whether to play with the children or start preparing dinner. There are so many messages contained in that 5-verse story in Luke: jealousy, priorities, faith, laziness, over ambition, anxiety, fear, comparison, hospitality, sibling rivalry, expectations, being in Jesus' presence. But I'd like to focus on the last half sentence in this story: "Mary has chosen that good part, which will not be taken away from her." Jesus appreciated Martha's service and the food she provided food for her guests. But He is telling her that in setting her priorities, people (and especially Jesus) should take precedence over things. God gives us free will and desires good choices from us. We need to try to make godly choices in how to spend our time, talent and treasure. Time spent at church, in prayer and in God's Word is so important in our daily lives. Time spent listening to our children is always more impactful than folding laundry. Those household chores will always be there, but the children grow up and move away, just as Jesus' time on earth was limited. Jesus promised the sisters that their faith, and their eternal salvation, would never be taken away from them because they chose to make Jesus an important part of their daily lives. He makes the same promise to each of us because He loves us.
Ponder:
What do you need to change in your lifestyle to be more like Mary and include time with Jesus every day
Pray:
Loving Jesus, thank You for the lesson of Martha and Mary. Help me to get my chores done today, but not at the expense of time with You and my loved ones. Help me to set my priorities as You see fit, and to always choose You. Amen
---
Copyright 2019 Colleen Mallette Receive CatholicMom.com newsletters in your inbox, including the Daily Gospel Reflection each morning!

*

indicates required
About the Author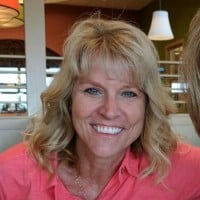 Colleen lives in Ohio and is the proud mother of three young adults. She loves being a full-time stay-at-home mom and a part-time bookkeeper for her husband. She likes to read, write, scrapbook, and volunteer, and is excited to use her talents to share God's love and the hope of His promises through CatholicMom.com. Colleen is co-author of "In God's Hands, Miracles in the Lives of Moms" and blogs at Colleen's Contemplations.