Receive Daily Gospel Reflections in your inbox
Today's Gospel: Matthew 25:31-46 The reading today from Matthew's gospel is Jesus telling His followers that the way to get into heaven is by taking care of other people. He said God would know when they feed the hungry, take care of strangers, and visit the sick and imprisoned. By doing these things, it was as if they were doing it for Jesus Himself and God would reward them with seats at His right hand in heaven. This confused the people in the crowd, because they thought Jesus meant they had directly served Him at some time. This message is easier for us to understand, because Jesus isn't physically in our presence these days. We know that He means that taking care of those in need around us is like attending to the needs of Jesus, since we are all His children. St. Teresa of Calcutta lived this gospel reading every day of her life. She truly looked upon each person as if they were Jesus incarnate right in front of her. She longed to do whatever she could to ease their suffering, provide love and dignity to the dying, and encourage those around her in any way she could. An American woman, Susan Conroy, wrote about her experience volunteering for a summer in India with Mother Teresa. In her book, Mother Teresa's Lessons of Love and Secrets of Sanctity, she writes about the impact this gospel had on St. Teresa's daily life and outlook. She would hold out her hand, and while touching each finger she would say, "You did it to Me" (Matt. 25:40). She used this tactile method as a constant reminder to teach her helpers that their hands were the instruments of God. That by serving others they were actually serving Him.
Ponder:
Touch your fingers and repeat "You did it to Me" in the morning, then repeat it at the end of your day and reflect whether your hands served God enough.
Pray:
Loving Jesus, I want to serve You and know that I can every time I serve those around me. Help me to remember that You live in everyone, and help me treat others with respect, dignity and love at all times.
---
Copyright 2020 Colleen Mallette Receive CatholicMom.com newsletters in your inbox, including the Daily Gospel Reflection each morning!

*

indicates required
About the Author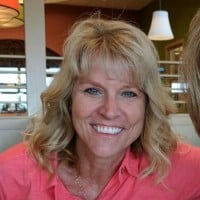 Colleen is the proud mother of three young adults. She loves being a full-time stay-at-home mom and a part-time bookkeeper for her husband. She likes to read, write, scrapbook, and volunteer, and is excited to use her talents to share God's love and the hope of His promises through CatholicMom.com. Colleen is co-author of "In God's Hands, Miracles in the Lives of Moms" and blogs at Colleen's Contemplations.