Receive Daily Gospel Reflections in your inbox
Today's Gospel: John 6:60-69 - Memorial of Saint Athanasius
In life, there are moments of difficulty and pain. There are moments of uncertainty and unsettledness. There are even moments of persecution for our faith and spiritual warfare from the devil.
When these moments last a long time -- for months or even years -- we can grow weary and discouraged.
A few years ago, I was in one of these seasons. I experienced excruciating aridity in my prayer. I grew overwhelmingly paralyzed by life's circumstances. And my sadness grew into depression. I didn't see a way out, and my prayers turned into lamentations, as I cried out, "How much longer, Lord?"
But as I look back, I always closed my prayer time with the words from today's Gospel: "To whom shall [I] go? You have the words of eternal life." (John 6:68)
No matter how hard life was or how hopeless I felt, I had "come to believe and [was] convinced that [Jesus is] the Holy One of God." (John 6:69) Deep down, I knew that it is better to go through life's hard moments in relationship with Jesus than without Him. And through prayer and the Sacraments, I knew I was safe in His embrace, even amid my sorrow and pain.
Tears and fears, heartbreaks and headaches are part of the fallen world in which we live. We can't go through life without experiencing some type of pain or loss. Just look at the cross. Look at the pierced heart of Mary. Even they didn't escape real-life sorrow.
But what we learn from Jesus and Mary (and from the Apostles in today's Gospel) is to never abandon our relationship with the Father. He remains trustworthy and redeems even the worst situations.
This is what our faith teaches us. This is what God promises us. He proves it to be true. Yes, His word is "Spirit and life." (John 6:63)
[Tweet "Deep down, I knew that it is better to go through life's hard moments in relationship with Jesus than without Him. #dailygospel By @sarahcdamm"]
Ponder:
How has God helped you through a difficult time? Keep that memory close to your heart, as a reminder of His love and care for you.
Pray:
Lord, I trust that You are working in my mess, even when I can't feel You working. I have nowhere else to turn but to Your Sacred Heart. Keep me safe there, basking in Your love, comforted by Your promise. Amen.
---
Copyright 2020 Sarah Damm
Receive CatholicMom.com newsletters in your inbox, including the Daily Gospel Reflection each morning!
* indicates required
About the Author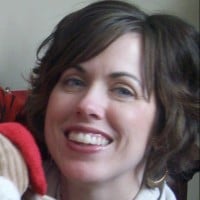 Sarah Damm is a Catholic wife and mother of six children, living in Minnesota. She spends her days running errands, helping with homework, and keeping up with laundry and the family schedule. Sarah loves her faith, coffee, and good books. You can find out more about her at SarahDamm.com.