Receive Daily Gospel Reflections in your inbox
Today's Gospel: John 16:5-11
I love the apostles' humanity!
Faced with Christ's departure, they went straight to self-pity. Their initial thoughts, as expressed in today's Gospel, were how His leaving would affect them. No one's first thought centered on how Christ felt, or where He was going. They realized they were going to be alone, and they panicked. Instead of offering solace, they had to be consoled.
It is exactly how most of us would react too! Imagine spending three years with Christ as your teacher! Not only did he preach to them, He was their friend - eating sleeping and traveling with Him every day. They loved Him; and the depth of this love is illustrated clearly in their initial reaction. Faced with the coming loss of their Lord, they needed to be reminded everything would be okay.
Their need for reassurance helps me feel better about my own faith journey. Sadness at being left behind is something each and every one of us will one day face. We will know firsthand the pain of loneliness and loss. When the time to say goodbye to our loved ones come we too will need reassurance. As this Gospel says, trust in God's plan. Turn to the Holy Spirit, allow Him to enter your hearts and give you peace.
Yes, we are just like the Apostles! And that fills me with hope.
[Tweet "The Apostles in today's Gospel reacted to bad news as we do today! Faced with an impending loss of a loved one, they went straight to self-pity, wondering how they will survive. By @MACatholicmom"]
Ponder:
Do I allow the Holy Spirit to come to my aid in moments of self-doubt and worry? Do I open my heart for Jesus, to Jesus?
Pray:
Lord, thank you for all of your many blessings, especially those of the Holy Spirit. Help me to always think of others before myself, to consider their needs over my own.
---
Copyright 2020 Carol S. Bannon
About the Author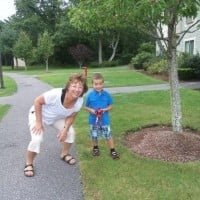 Carol Sbordon Bannon is a full-time writer with a degree in elementary education from Worcester State University. She is a substitute teacher and has been a catechist for over thirty years. In addition to A Handshake From Heaven, she is also the coauthor of Our Family's Christmas Elf. She is happily married and currently resides in Concord Township, Ohio. Visit Carol at CSBannon.Wordpress.com.