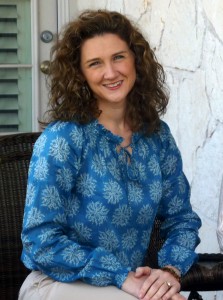 I'm please to introduce Lisa Jones of the fantastic blog Of Sound Mind and Spirit to the CatholicMom.com family! Lisa will share contributions twice a month. We welcome her to our great team of contributors! Lisa Hendey
As a native Houstonian, snow is a novelty. To say the least, I was skeptical when our local meteorologists began predicting snow one Friday in December. Imagine my surprise when my husband called me from the elementary school carpool line to say it really was snowing! I glanced out the window, saw mostly sleet and blew it off. About an hour later, we had undeniable flurries outside my kitchen window.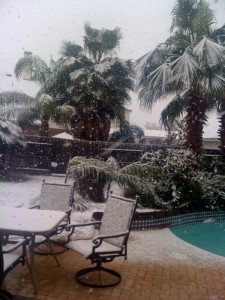 I turned on the news and dire predictions of rain and snow, followed by freezing icy conditions by the afternoon filled the screen. As the listing of early school closures for possible ice (remember, this is Houston) started scrolling across the screen, my mind immediately went to my son's birthday party taking place at our house that night. Was it safe to have the party after dark in freezing weather with ice on the roads? Would anyone show up? As I got on the phone to call parents to see if they would still attend, the "flurries" turned into real snow. Not Houston snow, but real snow. Dare I even call it a blizzard? Yes, it was definitely a blizzard by our Gulf Coast standards.
My smile grew from ear to ear as the snow started to stick to the ground and accumulate. I've lived in a few places as a child where it actually snowed, but this was here. I will confess, I ran from window to window, door to door taking pictures of everything. My palm trees and tropical plants around the pool were covered with beautiful white with the red hibiscus blooms peeking out.
One minute I'm a complete mess worrying about everything-- how I was going to get my Christmas decorations up and the house cleaned for the party in a few hours – yet the next minute I'm standing serenely watching the snow fall. I knew exactly what I needed to do. Birdie and I excitedly piled in the van, drove up to the school and got in line behind other parents to sign the older kids out of school at 11:15 a.m. They couldn't miss this rare sight.
My kids didn't even make it out of the parking lot before starting a snowball fight! Despite needing to prepare for a party starting that evening, we spent the day in the yard playing, only pausing to come in for hot cocoa and warm up. My husband came home after lunch to help the kids build their first snowman, which come to think of it, was probably his first snowman too.
The party went off that night without a hitch; all the guests attended and had a great time. Yes, my house was not fully decorated or completely clean, but I got over it and relaxed. What had started out as a horrible, stressed out day turned into a beautiful day that my family and I will not soon forget.
Over 5 inches of snow accumulated in our neighborhood, and the temperature hovered low enough that our snowman survived for two days! I learned that the rest of Houston, including Shelly's area of town and even areas immediately around us, did not have the same white experience. For some reason we were one of a few small areas where it snowed all day and visibly accumulated on the ground. It was a perfect, great day.
That same day, Friday, December 4, Pope Benedict XVI asked us to keep a diary of God's love during the Advent season, "to understand that the individual events of the day are signs God addresses to us, signs of the care He has for each of us. How often does God make us aware of some aspect of His love!" Consider this my first entry in that Advent diary. I almost missed the meaning in his message, but the snow was another reminder that God always answers prayers; sometimes in a gloriously beautiful way.
Copyright 2010 Lisa Jones
About the Author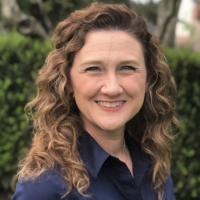 Lisa Henley Jones is a wife, mom, native Texan, and parish communications director. She enjoys reading, walking, going on date nights, and cheering on her kids in their activities. As a social media consultant, Lisa teaches Catholic parishes to engage, inspire, and evangelize on social media. Find her blog at Of Sound Mind & Spirit and her social media course at Parish Social Media.