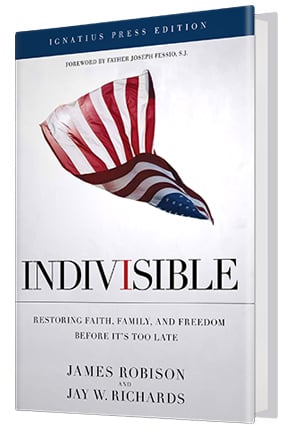 Editor's note: While I have not yet personally read Indivisible: Restoring Faith, Family and Freedom Before It's Too Late, the book is getting great press and selling up a storm. I'm happy to share the following press release from our friends at The Maximus Group and recommend that you take a look at the book for yourself. LMH
2012 Election, long-term plan crucial for nation's survival
Jay Richards and James Robison
Offer Answers to America's Most Pressing Issues in Indivisible
SAN FRANCISCO, Feb. 14, 2012 – America finds itself immersed in a culture war. At stake are values and principles that Catholics, other Christians, Jews, and many others deeply cherish. What's more, recent government actions threaten basic religious freedoms of millions of Americans.
One example is the recent U.S. Department of Health and Human Services mandate that religious organizations and other nonprofits provide health insurance that covers sterilization, contraception and drugs that induce abortion. "This country once fought a revolution to guarantee freedom, but the time has clearly arrived to strongly reassert our fundamental human rights," said the Most. Rev. Daniel R. Jenky, C.S.C., Bishop of Peoria, Ill., in a letter read at Masses in the diocese the weekend of Jan. 28-29. "I am honestly horrified that the nation I have always loved has come to this hateful and radical step in religious intolerance."
This is just one example of the growing government threats to religious freedom and the respect for human life. And it's these threats that make the 2012 general election so crucial, say award-winning authors Jay Richards and James Robison, host of the syndicated TV program LIFE Today, in the new book Indivisible: Restoring Faith, Family, and Freedom Before It's Too Late. A special Catholic edition is available from Ignatius Press with a foreword by Ignatius Founder and Editor Fr. Joseph Fessio, S.J.
Buyers who order directly from Ignatius Press also will receive a free bonus CD – Voting Guidelines for Catholics. On the CD, bestselling author, speaker and Catholic radio host Dave Durand concisely presents the guidelines produced by the U.S. Conference of Catholic Bishops (USCCB) to advise Catholics in voting.
Throughout Indivisible, Richards and Robison make strong arguments that those who ignore moral and social issues in their efforts to strengthen American economic well-being and achieve success in foreign policy are misguided. They emphasize that principles serving as the foundation for sound social policy also support a vibrant economy and effective foreign policy.
Richards, a Catholic, and Robison, an Evangelical minister, offer a manifesto of sorts for restoring the culture. They call for a diverse but unified coalition of Americans who are committed to faith, family, and freedom. That call is not a partisan political message. Indeed, although Robison was key to Evangelical support for Ronald Reagan in the 1980 presidential election, Robison insists that Christians should not be viewed as a wing of one political party.
Richards and Robison argue that, instead of election cycles that find voters engaged for only a short time every few years, we must have a long-term perspective and strategy. "We shouldn't just ... get riled up for a few months, endorse the right policies and elect politicians who claim to support them," Richards and Robison write. Instead, they say, Americans must do a whole lot more.
"Our freedom, our way of life, and our future is in peril, and not just from hostile enemies abroad," they assert in the book. Revealing "corrosive ideas and the destructive policies they inspire," Indivisible carefully explains our country's most pressing concerns – skyrocketing debt, rising poverty, abortion, judicial activism, the decline of marriage, environmental problems, education issues, etc. – and the folly of creating a more powerful state to combat them. "As government has waxed, our liberties have waned."
The authors contend that the solution to our society's problems is a long-term approach that values principles, not partisanship. While agreeing that "God is not a Republican…or a Democrat," Richards and Robison believe good policies must apply true principles in the right way, and encompass moral truth and economic truth.
Drawing on historical, Biblical, philosophical, modern-day and personal examples, Robison and Richards lay out a blueprint for change: readers must first understand the sources of the problems we face, identify and defend the foundational principles that make change possible, learn to apply those principles properly in the policy arena, and elect politicians who believe in and will implement those policies.
Richards and Robison identify a number of principles that ought to be considered by Catholics and all value-minded Americans, including:
Every human being has equal value and dignity.
Marriage and the family are the fundamental social institutions.
Judeo-Christian religious faith guards our freedom.
We are meant to be free and responsible.
Culture comes before politics.
"If we can etch these [principles] on our hearts and minds, seek a life of holiness and wisdom so we can discern them, teach them to our children, and apply them wisely in our personal lives and politics, then with God's help, we'll have most of what's needed to restore faith, family, and freedom in the twenty-first century."
Richards and Robison will promote Indivisible on a 22-event book-signing tour in Alabama, Florida, Louisiana, Mississippi, Oklahoma and Texas later this month. The full schedule is available at http://maxondeadline.com/indivisible-home/.
"This book explains the fundamental principles which we must understand and accept if we are going to make decisions and undertake actions that will lead to the restoration of cultural and economic sanity in this country," Fr. Fessio said. In his foreword, Fr. Fessio emphasizes that Indivisible is a critical read, regardless of whether every reader agrees with all of the policy positions in the book. It's also important to note that Richards and Robison propose some things that political candidates also are pushing for today. Readers should not consider that endorsement of any particular candidate or party.
The book already is generating enthusiastic response. "Indivisible builds a sure bridge of faith and reason over which our country can walk, from our present state of confusion and peril into a new era of peace and prosperity," said Fr. Jonathan Morris, Fox News analyst and author of The Promise. "Robison and Richards have given all of us an invaluable tool for hope."
"Jay Richards and James Robison make an important contribution in pointing the way to avoid the worst effects of a coming cultural and economic tsunami," said Acton Institute President Fr. Robert Sirico.
Read more about Indivisible at Ignatius Press
About the Author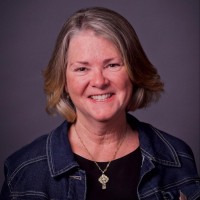 Lisa M. Hendey is the founder of CatholicMom.com, a bestselling author and an international speaker. A frequent radio and television guest, Hendey travels internationally giving workshops on faith, family, and communications. Visit Lisa at LisaHendey.com or on social media @LisaHendey for information on her speaking schedule or to invite her to visit your group, parish, school or organization. Visit Lisa's author page on Amazon.com.