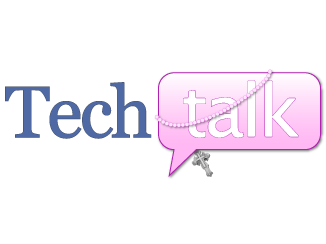 Every now and then, and probably way more often than I deserve, God answers my prayers in the swiftest and most perfect way. Today I actually awoke feeling anxious; that "no particular reason" anxiety, the kind you feel when there is just a lot going on around you. You know the day when… the news is sad, the season is hectic, and the work is behind.
As I sat on the couch nibbling on dry (the milk had gone bad) Franken Berry Cereal (that I had gotten this weekend as an early Christmas gift from a way cool, knows me well, Aunt), I remembered I wanted to review a new app from Pauline Books and Media.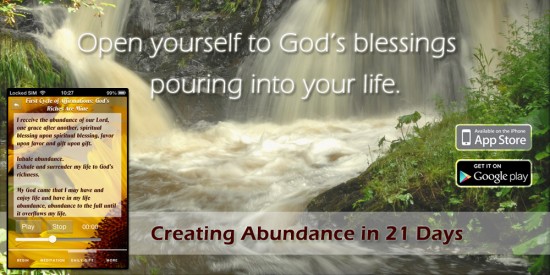 The Creating Abundance in 21 Days app, would be the answer to my prayer – and before I had finished, although none of my circumstances had changed, my heart was reminded Who was in control, His love for me and how blessed I truly am. Peace had been restored to my anxious heart.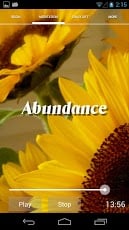 While it is not always easy to believe we have 14 minutes for ourselves, it is important to make that time (at the very least) for God. Relationships cannot be cultivated when time is not spent on them, which is true in personal as well as spiritual relationships.
What I particularly liked about the guided mediation is even if my mind decides to wander I am drawn back into the moment by the narrator's voice. Narrator Georgiana Lotfy reminds the listener to fight that very temptation, to drift off in your own thoughts, and stay focused on the words being spoken at beginning of the mediation.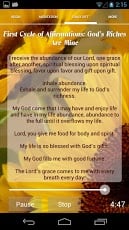 To me this practice of being present to the mediation brings much more fruit because often it is these positive, encouraging words that we need to crush the negative ones that causing so much anxiety and stress. I will often use apps that have audio for the Rosary or Divine Mercy Chaplet for the same reason so I am able through their voice to stay on task.
Features as described on the Google Play Store website:
-Audio options: Listen to soothing voice guided meditations and affirmations or listen with voice and calming music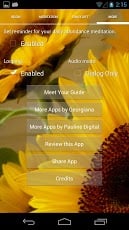 -Introduction and instruction from your guide
-14 minute meditation on God's abundance
-Three sets of affirmations and prayers:
God's Riches are Mine: Cycle one Day 1 to Day 7
God's Gifts are Mine: Cycle two: Day 8 to Day 14
God's Great Abundance is Mine: Cycle three: Day 15 to Day 21
--A final prayer for all God's great abundance.
Tomorrow I believe I will start the day with the Creating Abundance in 21 Days app, and a far smaller bowl of my Franken Berry cereal, maybe I'll even have fresh milk by then!
It's available for both iOS and Android, at a bargain price of 99-cents.
Read more of our Tech Talk columns.
Copyright 2013 Allison Gingras
About the Author