Ooooo, do I have some goooooood books to share this week, y'all!
The obligatory reminder: clicking these links helps support our work at CatholicMom.com and we are eternally grateful for each and every click and prayer you send our way. :)
Recent Reads
Operation Screwtape: The Art of Spiritual Warfare, by Andrew Farley (Baker Books, 2013, Fiction)
My rating: 4 out of 5 stars
As I type this post, I haven't yet written my full review. I'm a biiiiig fan of C.S. Lewis's Screwtape Letters, though, and this book is in that vein. It's designed to be the handbook the tempters use to guide them in their evil work. I found it both hilarious and disturbing (as well I should have, right?). I always love how revisiting the Screwtape mentality forces me to examine my conscience with a whole new honesty. Highly recommended.
A Christmas Carol, by Charles Dickens (Audio courtesy of Just the Books)
My rating: 5 out of 5 stars
I soooooooo enjoyed revisiting this classic--and my, oh my, how very much I have forgotten of it! The movies and presentations leave out so many of the truly wonderful facts, and Heather Ordover, hostess at Just the Books, adds so much to the discussion (without making it a five-hour no-time-for-this production). Reading a classic every so often is good for the soul, I think, and I feel that way even more strongly as we pause here before the beginning of Lent and after the Christmas season.
The Sacred Search: What If It's Not about Who You Marry, but Why?, by Gary Thomas (David C. Cook, 2013)
My rating: 4 out of 5 stars
I have to admit: the title got my dander up a bit. It also got me to thinking. By the time I had finished the first chapter, I had to admit that I pretty much agreed with the author.
I've been through a number of divorces, though none were in my own marriage. I've seen "bad marriages" up close and personal.
Thomas brings up a number of good points, and I share those in more detail in the full review over at my blog.
Current Reads
How Far Is It to Bethlehem: The Plays and Poetry of Frances Chesterton, compiled & edited by Nancy Carpentier Brown (CreateSpace, 2012, Collection)
Sometimes, picking up a collection is just what the reading doctor ordered, and it usually catches me unawares. I've been sort of fascinated with Frances Chesterton since hearing Nancy Brown talk about her own interest on the Uncommon Sense podcast. So far, I've read one essay and one act of the first play and it's delightful. Reading plays (and poetry, truth be told) isn't my first choice most of the time, but this is already so good and I am enjoying it already.
Something More: The Professional's Pursuit of a Meaningful Life, by Randy Hain (Liguori Publications, 2013)
I'm not any further than I was last week. Oops. Put it down to read other things. Plan to carry on with it this week.
Blessed, Beautiful, and Bodacioius: Celebrating the Gift of Catholic Womanhood, by Pat Gohn (Ave Maria Press, 2013)
Four (or am I five?) chapters in, and Pat Gohn could be sitting beside me, drinking coffee and laughing her melodic laugh. This book is a must-read, must-have, must-cuddle-up-with book for every Catholic woman I know. Preorder your copy now and give yourself a gift that will keep on giving.
New to My Review Shelf
Flight of the Earls, by Michael K. Reynolds (B&H Books, 2013, Fiction)
Here's the synopsis on this novel:
It's 1846 in Ireland. When her family's small farm is struck by famine, Clare Hanley and her younger brother, Seamus, set out across the ocean to the Promised Land of America.

Five years prior, Clare's older sister Margaret and her Uncle Tomas emigrated in similar fashion and were not to be heard from again. But Clare must face her fears as she lands in the coming-of-age city of New York. There she discovers love, adventure, tragedy, and a terrible secret which threatens to destroy her family and all she believes.

Flight of the Earls is the first book in a historical novel trilogy based on Irish immigration in the 1840s.
High Concepts: A Hollywood Nightmare, by Daniel McInerny (Daniel McInerny, 2012, Fiction)
I loved the Kingdom of Patria books by the same author (which made my top fiction reading of 2012, mind you), so I'm game for this one. Here's what the synopsis had to say about it:
Donald P. Wirt, PhD, is a young, obtuse professor of philosophy who is mistakenly fired for "unprofessional and unethical conduct" at a professional ethics conference. But his luck changes when an affluent couple hires him to be a private tutor to their son, Miles, a brilliant high school junior who, rather than prepping for the SAT, spends his nights writing slasher film scripts and pitching Hollywood prodcos under the nom de théâtre, "Donnie Percival." When one of those prodcos surprisingly requests an actual meeting in L.A., Miles fears he will lose the deal if he's discovered to be only a pimply youth of sixteen. So in return for a share of the payout, he sends Donald in his place--in the guise of "Donnie Percival."

Yet almost as soon as his plane lands at LAX, Donald discovers that "Donnie Percival" has a life of his own. Hardly aware of what is happening to him, he is quickly entangled in a cutthroat world of warring producers, ferocious celebrity pets, and a ruthless former teen queen looking for a reboot as a serious actress.

As the clueless Donald becomes the hottest scribe in Hollywood, the burning question emerges: how hot can "Donnie Percival" become before Donald himself goes up in flames?
The One Thing Is Three: How the Most Holy Trinity Explains Everything, by Fr. Michael Gaitley (Marian Press, 2012)
I am so looking forward to diving into this book! Here's what the synopsis syas:
With humor and ease, Father Michael Gaitley, MIC, deftly unlocks the "one thing," the key to the Church's wisdom, and the greatest mystery of the Catholic faith: the Most Holy Trinity. Far from being a scholarly or academic read, The "One Thing" is Three makes deep theology accessible to every-day Catholics. What's more, it makes even what's familiar or forgotten appear in a way that's new, exciting, and relevant. Thus, The "One Thing" is Three brings its readers a unique and powerful experience of the faith. It's the perfect book for the Year of Faith.
What have YOU been reading lately?
*Are you on Goodreads? Well, then, I'll see you there!
Be sure to check out our Book Notes archive.
Copyright 2013, Sarah Reinhard
About the Author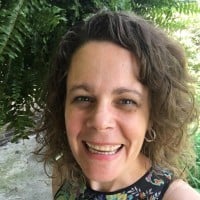 When she's not chasing kids, chugging coffee, or juggling work, Sarah Reinhard's usually trying to stay up read just one…more…chapter. She writes and works in the midst of rural farm life with little ones underfoot. She is part of the team for the award-winning Catholic Mom's Prayer Companion, as well as the author of a number of books. You can join her for a weekday take on Catholic life by subscribing to Three Shots and follow her writing at Snoring Scholar.