Oh, the weather's breaking here in central Ohio! Praise the Lawwwwd! We mowed for the first time over the weekend and I have visions of work getting done differently (or not at all) in the coming weeks as small people insist on being OUTSIDE (and I lug a book with me faithfully, arm twisted into enjoying the weather). Here's what this week held for me:
Recent Reads
This Little Light of Mine: Living the Beatitudes, by Kathleen M. Basi (Liguori, 2013)
My rating: 5 out of 5 stars
I don't know whether Mom Sarah or Catechist Sarah was more excited to read this book, but I do wish this: that I had gotten my hands on it BEFORE our religious education year was over (we have two classes left this school year). This book is a tremendous resource for families, but let's not limit ourselves here. As an adult reading it, I was struck by Basi's conversational down-to-earth been-there-still-there-let's-talk style and her ideas that are not impossible. Highly, highly, HIGHLY recommended.
Random MOMents of Grace: Experiencing God in the Adventures of Motherhood, by Ginny Kubitz Moyer (Loyola Press, 2013)
My rating: 5 out of 5 stars
When Ginny Moyer sets out to write a book, she doesn't mess around. After reading this book, I was left with a very similar feeling as I felt years ago reading that first Danielle Bean book: encouraged by a sister-in-arms. While Moyer may be more sentimental about things than I think I am, she also points me to a side of my mothering that I may have a tendency to completely overlook. While she may be more cognizant of the preciousness of her children, she also has a way of phrasing that had me laughing out loud in places. Another book I highly, highly, HIGHLY recommend. Get your copy now, before they sell out.
Current Reads
God's Favorite Place on Earth, by Frank Viola (David C. Cook, 2013)
I picked this up because of the Patheos Book Club. I'm finishing it because I'm engaged and intrigued and hooked. This is a book that will have me using WOW a lot in my review of it, I think.
The Mouse in the Mountain, by Norbert Davis (as read by Julie Davis at Forgotten Classics)
We have Julie Davis and her flair for narration and Norbert Davis, who has a main character whose canine qualities had me at hello. Folks, you don't want to miss this. I am trying not to obsessively check iTunes for the next podcast download (and I may or may not be failing).
Consoling the Heart of Jesus: A Do-It-Yourself Retreat, by Fr. Michael E. Gaitley, MIC (Marian Press, 2010)
I'm just over halfway through the group retreat I've been doing using this book for the guide. And it KEEPS striking me. Over and over and anew each week. If I haven't recommended it lately (and I checked: I haven't), consider this a plug.
Ora et Labora et Zombies, by Ryan Charles Trussell (fiction, in letters!)
I have a secret: I sometimes let the letters pile up so that I can read a bunch at once. I'm walking around wondering how people are doing and then! A letter! In the mail! With the next installment! It's a great story—and handwritten!—and I can't endorse it enough. So go. Treat yourself. You deserve it. :)
New to My Review Shelf, Kindle Edition
These are new review titles that are waiting for me on my Kindle.
A Method to the Madness: A Guide to the Super Evil, edited by Jeffrey Hite and Michell Plested (Five Rivers Publishing, 2013, fiction)
This book looks SOOOOO amusing. I can't wait to get started on it...
In an almost unprecedented move, a conclave of The Super Evil convened last year at a secret lair in North America to create a guide book for aspiring ne'er-do-wells. The result? A collection of papers known generally as A Method to the Madness: a Guide to the Super Evil, a collection destined to become the handbook globally of every evil genius.

The collection includes 24 papers presented by evil luminaries such as Her Serene Omnipotence Calassandra, Conqueror and Empress; Janus Kinase Hateyuaniwae, BFA, PhD, PhD, FRCCP, P.Eng; and Dr. Evil-n-Carnate, Frequent Flyer, Grocery Shopper and Overlord Of Cubical Block 3257J - to name but a few.

Between the 24 sages who assembled at the North American Conclave, they created insightful papers on the pressing subjects of Cognitive Perspective in the Pursuit of Evil; Principles of Biology and Genetics for Minion Breeding Programs; and, The Importance of Date Night to the Married Super Villain.
The Mysteries of The Holy Rosary Illustrated, by Andrea Maglio-Macullar (self-published, 2013)
The author tells me this book is very similar to the app she also developed (which I reviewed a while back). I was intrigued and told her to send it over. Here's what the synopsis says:
The Mysteries of the Holy Rosary Illustrated is a book for anyone interested in learning and praying the Rosary. It has colorful, inspiring, illustrations to help draw you in to prayer. Helping you visualize the many beautiful Mysteries of the lives of our Jesus and Blessed Mother Mary.

It includes all 20 of the Mysteries, each having an illustration and a short explanation and meditation. Also includes all the prayers and history of this wonderful, powerful, prayer.
Greater Treasures: A DragonEye Novella, by Karina Fabian (self-published, 2013, fiction)
I'm a fangirl of Karina Fabian and I love the main character in these books, a detective dragon named Vern, who's dry humor and utter style are, well, irresistible. This is another one I'm looking forward to reading. Here's a bit about it:
Being a private detective in the border town of the Faerie and Mundane worlds isn't easy, even for a dragon like Vern. Still, finding the wayward brother of a teary damsel in distress shouldn't have gotten so dangerous. When his partner, Sister Grace, gets poisoned by a dart meant for him, Vern offers to find an artifact in exchange for a cure. However, this is no ordinary trinket—with a little magic power, it could control all of mankind. Can Vern find the artifact, and will he sacrifice the fate of two worlds for the life of his best friend?
What have YOU been reading lately?
*Are you on Goodreads? I'll see you there!
Curious about what my ratings mean? Here's an explanation of what the stars mean to me.
Be sure to check out our Book Notes archive.
Copyright 2013, Sarah Reinhard
About the Author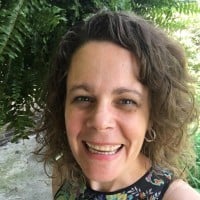 When she's not chasing kids, chugging coffee, or juggling work, Sarah Reinhard's usually trying to stay up read just one…more…chapter. She writes and works in the midst of rural farm life with little ones underfoot. She is part of the team for the award-winning Catholic Mom's Prayer Companion, as well as the author of a number of books. You can join her for a weekday take on Catholic life by subscribing to Three Shots and follow her writing at Snoring Scholar.