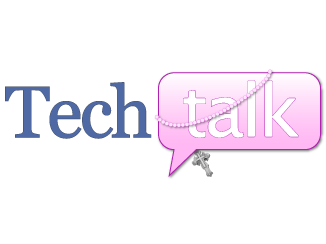 My husband was reading his Twitter feed one afternoon a couple of months ago and said, "There's a neat calendar app that just came out. It's on sale for $3.99, and I think you'll like it."
Being the cheapskate that I am ... I mean, being as frugal as I am, I balked at it. Until I went to Flexbits' site and watched the video on how Fantastical for iOS works.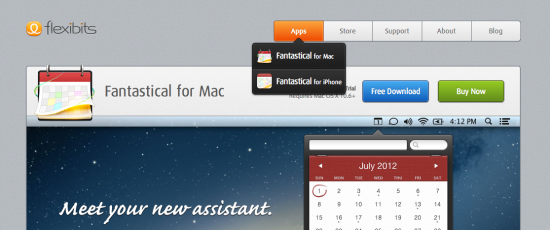 Apparently, the new app had been a desktop app, as well, and had become popular enough that the company ventured into making it for the iPhone, making use of iCloud to sync the desktop version with your phone. I didn't have the desktop version, but when I saw that I could simply sign into my iCloud account in the app and it would sync with my existing calendars, I decided to read more.
Not only will Fantastical continue to update the Mac Calendar on your desktop, but it will also let you add appointments, events, and dinner menu items within the Mac Calendar while continually updating on the mobile app. It's as seamless as advertised.
The best part about this app, and what made me go ahead and fork over the money, was that I could type something like "Dance Rehearsal Saturday 10 to noon at Miss Mona's calendar A***" and have this pop up:

HOLY MACKERAL!
If you have an iPhone 4s or later, you can even use voice dictation, in case your hands are tied up with driving or feeding a small child or stirring macaroni and cheese.
I played around with the iOS app for a while, loving the options to show either a week ticker or a monthly calendar at the top.
I would scroll through months and then tap the red bar at the top to return to today just for fun. (Yes, I actually got a kick out of that for a day. It's an exciting life I lead.) I discovered that if I held my finger on the red bar instead, I'd get a screen that allowed me to select a date to go to!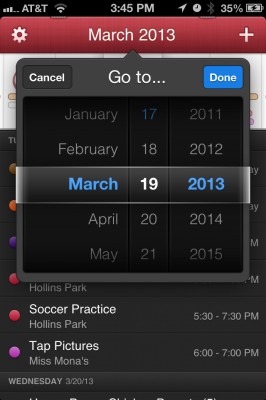 WICKED!
There's a search feature that allows you to find something you've done or someone you've seen, and you can pick and choose which calendars you need to see at any given moment. You can adjust your icon on your homescreen to display a number, as well: either display the number of appointments you have left for the day or today's date, which is handy when you've done what I have and tucked the iOS Calendar in a folder where you can't see it. One other neat thing is that as each appointment time is finished, the app dims the line for the day. This way, your eye is naturally drawn to the brighter lines, which are your unfinished appointments.
I was in love, and I was ready to dive into the desktop app! I opened up the App Store, checked the price of the desktop app, and caught my breath. $19.99!! Eek!
I put it off, but when they offered it on sale, I jumped on it. The desktop is as easy to use as the iOS version, though I'll admit that it's got some very small fonts. You can download a free trial of it first to see if you like it, and I'd recommend doing that in tandem with the iOS app.
Fantastical for Mac has the same easy language addition options as the iOS app, and it also has the added benefit of letting you add something to your reminders (which will sync through iCloud) instead of making a calendar appointment.
The only thing I find harder to use, even with its handy search features, is when I'm working on my menu. So about once a month, I open up my regular Mac Calendar and crank that out. Then I go back to using Fantastical, which resides in my toolbar at the top of my screen. It, too, can show the date in the icon (like Mac's Calendar), and can be either black and white or color. It imports everything, including calendar color assignments, and allows you to pick and choose which calendars you want to see.
Currently, Fantastical for Mac is at its usual $19.99, but you can always download a free two-week trial. The iOS app runs $4.99. It seems steep for an iOS app, but personally, I've found it's worth it.
It's far easier to use than the built-in Calendar app. If you're really unsure, give the free trial on your desktop a try, then move up to the iOS app. The iOS app is compatible with iPhone 3GS and later, as well as iPod Touch 3rd generation and later and the iPad. You'll need to be running at least iOS 5.0, and the app is optimized for the iPhone 5. If you go in for the desktop version, your Mac will need to be running OS X 10.6.6 or later.
Read more of our Tech Talk columns.
Copyright 2013 Christine Johnson
About the Author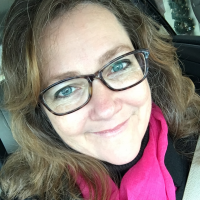 Christine Johnson has been married to Nathan since 1993 and is the mother of two homeschool graduates. She and Nathan live in the Blue Ridge Mountains of Southwest Virginia, where she tries to fit in as a transplanted Yank. She blogs at Domestic Vocation about her life as a wife, mother, and Lay Dominican.