As we continue to focus on the joys of motherhood this May, I wanted to share the good news about a lovely book that was recently released. Recipe for Joy: A Stepmom's Story of Finding Faith, Following Love, and Feeding a Family (Loyola Press, April 2013) is journalist Robin Davis' story of faith and family, compellingly told with a healthy portion of food and cooking mixed in for good measure. Today, I'm thrilled to share a guest article from Robin. I invite you to take a look at Recipe for Joy, which is a true gift for any Mom!
Recipe for Joy
I used to say that I never wanted to be a parent because I'm too selfish. So God upped the ante and made me a step-parent instead. God is funny like that.
Now you might think being a step-parent would be easier than being a biological parent. I just fill in when needed. I'm not a "real mom," right?
Wrong.
My stepchildren lost their mother to breast cancer when they were 9 and 7. When I married their father, I became all they've got in the motherhood department for as long as they or I walk this earth. And that is an enormous responsibility, one that is so staggeringly heavy I can barely breathe under the weight of it some days.
How could I be a good mother to them and not intrude on the memories of their mother? How could I carry on the good she had started in their lives when I wasn't sure how?
Clearly, mothering does not come naturally to me. In my previous life in California, I'd spent little time in the company of children. I didn't know much about age appropriate development or any of that.
The only tool I saw in my arsenal was food. I'm a food writer, a recipe developer, a good cook most days. So I sought to do the majority of my mothering through cooking. Almost every night I made meals and gathered my new family around the table. It provided a place where we could talk and laugh, share our struggles and our accomplishments, filling our bellies and hearts with good things.
I hoped through these meals my stepchildren would feel my love for them, see a bonus, a positive I was bringing to their lives.
But I had the equation all wrong. My stepkids, even my husband, didn't need me. They would have survived just fine in this world if I'd never walked into their lives. They were -- and are -- happy and faith-filled and complete. The one who was lacking in this relationship, the one who was broken, was me.
Being a step-parent taught me – forced me, really – to look outside myself. It took me out of the safety and comfort zone of my solitary existence and put me on someone else's schedule. It made me become the kind of person others could turn to and depend on. It made me learn the joys and trials of living in community with others, adjusting the rhythms of my life to coincide with theirs.
And it made me realize that the weight of step-parenting might be great, but that God had given me all the tools I needed to accomplish the task. I didn't have to be a super-mom. And I didn't have to be the mirror image of their biological mother.
I just had to be me. I was enough.
Amazingly, that's what God has been trying to tell me all along about myself: I'm enough for the plans he has for me.
Robin Davis is currently the food editor at the Columbus Dispatch, Columbus, Ohio,
and hosts a weekly cooking segment on the local CBS affiliate. She is wife to Ken and
stepmother to Ben, Molly, and Sarah.
Order Recipe for Joy: A Stepmom's Story of Finding Faith, Following Love, and Feeding a Family and support CatholicMom.com with your purchase.
About the Author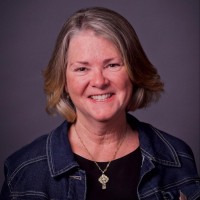 Lisa M. Hendey is the founder of CatholicMom.com, a bestselling author and an international speaker. A frequent radio and television guest, Hendey travels internationally giving workshops on faith, family, and communications. Visit Lisa at LisaHendey.com or on social media @LisaHendey for information on her speaking schedule or to invite her to visit your group, parish, school or organization. Visit Lisa's author page on Amazon.com.